9 Fall Veggies That Are In Season Right Now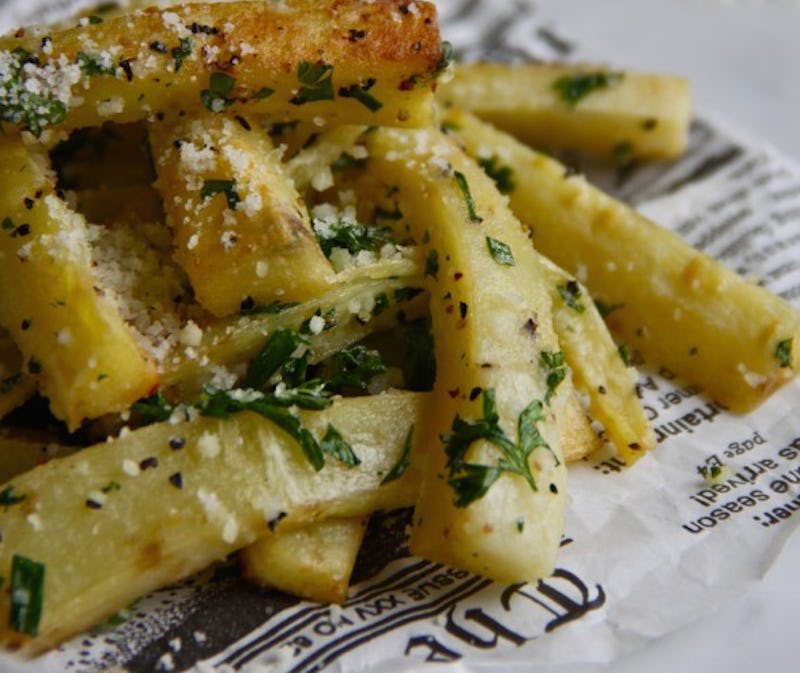 The older I get, the more I appreciate the changing of seasons. Now that I'm a working adult, I no longer have the luxury of seasonal breaks, so naturally, I find myself looking for variety in other ways. So perhaps it's no surprise that every September, just as the East Coast erupts into a smorgasbord of colorful fall vegetables, I get all giddy thinking about the novelty and variety that awaits me and my seasonal recipe list.
And oh my, what a variety of recipes there are. Got butternut squash? Make some butternut squash soup — or lasagna, or pasta, or patties, or mash, or hash. Bought a bunch of Brussels sprouts? You can quarter, grate, chop, or skewer them. Seriously, the harvest is so abundant right now, there's even variety within each fall vegetable. Consider the carrot. When most of us think of a carrot, we think orange root and disposable leafy green top. But did you know that carrots come in a variety of sizes and colors, including purple, white, yellow, and red? And guess what? We can actually eat those leafy green tops. (In fact, here are five fun ways to eat carrot tops.) And how about cauliflower? This commonly white cruciferous vegetable also comes in purple, yellow, and green — and it tastes great buttered, spiced, or fried.
That being said, I do understand that the sheer abundance of the fall veg spread can be just as daunting as it is exciting. That's why I've compiled a list of some of my favorite fall vegetables that are in season right now, along with some fun facts about each — you know, so you can hold your own with the local farmers. And to think, just after you dazzle them with your herbivorous knowledge and return home with that farmers' market bounty in hand, you can refer back to this list for some mouthwatering recipes, transforming that colorful fall produce haul into your own personal works of autumnal kitchen art.
1. Brussels Sprouts
Fun Fact: One half cup serving of Brussels sprouts contains 48.4 milligrams of vitamin C — that's about 65 percent of the recommended daily dose for women. Eat one full cup, and girl, you're good to go.
Dijon Brussels Sprout Grilled Cheese
Grilled cheese is the ultimate vessel for fresh fall veggies. Take a tip from A Cozy Kitchen, and toss your shaved Brussels sprouts in a mixture of shallots, butter, and Dijon mustard for a creamy kick. Get the full recipe here.
2. Carrots
Fun Fact: Carrots can be traced back about 5,000 years, but no one truly knows when the first carrot appeared, because they were often mistaken for parsnips, a close cousin.
Carrot Goat Cheese Mash Shepherd's Pie
A Cozy Kitchen tops her shepherd's pie with a tangy combination of mashed carrots, potatoes, and goat cheese. Put your own colorful twist on an Irish classic with this recipe here.
3. Pumpkin
Fun Fact: Every fall, my home state of Delaware hosts a "Punkin Chunkin" championship where pumpkins are shot almost 5,000 feet in the air via homemade air cannons.
Two-Ingredient Fresh Pumpkin Pasta
This vegan-friendly homemade pasta calls for only two ingredients — all-purpose flour, and pumpkin puree. And if you're not a vegan, be sure to toss your noodles in browned butter and sage sauce, a la Back to Her Roots.
4. Butternut Squash
Fun Fact: Rich in antioxidants, butternut squash has been known to help reduce the risk of inflammation-related disorders like rheumatoid arthritis and asthma. Plus, it tastes really good with cheese.
Spinach, Butternut Squash, And Pesto Pizza On Cauliflower Crust
Not only is this homemade pizza topped with a healthy smattering of fall veggies, but the crust is made of vegetables too. Get this incredible butternut squash-topped, cauliflower crust-based recipe via Against All Grain.
5. Rainbow Chard
Fun Fact: This powerhouse plant has several pseudonyms, from silverbeet to Roman kale and strawberry spinach.
Barley Soup With Turkey Sausage, Rainbow Chard, And Parmesan Cheese
This hearty fall soup is how you prevent sad September desk lunches. Follow Climbing Grier Mountain's one-pot recipe here.
6. Cauliflower
Fun Fact: Rich in antioxidants and vitamin C, cauliflower is good for your skin, as it aids in the growth and repair of collagen. And this cruciferous fountain of youth even comes in a variety of colors, so you and your healthy complexion can choose between white, purple, yellow, or green. Hey Mother Nature, thanks for that.
Buffalo Blue Cheese, Quinoa, And Cauliflower Bake
This cauliflower-laden buffalo blue cheese bake is the vegetarian's ingenious answer to a Sunday night buffalo wing craving. Get this superfood-packed recipe here, courtesy of Back to Her Roots.
7. Parsnips
Fun Fact: People used to falsely believe that eating parsnips could cure a toothache. Urban legends aside, it is true that parsnips are a good source of fiber. So if you're craving a healthy digestive system, pack your fall diet with loads of parsnips.
Parsnip Parmesan Truffle Fries
These thick-cut, oven-baked parsnip fries are the healthy alternative to greasy, deep fried potatoes. Oh, and they're coated with white truffle oil and freshly grated parmesan cheese. I need not say more. Get the super simple six-ingredient recipe here, thanks to Climbing Grier Mountain.
8. Wild Mushrooms
Fun Fact: The edible wild mushroom Laetiporus sulphureus is commonly referred to as "chicken of the woods," as its taste has been said to resemble that of fried chicken.
Weeknight Chicken And Mushroom Pho
I'll be the first to admit that good pho is hard to find — even in a vibrant food metropolis like New York City. Consequently, I've learned to take matters into my own hands, perfecting the delicate art of pho at home. See how Crepes of Wrath experiments with her pho here, adding a hearty helping of fresh mushrooms to her chicken stock.
9. Turnips
Fun Fact: Turnip greens can be steamed, sauteed, or grilled, just like kale.
Roasted Turnips
Do you have turnips, butter, salt, and pepper? Do you have an oven? If you answered yes to all of the above, then you are a prime candidate for roasting turnips. Follow Nom Nom Paleo's 25-minute recipe here.
Looking for more great food ideas? Check out Bustle on YouTube.
Images: Barbara L. Hanson, Helen K, Forest and Kim Starr, Market Manager, Suzie's Farm, Alex, Mike Licht, Our Lady of Disgrace, Greg Hirson/Flickr; A Cozy Kitchen (2); Against All Grain; Back to Her Roots (2); Climbing Grier Mountain (2); The Crepes of Wrath; Nom Nom Paleo