'X-Files' Is Coming To New York Comic Con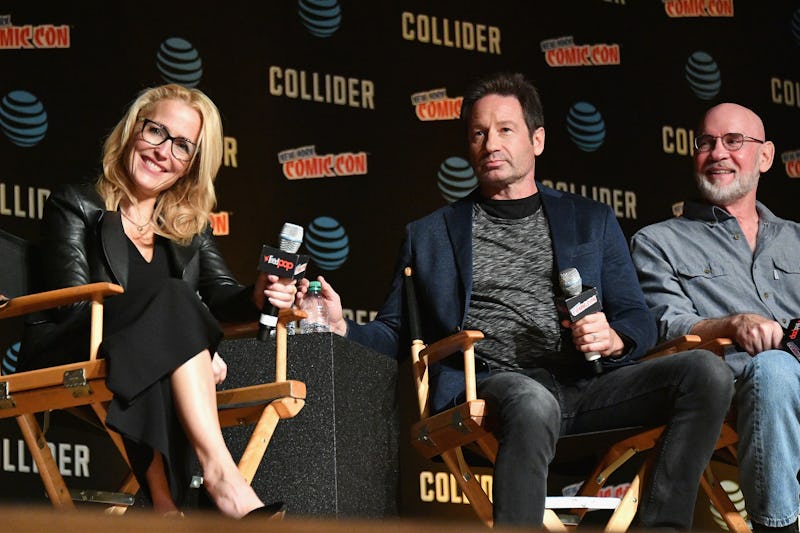 Dia Dipasupil/Getty Images Entertainment/Getty Images
Admittedly, it's been difficult to drum up too much excitement for the upcoming X-Files reboot, considering it's not due to premiere until January 2016. I've had my reservations about bringing back such an iconic series more than a decade after it originally went off the air — I'm a big fan of leaving well enough alone, personally — but I'm not a total ice queen, and the chance to see Mulder and Scully again after all these years melted my cold heart considerably, even if I am still only lukewarm on the idea as a whole. Still, I can't lie and say my levels of enthusiasm didn't skyrocket when it was announced that the X-Files revival will premiere at New York Comic-Con in October, several months before the rest of the country will see it on TV!
Fox announced on Friday that the premiere episode of the reboot, entitled "My Struggle", will air at the east coast edition of the pop culture event on October 10 on the Javits Center Main Stage. Ugh, I'm dying! The screening will be following with a Q&A featuring David Duchovny and X-Files creator Chris Carter, with Silicon Valley star Kumail Nanjiani moderating. There's no mention of whether or not Gillian Anderson will be there, but given that her name wasn't mentioned, it's probably safe to assume that she'll be skipping this one.
That doesn't seem like much to go on if you're wondering what we can expect, and perhaps that's for the best. Perhaps the biggest detail we know so far about the reboot is that Mulder and Scully are no longer together. We know they were very much a couple in 2008's I Want To Believe, but somewhere along the way things went awry and they decided to go their separate ways, at least romantically speaking. While I don't necessarily buy that as a viable storyline given the characters' history, I'll accept it if the reboot serves as a vehicle to reunite them. After all, it's only going to infuriate a whole lot of fans who waited a whole nine seasons — the last two of which were painfully bad, for the most part — for some tangible payoff.
But 'shipping aside, I hope that the new X-files returns to the thing that made the original series so good: the mythology. Monster of the Week episodes were loads of fun, but it's that complex mythology surrounding the government conspiracy — and yes, aliens — that made it so unique. If a new version of the show is going to work in 2015, it needs to be brought back.
Images: Fox