Here's What We Need To See In 'Scandal' Season 5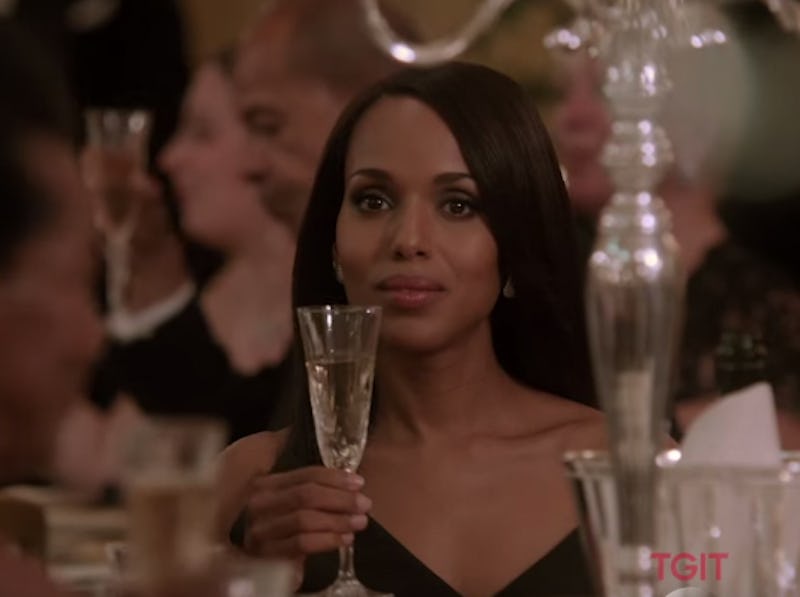 After months and months of waiting, the Scandal Season 5 trailer is finally here! With the premiere less than two weeks away, there's no doubt that Scandal 's loyal Twitter fanbase is counting down the moments until we're back in the action again. (Personally, I'm still catching my breath from the Season 4 finale!)
Although it's a mere 30 seconds long, the preview throws us right into the action. And by "throws us right into the action," I mean that it opens with intimate shots of Olivia Pope and President Fitzgerald Grant. After four seasons of being on-and-off, it looks like these two are finally together. Of course, that means another major plot point has to happen, and that is also confirmed in the trailer; Fitz is divorcing the First Lady, Mellie.
In case that's not enough suspense (and when do we ever have our fill of Scandal suspense?), in a voiceover Sally Langston can be heard saying, "Mr. President, what are you hiding?" Considering we see Fitz toast Olivia at that moment in the preview, we're led to believe she is exactly what he's hiding. Looks like the drama isn't slowing down anytime soon.
The trailer definitely leaves me wanting more, so here are seven more things I hope to see in Season 5 of Scandal.
1. Two words: Jake. Ballard.
Jake gracefully bowed out of the Olivia-Fitz love triangle, but I can't accept that he won't be a main character.
2. Sally's TV Show
Even though we love to hate Sally, there's no denying how amazing her show is.
3. Mellie's Political Career
Mellie is finally taking the reins of her career — and this can only mean a shakeup in Washington.
4. Huck And Quinn
The Season 4 finale didn't give me much hope, but I miss these two hanging out together.
5. Abby And David
One of my favorite couples on the show needs to make a comeback.
6. No More B613
I'm a little burned out on all of the B613 intensity. Now that Papa Pope is behind bars, can we leave him there?
7. Situations Getting Handled
Remember when the show first started and Pope and Associates tackled other people's problems? I miss those simpler times.
You can catch the Scandal Season 5 premiere on Sept. 24 at 9PM ET on ABC.
Images: ABC (screenshot); Giphy (7)