12 Inspiring Fall Quotes To Read At Once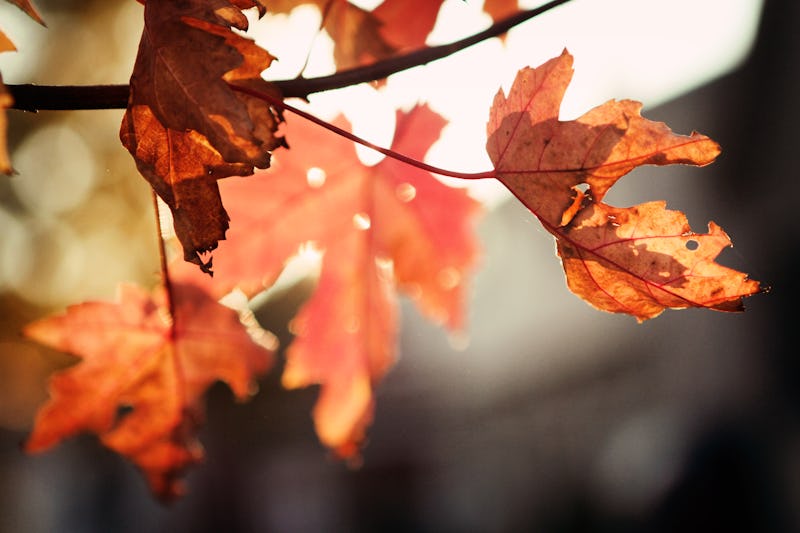 There's no doubt about it — it's definitely beginning to feel a lot more like fall. In honor of the coming season's beauty, I've collected 12 inspiring fall quotes that will have you bursting at the seams with anticipation for the start of autumn. After all, fall is the best season ever. There are plenty of reasons why autumn kicks ever other season's butt, but if you don't believe me, or if you're still mourning the end of summer, then these quotes might just be exactly what you need to get pumped for the cooler days ahead.
There is something about the fall that's simply magical. Yes, the foliage is beyond breathtaking, but it's also so much more than just an aesthetic treat. Autumn creates a feeling of renewal and inspiration in everyone who takes the time to embrace it, and that's not something you want to ever miss out on.
With trees bursting into color, cooler weather letting you escape from your apartment's air conditioning, and a sense of energy in the air, fall is a season of action. Take a read through these quotes to help you get your gears turning, and your ambition fired. Whether it's taking a moment to appreciate the world around you or jumping into drive, there are some gold nuggets in these words that are certain to strike a chord.
1. "Autumn is a second spring when every leaf is a flower." — Albert Camus
2. "No spring nor summer's beauty hath such grace as I have seen in one Autumnal face..." — John Donne
3. "Autumn carries more gold in its pocket than all the other seasons." — Jim Bishop
4. "Of all the seasons, autumn offers the most to man and requires the least of him." — Hal Borland
5. "Winter is dead; spring is crazy; summer is cheerful and autumn is wise!" — Mehmet Murat Ildan
6. "Wild is the music of autumnal winds amongst the faded woods." — William Wordsworth
7. "Aprils have never meant much to me, autumns seem that season of beginning, spring... I thought of the future, and spoke of the past." — Truman Capote
8. "There is a harmony in autumn, and a luster in its sky..." — Percy Bysshe Shelley
9. "I cannot write of things which even impassioned breath cannot utter. Autumn is coming with its days of gold, its days of reverie and of you — oh, such delightful hours that my heart burns within me at the anticipation." — Byron Caldwell Smith
10. "In autumn, don't go to jewelers to see gold; go to the parks!" — Mehmet Murat Ildan
11. "I loved autumn, the one season of the year that God seemed to have put there just for the beauty of it." — Lee Maynard
12. "Winter dies into the spring, to be born again in the autumn." — Terri Guillemets
Image: RebeccaVC1, joiseyshowaa, Anthony Quintano, Anthony Quintano, Anthony Quintano/Flickr