You Forgot These Women Were On 'Two & A Half Men'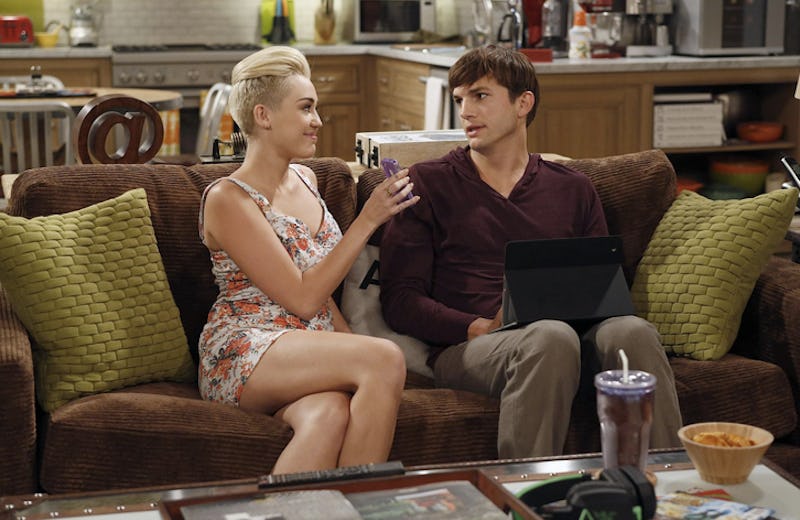 There's no denying that the CBS series Two and a Half Men holds a permanent place in the sitcom zeitgeist — and this is due in part not only to its comedic nature, but also its lengthy list of guest stars. Over 12 years on the air (and the loss of two main cast members, Charlie Sheen and Angus T. Jones), the show racked up a ton of guest appearances from well-known celebrities in Hollywood. Like, seriously, everyone from Kathy Bates to Miley Cyrus has been on this show. Though there were a ton, these appearances were no less highly-regarded the more the show went on. For instance, Bates' portrayal of Charlie Harper (Sheen)'s ghost won her an Emmy.
It's worth noting, however, that the list of guest starts this show welcomed was greatly female — interesting, considering the show was called Two and a Half Men. Given that solid women's roles aren't the easiest to come by in Hollywood, we should give credit where credit is due: Two and A Half Men provided a lot of them. And they always went to some of the most hilarious actresses and comediennes in the 'biz.
So that said, let's take a moment to celebrate the actresses who made some unforgettable guest appearances on Two and a Half Men. You may have even forgotten a few of these ladies appeared on the series at one point or another.
1. April Bowlby As Kandi
The model-turned-actress played Alan's girlfriend (and then ex-wife).
2. Missi Pyle As Dolores Pasternak
Pyle's role as Ms. Pasternak, Jake's teacher, was great, mostly because of how into grammar she was.
3. Paget Brewster As Jamie Eckleberry
In Season 2, Brewster finally got revenge on Charlie and Alan after all the bullying they put her through when she was younger.
4. Allison Janney As Beverly
Janney was a brief love interest of Alan's after the two met on a dating site. Though her appearance was brief, Janney always gives mad LOLs and brings a lot to the table as an actress.
5. Cloris Leachman As Nora
In an effort to comically subvert the "sugar daddy" trope, Alan dated Norma — a much older, much richer woman — in Season 3. It sounded sort of promising, but ended up being a bad call. She died in the middle of having sex with Alan. Eek.
6. Ming-Na Wen As Linda Harris
In Season 5, Wen played the judge who sentenced Charlie after his DUI. She was one of the few women whom Charlie didn't sleep with right away, and she was actually able to put him in his place.
7. Judy Greer As Myra Melnick And Bridget Schmidt
Everyone's favorite co-star is so good at being a co-star that she actually played two different roles on the series. First, she was a brief fling for Charlie, Myra Melnick, in Season 4. Then, she was Walden Schmidt (Ashton Kutcher)'s ex-wife Bridget in Season 9.
8. Brooke Shields As Danielle Stewart
In Season 4, Shields entered the the show as a possible love interest for Alan. But naturally, Charlie became interested in her instead. Eventually, she proposed a threesome to both Charlie and Alan, but they ended up turning her down.
9. Jenny McCarthy As Courtney Leopold
Jenny McCarthy's character, Courtney, was more of a dynamic character than some of the other cameos (and she even reappeared in a few of the seasons).
10. Miley Cyrus As Missi
Cyrus played the daughter of one of Walden's friends, and was Jake's first real love interest. She referred to her boobs as "Kardashian sisters" and had an exaggerated Southern twang.
11. Teri Hatcher As Liz
Liz gave Charlie a run for his money when she didn't remember having sex with him years back at Alan's wedding.
12. Hilary Duff As Stacey
Stacey, played by Hilary Duff, dated Walden for one episode in Season 10. Even though she was a communications major at Arizona State, she apparently could't hold a conversation. Duff played the vapid character with likable ease. Perhaps I'm biased, but I'm never mad about seeing Lizzie McGuire back on my screen.
13. Megan Fox As Prudence
Three years before Transformers hit the big screen, Fox made an appearance in Season 1 as Charlie's housekeeper's granddaughter, Prudence.
14. Denise Richards As Lisa
During the filming of Seasons 1 and 2, Denise Richards and Charlie Sheen were together IRL, which only made their storyline that much more interesting. Richards played Charlie's ex-girlfriend, Lisa, who called him out for severe commitment issues. The two, um ... never made it work. As they say: Life imitates art.
15. Mila Kunis As Vivian
Free spirit, world traveler, love interest of real-life husband Ashton Kutcher — what more could you want from a Mila Kunis cameo? TBH, it's always fun to see Jackie and Kelso onscreen together. (There's even a That 70's Show nod in her episode!)
16. Heather Locklear As Laura Lang
Locklear played Laura Lang, Alan's divorce attorney, who ended up having an affair with Charlie in Season 1. She convinced Charlie to promise her that he would be available for sex anytime she requested it — and once he didn't fulfill that promise, she purposefully messed up Alan's divorce settlement. #WINNING.
17. Jenna Elfman As Frankie, But Mostly As Dharma Montgomery
On Season 1, Elfman's character Frankie was more of an afterthought than anything else. But years later, Elfman came back in Season 9 to reprise her role as Dharma from the beloved sitcom, Dharma & Greg. It was a genius collision of sitcom worlds.
18. Kathy Bates As Charlie Harper's Ghost
In maybe one of the most memorable guest star appearances ever, Bates played Charlie's ghost. She came to visit Alan in the hospital, and after he was understandably confused, Bates explained, "I'm in hell. Walking around in this old broad's body is supposed to be some kind of eternal damnation. You know what? Jokes on them. Boobs are still boobs!" Hmmm ... Charlie Harper sexually objectifying himself? I think that's what they call a taste of your own medicine, no?
No matter how significant their roles on the series, these female guest stars all gave memorable performances.
Images: Warner Bros. Television; f*ckyeah-twoandahalfmen/Tumblr