The New Plus Size Activewear Line You Need To Know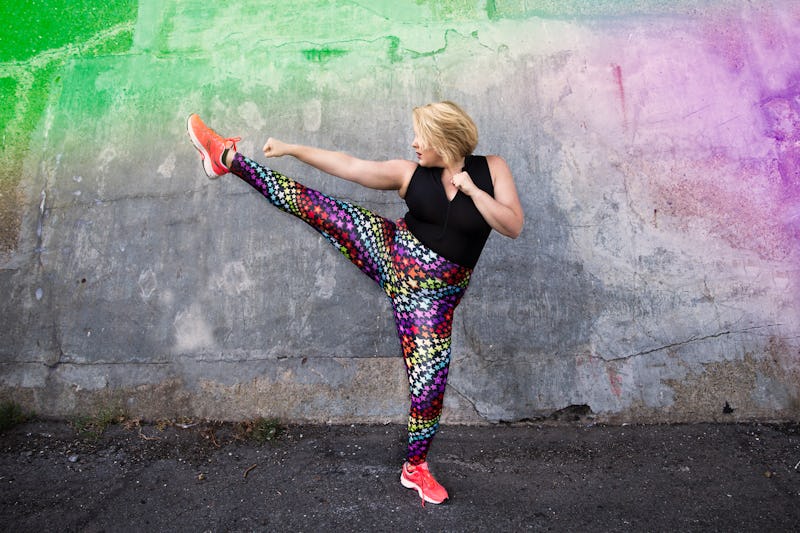 About a year ago, it was time to step up my plus size activewear game, but I never could've imagined the wonders of Personal Record. I was on the hunt for something more than basic black leggings, like I'd seen on other women at the gym. When I went shopping, though, I had forgotten one crucial factor: I'm a size 20 and most of the interesting activewear of the world is made for women who are smaller than a size 12.
I'm not sure why this is, but my shopping trip made me realize something: Plus size activewear is a market that's got more holes in it than the inner thighs of our jeans. That's why I was so stoked to discover Personal Record, a new plus size activewear line by Becca Johnson.
To be fair, there are a few activewear options for plus women on the market already. Big brands like Old Navy and Lane Bryant carry interesting prints, and there are several brands that produce quality activewear that could be worth their high prices. However, something about Personal Record feels more, well, personal. Perhaps it's because Johnson is plus size herself, created the line entirely on her own, and has the earnest goal of making plus size women feel good.
Becca Johnson, founder and CEO of Personal Record.
"Last July, I started running in New York Roadrunners," Johnson tells me of PR's inception via email. "I wanted to be more active, and I wanted something bright and crazy, and I wasn't finding anything in my size."
Johnson works in the fashion industry and has intimate knowledge of garment construction and design, so she decided to take matters into her own hands.
"I work with a sample maker," she explains. "I bought fabric and made a pair. At the race, women were asking me where I got them. I realized there was a huge interest, so I decided to design more and see how people responded."
Personal Record was launched on Sept. 7 and so far, she's already sold about 10 percent of her inventory. There are four styles of bold and colorful leggings in prints called Under The Sea, Starstruck, Dot Matrix, and Clever Girl — the latter named after the famous line in Jurassic Park .
Personal Record Leggings in Clever Girl, $72, personalrecord.us
"I basically took all the leggings I owned, looked at them, and changed the things I didn't like to better suit a plus size woman," Johnson adds. "All my seams are cover stitched, meaning that they're stronger. They each have a diamond gusset, or reinforced crotch. The prints don't white out when you stretch them. And they're high-waisted, so they really hold you in and don't slip down."
As she was saying all of this, it occurred to me that I'd had complaints about each and every one of those design elements with plus size leggings that I'd owned before, and that's only if I managed to find them in my size at all. Personal Record leggings range from size L (12/14) to 4XL (24/26, but fitting up to a 28), and Johnson plans to expand into sizes 28 and over in the future. They're also made in New York City — a breath of fresh air for the plus size consumer who normally has rare opportunities to buy domestic.
Personal Record Leggings in Under the Dea, $72, personalrecord.us
"When I first started talking about doing this," Johnson says, "Some people didn't get it. In the past year, there's been so much in the media, and showing that it's out there. For me, Personal Record is about feeling good in the size you're at, and having clothing options that actually make you feel good while you exercise."
One thing that might get in the way of Johnson's sales is her price point, slightly high at $72 per pair. Johnson is totally aware of the sticker shock, but also insists that the quality of her product means you won't have to buy more than one pair a year. Curious, and on my third pair of bargain leggings in eight months, I tested out Personal Record leggings for myself.
I'm wearing Personal Record leggings in Dot Matrix, available at Personal Record.
At 5'10" and a size 20, I opted for the 3X in Dot Matrix. At first, the leggings felt like they might be cut too short for someone like me. I pulled them as high as they could go, but it wasn't comfortable. I thought maybe I should have sized up, or that the leggings were simply cut for a frame smaller than mine.
Then, something magical happened: Over the course of a couple of hours and one workout, the leggings magically molded to my body. They stretched without losing their shape or color intensity. For good measure, I wore them to a Bikram class afterwards, convinced that if they could last through 90 minutes of 110 degree heat while withstanding several gallons of my sweat and several thousand "FMLs," they were as good as gold.
Supporting independent brands like Personal Record is arguably crucial in expanding our options as plus size women, and it feels even better to support a brand run by a fellow plus size woman who truly understands the struggle. The fact that the product itself is amazing is the cherry on top, and a guarantee that Personal Record will be making major waves in plus size activewear in the future. Or at least as long as us fat chicks continue to shock everyone with our radical acts of exercise.
Images: Courtesy Personal Record; Amanda Richards