Surprise! 'Bachelor' Star Ashley S. Is Engaged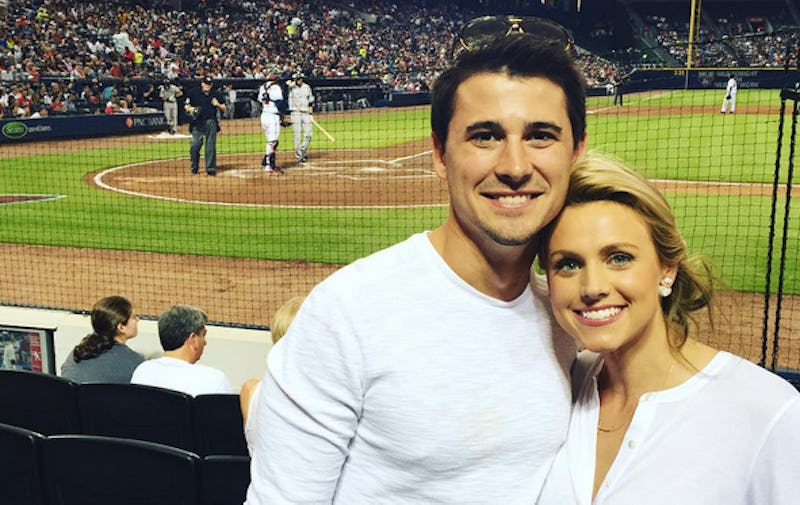 In that-seriously-came-out-of-nowhere news, Ashley Salter of Bachelor fame is apparently engaged. I know what you're thinking. But she was JUST in paradise, talking to birds. How could this happen so quickly? Well, that's not exactly clear, but if I had to guess, I'd say that if you're someone who was willing to go through a season of The Bachelor and a season of Bachelor in Paradise, then you probably don't mind jumping at an opportunity. Taking a plunge into love. Starting the amazing journey of a lifetime. You get the idea. And judging by the engagement photos (yes, there are already engagement photos) that she posted on social media, Salter looks really happy. And that's all that matters, right?
On Sunday, Salter posted a series of pictures on Instagram, one of which shows her hand wearing an engagement ring while holding a man's hand and a dozen roses. The caption reads, "@agbrannen 12 is better than 1 #roses." Ya know, because once you're part of the Bachelor franchise, you can't not make that joke.
After doing some extremely mild research (I clicked on the person's name she tagged ...), I found that Salter's fiancé is named Austin Brannen. According to Wetpaint, Brannen works as the acting vice president of NAI Brannen Goddard, a real estate firm. The site also reports that the couple previously dated when they attended Auburn University.
So when did they get back together? According to Reality Steve, they started dating again in June. And judging by their new pics, they had quite the whirlwind romance, seemingly getting engaged only four months later.
Well, it looks like Salter found her pomegranate in this world full of onions. Or something ... Sorry, but once you're a part of Bachelor Nation, you can't not make that joke.
Image: Ashley Salter/Instagram