20 Beauty Items You Need If You Travel Frequently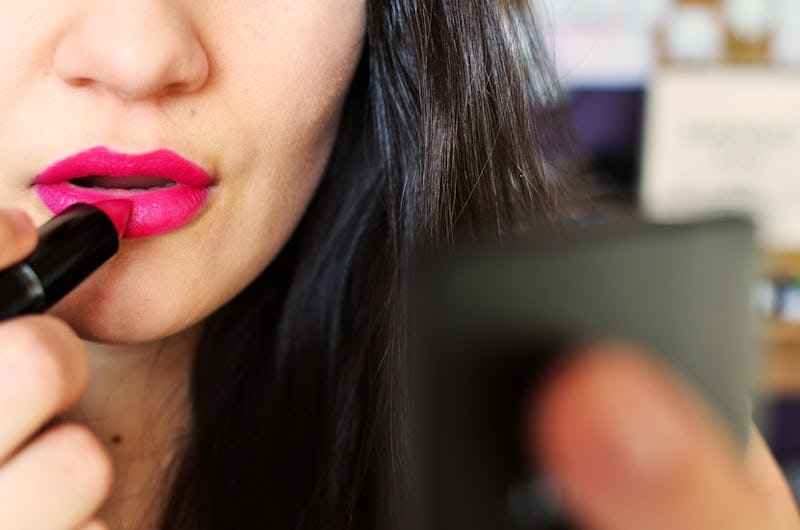 Whether you travel frequently or you're simply constantly on the go, it can be incredibly useful to have a little army of travel-ready beauty products. I don't mean travel-sized versions of your favorite products like mini mascara and dry shampoo, although it's a good idea to stock up on those too. For one thing, those miniature sized beauty products are cheaper and for another, who uses up a regular sized mascara tube before it expires? Not me. Plus, it's a great way to be able to afford to try out different products. However, that's an article for another time.
Today I'm talking about tools and products that were made specifically to make on-the-go primping easier. From compact, retractable makeup brushes to portable manicure kits, I've rounded up 20 life-saving items for the woman who simply doesn't have time in the morning or space in her bag for a complicated beauty routine. Imagine this: You're on the subway headed to a date and suddenly realize your nail polish is horribly chipped. I found a solution that will fit in even the smallest clutch. Fly a lot for work and need TSA-approved bottles for your toiletries? I found some mighty cute ones. Or maybe you just often find your lashes drooping or your T-zone getting shiny halfway through the day, but you don't need the hassle of carrying a full-size lash curler or face powder and a brush around with you. I gathered some teeny-tiny miracle workers that you can toss into your everyday bag so you can touch up your look wherever you are.
Here are the 20 beauty items every jet-setter and girl on the go needs to have.
Flo Refillable Perfume Atomizer, $10, Amazon
A perfume atomizer is perfect for those who want to bring their favorite scent with them wherever they go without having to worry about toting around the expensive, delicate bottle. Instead of paying for rollerballs of all of your favorite scents, get a refillable atomizer like this one so you can switch things up as needed.
Sephora Collection Brush It Off Cleansing Brush Wipes (18 PK), $7, Sephora
It's not always practical to bring your bottle of makeup brush cleanser with you on a trip. These alcohol-free cleansing wipes barely take up any room and will clean your brushes quickly and effectively, leaving them as good as new.
Japonesque Go Curl Pocket Curler, $10, Amazon
This is possibly one of the greatest things ever invented, as girls with ultra-straight eyelashes and small purses will attest. Normal eyelash curlers are way too bulky but this little guy fits in the smallest pocket, so it's easy to re-curl your lashes whenever you need.
W3LL PEOPLE Natural Lover Cream Complexion Set, $45, Birch Box
Stick foundation is ideal for busy women who want full-coverage makeup. You can throw this handy little stick in your bag and take it out to apply anywhere, whether on the train or in the office bathroom. This W3LL PEOPLE set includes a brush for flawless application (so you don't have to worry about dirty fingers) and a foundation that is natural, organic, and free of parabens and fragrance.
Sephora Collection Z Palette, $18, Sephora
If you want to bring all of your makeup with you on a trip, you need this handy palette. You can easily transfer your favorite blush, eye shadow, bronzer, and more into this palette. It's magnetic, so it will keep everything in place, and you can see what you have at a glance thanks to the clear front casing.
Sonia Kashuk Retractable Tools Dual Foundation & Powder Brush, $15, Target
A retractable makeup brush is the perfect thing to keep in your bag for touch-ups, and the fact that this one is dual-ended makes it even more useful (plus it's so budget-friendly!). The included caps help keep the brushes from getting dirty.
Sonia Kashuk Lash Comb, $5, Target
This is technically for your lashes, which is a godsend for when you're out and about and realize your lashes have gotten all clumpy. That said, there's no rule against using it to tame unruly brows as well. The collapsible feature is a really nice touch that makes it even more portable.
Pacifica Travel Ready Makeup Wipes, $14, Ulta
This set includes five packets with ten wipes in each, so it's great for traveling but also useful if you're just trying to find a favorite. You should also try their Tuscan Blood Orange Hand & Body Lotion Wipes, for all-day moisturizing, and their Underarm Deodorant Wipes for those awkward moments when you suddenly realize you need to freshen up a little.
Breakups To Makeup Bag, $24, Sephora
Duh. You don't want your lipsticks rolling around free in your expensive handbag all day. These Breakups To Makeup bags have witty sayings on the front and pretty lining on the inside. If you want something even more unique for storing makeup in your purse, check out Zazzle or Etsy.
Tartan + Twine Basics Clear Pencil Case, $10, Ulta
Similar to the makeup bag, this utilitarian pouch is useful for keeping items like makeup brushes, tweezers, lipstick, and even bandaids from rolling around in your purse and getting dirty. Use it for items that you're always reaching for, since the see-through design makes it easy to find what you need in a hurry.
Sephora Collection Artful Traveler, $26, Sephora
If you have a lot of makeup brushes and you travel frequently you need a decent makeup brush case like this one. You should be able to fit around 25 makeup brushes (if not more) in the snug slots in this roll-up bag.
Zadro Next Generation LED Lighted Travel Mirror, $29, Amazon
A compact mirror belongs in every woman's bag, but what's really useful is one that contains magnification and LED lighting. You'll wonder how you ever got by without this mirror.
Sephora Collection Travel Tips Mini Mani Kit, $11, Sephora
This kit contains everything you need for taking care of your nails while traveling or hurrying around town. The adorable case doesn't hurt either.
Tangle Teezer Compact Styler, $20, Amazon
If you haven't tried the Tangle Teezer yet you're missing out. It's great for managing all hair types, from short to long, curly to straight. This compact version fits neatly in your palm (and yes, in your purse) and comes in eight cute colors.
Josie Maran Bear Naked Nail Wipes, $8, Amazon
There's nothing worse than heading somewhere important, like a date or a job interview, and realizing your manicure is badly chipped. Keep these nail polish wipes in your bag at all times to make sure your nails always look presentable.
Palladio Oil Absorbing Rice Paper Tissues With Rice Powder, $8, Amazon
These blotting sheets are particularly useful in the summer but they come in handy year-round, especially if you have oily skin. There's plenty of varieties to choose from but these Palladio tissues are great because they're affordable and include rice powder for extra mattifying power.
IKEA Travel Size Bottles (8 PK), $7, Amazon
These cute bottles are the perfect size for TSA approval, but they're also handy if you're just going on a weekend trip somewhere and don't want to bring your full-sized toiletries. They won't take up a lot of space, nor will they leak. I suggest using them for shampoo, conditioner, body lotion, or oil, and hand cream or facial moisturizer.
REN Rosa Centifolia No. 1 Purity Cleansing Balm, $48, Amazon
Don't pack your full-size facial cleanser; it'll take up too much room and possibly spill. Instead, bring this compact cleansing balm. It gently removes dirt and makeup and even conditions brows and lashes. It also has a lovely natural rose scent.
Essie Cuticle Pen, $14, Nordstrom
Keep your hands in good shape by always having this pen handy. It's formulated with shea butter, jojoba oil, and soybean oil to condition and strengthen your nails and cuticles, and it's small enough to fit in any purse. Take it out for some TLC anytime you have a quiet moment.
No matter what you're going, it never hurts to have some convenient beauty products in tow.
Images: Courtesy Brands (20); Pexels