Which Are Johnny Depp's Deppiest Movies?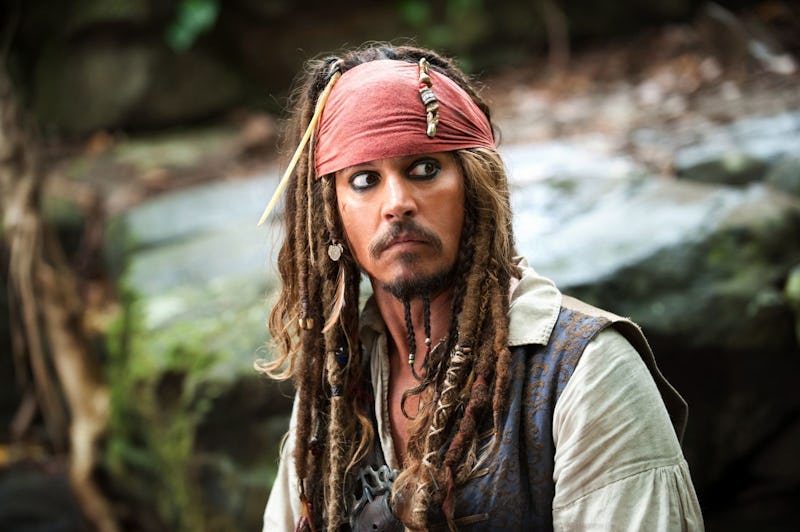 Boasting four Pirates of the Caribbean movies, eight collaborations with director Tim Burton, and countless ethnically ambiguous accents under his belt, Johnny Depp has established for himself something that many great actors strive for, and many others avoid like the plague: a type. After 30 years playing audience to the emphatic movie star, we have a pretty good idea of what composes an archetypal Depp performance. We know to expect elaborate costumes, dizzying hand-flailings, a dead-eyed stare to keep you up at night. Yes, most of the actor's roles are, for better or worse, definitively Deppy.
Of course, that quality of Deppiness does not exist at a static plateau. Over the years, we've witnessed a gradient of Depp's devotion to his preferred style of acting — we've seen him thrust full-bodied into menacingly cartoonish character acting, and, at other points, pull back to strike an interesting harmony between his oddball shtick and genuine humanity. If you try hard enough, you can even remember a time when Depp would forego his brand altogether. Close your eyes and wistfully recall What's Eating Gilbert Grape, perhaps the least Deppy movie in Johnny's filmography.
Love it or hate it, the Depp type has reared itself in a good number of the star's works over the past decades of his cinematic career. So which are the Deppiest movies that Johnny has turned out? And where will his newest film, Black Mass , land among the lot?
Ed Wood
As the wide-smiling, halfway delusional, full-way demented goon, Depp favors internal weirdness over the external that'd make up the latter half of the career. Nevertheless, his titular Ed Wood role plays heavy on the actor's trademark eccentricity.
Tusk
While you could call his Tusk role a bit of a departure from Depp's usual comic stylings, the character is without a doubt subsisting on the actor's impulsion to go full nut-ball. Not to mention the fact that it involves some heavy makeup and an indistinguishable accent.
Don Juan DeMarco
Before Depp traversed the Caribbean as a flamboyant outlaw, he set his adventurous spirit toward the high seas of human love. Don Juan DeMarco is really just a watered-down predecessor for the Deppiest of characters to rear in the 2000s. Little did we know then…
Into the Woods
Depp is at his happiest when he's hopping about in a thick layer of makeup and, in this case, wolf's pelt. Although his character only sticks around the hazy forests of Into the Woods for a few short scenes, he's one of the most vivid physical markers the film leaves us with.
Edward Scissorhands
Probably the first movie everyone thinks of when they think of Johnny Depp, Edward Scissorhands ranks among the Deppiest of his pieces. But, in truth, this where we struggle with the grey area that separates Deppiness from Burtonity (hence the omission of Charlie and the Chocolate Factory from this list). The subdued temperament of the main character keeps him from being Grade A Depp — in form, not quality — like some of the more bombastic roles to follow.
The Lone Ranger
Because the '90s was a period when a white man like Depp could get away with playing a Native American without much guff, The Brave did not effectively prepare the actor for the heat he'd take with The Lone Ranger. Of course, that was only partially based on the potential racial insensitivity. A lot of it had to do with the fact that he wore a dead bird on his head for the duration of the picture.
Sweeney Todd: The Demon Barber of Fleet Street
There is something so definitively rhythmic about the way Depp moves and speaks, to the point where you'd actually begin to believe that he's starred in more musicals than he actually has. Burton's Sweeney Todd employs Depp's natural musicality to a supremely macabre end.
Pirates of the Caribbean
You'd be justified to accredit the first Pirates of the Caribbean movie with the wave of heightened Deppism to spawn in the past decade and change. The actor changed his own game upon delivering his patented oddball routine to the blockbuster spectrum in 2003, earning an open invitation to do the same time and time again. But whether or not Pirates incurred excess, it itself was hardly this. The ethereal Jack Sparrow prances about the thin line bordering the dreadful "too Deppy" level, never quite falling overboard.
Alice in Wonderland
There is not a lot that I can say in commendation of Burton's 2010 Lewis Carroll tinkering, nor of Depp's performance therein. Nevertheless, it sure is the actor at his purest. His least edited, you might say. As Burton himself runs wild and unbothered with his take on Alice in Wonderland, he allows his backdoor star to do the same, all at the expense of character, coherence, and charm.
Benny & Joon
It's not a vast, fantastical epic. There are no dream worlds or far-off kingdoms in sight. Instead, this comedic romance is a plain stage for Depp to run free with all his kooky quirks and childlike musings. The 1993 picture fuels its engines on Depp playing giddily with some of his favorite ideological toys: Old school homage, physical comedy, and superhuman whimsy.
Images: Buena Vista Pictures; A24 Films