How To Iron Your Jeans The Right Way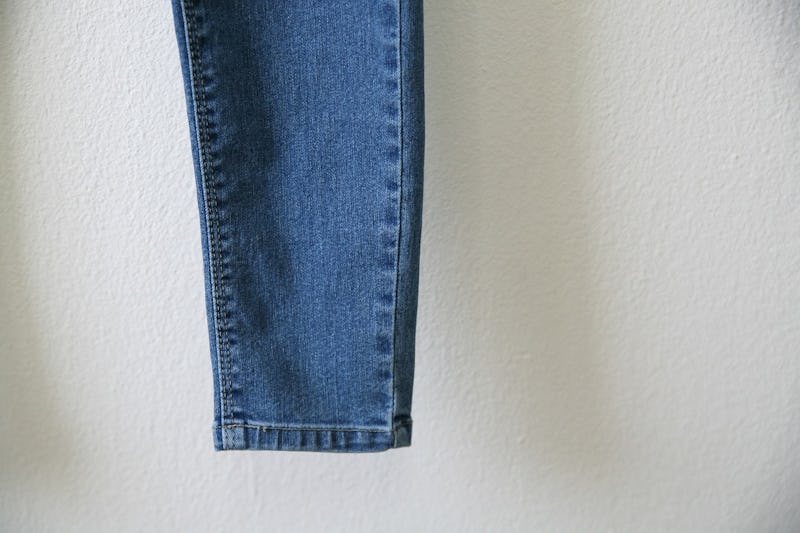 Wrinkled jeans? If you're anything like me, there's a solid chance your favorite pair of denim end up trampled on the closet floor and picked back up only moments before you have to wear them and head out the door. So, how does one learn how to iron your jeans without damaging the denim? Here's a step-by-step guide for how to dewrinkle your jeans the right way.
Jeans are tricky, because unlike your other clothes you may not want to throw these in the dryer for fear of shrinkage. If you have raw denim, you may want to stay away from all forms of washing and heating to preserve your blue jeans. Totally understandable, but it still doesn't answer the question: how do you dewrinkle your jeans?
Denim is typically made from cotton, which is sensitive to heat. If you're worried about ironing them, you can steam them or just hang them in the bathroom and let your hot shower do the work. You can also spot dewrinkle by dampening the denim and then use a hairdryer to get it out. Keeping your jeans clean is a big part of keeping them looking sharp, and steam can freshen and dewrinkle.
Still, if you're pro-iron, here's how to use the household staple to get your jeans to perfection.
1. Turn Pockets Inside Out
BLACK + DECKER Easy Steam Iron, $13, Target
First, fill up the water compartment of the iron. You'll need the steam. Pockets can get looked over in the ironing process, and those wrinkled and balled up pockets end up causing a look that you're probably not in to. Before you iron your jeans, turn pockets inside out and gently press the iron until they're smooth, according to The Copeland Method.
2. Gently Press The Waistband
The waistband is the strongest part of the piece, so to dewrinkle the waistband, you should press into a spot gently for a few seconds and then continue moving along the waistband. Leave the fly unbuttoned so that there aren't any zipper or fly creases while you iron. Also, try pulling the waistband up so that you can really get into those tight spaces. Learn all these tips by watching the video above from Phillips.
3. Line Up The Seams
Rolling Ironing Board Station with Storage, $86, Bed Bath & Beyond
Now, move onto the legs. Real Simple suggests lining up the seams of the pants and then pressing the iron down while pushing all the wrinkles to the side.
4. Press & Steam
Niagara Original Spray Starch, $10, Amazon
You'll want to gently press the iron onto the denim, using the highest heat setting. A couple of other pro-tips: 1. Use the steam option to help get all the wrinkles out. 2. Use starch for that perfect crisp fabric.
For other must-know fashion and beauty hacks, like how to wear makeup when you're wearing glasses, make sure to subscribe to Bustle's YouTube page.
Image: Waizy 79/Pixabay; Courtesy of Brands