'Divergent' Clip Premiere Impresses Roth, Fans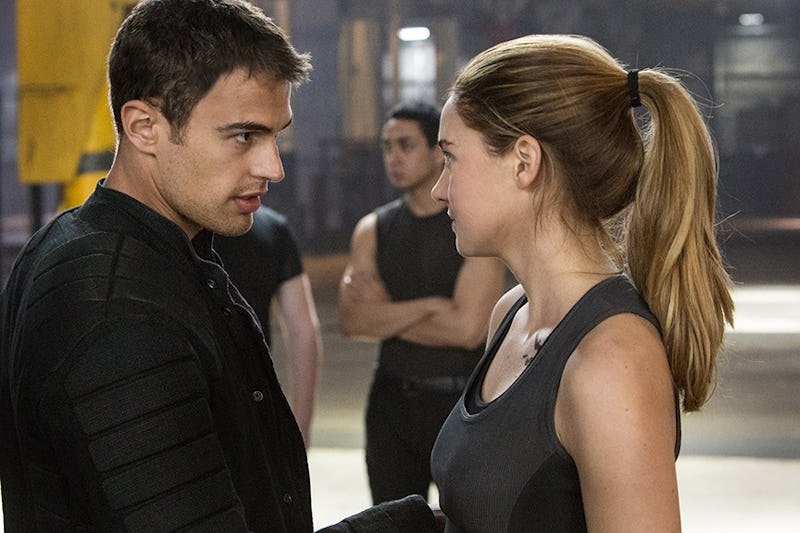 Initiates rejoice; Christmas came early! The first clip from March 2014's movie adaptation of Veronica Roth's Divergent premiered last night on Entertainment Tonight and online at Yahoo Movies — and Roth herself is giving it the thumbs up. The clip is the first insight into the Summit Entertainment's movie since the trailer premiere mid-November, and fans are eager to see even more of the gritty dystopian movie.
As Ellie Goulding's "Dead in the Water" plays in the background, the clip shows the famous "tattoo scene," in which Four (played by Theo James) shows Tris (played by Shailene Woodley) the tattoos that sprawl across his back and explains what they mean to him. It's easy to see in the clip, even without reading the book, that it's a crucial scene that sends sparks flying between the Dauntless initiate and member who runs her training. And according to Roth, Twilight's sparkly vampire Edward, played by Robert Pattinson, better take a step back with James now in the spotlight. Roth links to a list of seven reasons why James tops Pattinson, showing her support for the movie's casting of her characters — and you can practically hear the "squee!" across Twitter as her fans agree.
It's not uncommon for authors do stay quiet on — or even come out as despising — movie adaptations on their work, so it's positive that Roth has been so vocal about her approval for the Divergent movie.
"I've seen the clip, and…WELL. You'll see. It is so good," Roth wrote on her blog.
The first movie of her series will be released March 21, 2014 by Summit Entertainment. On her blog, Roth also told her fans that Insurgent, the second in her series, will be released almost exactly a year later on March 20, 2015, with a new director. The highly controversial final installment of Roth's series, Allegiant, is set to release on March 18, 2016, so fans will be on the hook for three years.
As The Hunger Games: Catching Fire dominated box offices this fall, both YA fans and movie studios are watching carefully to see how Divergent will fare, but if the responses across social media to the trailer, released last month, and this new movie clip are any indication, all other movies released late March better watch out.
Image: Summit Entertainment/Lionsgate