This Is What Janner's 'BiP' Babies Would Look Like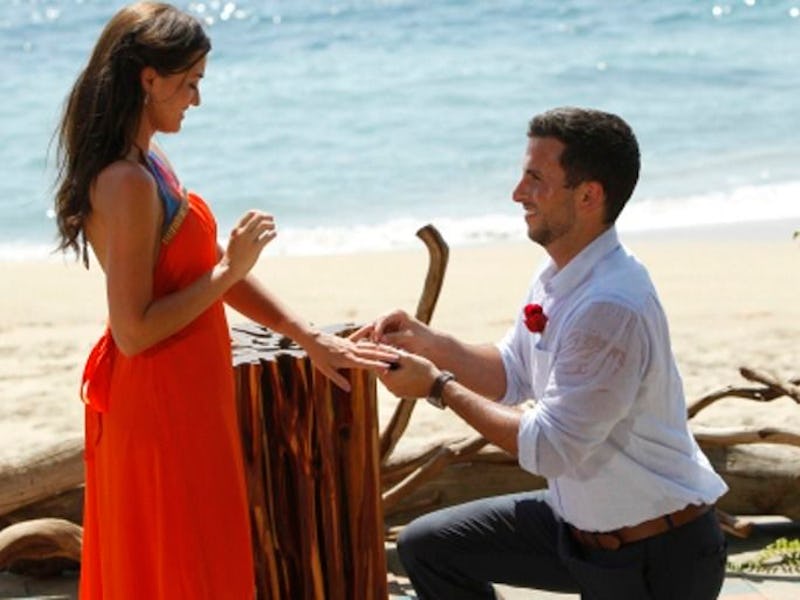 While there were a lot of devastating moments on Bachelor in Paradise's two-part season finale, (*clears throat* Kirk and Carly), there was also a pretty huge silver lining in Tanner Tolbert and Jade Roper's engagement! As you know, first comes love, then comes marriage, then comes a baby in a baby carriage, right? Just speculating here, but what would Jade and Tanner's babies look like?
OK, we don't really know when/if this Bachelor Nation couple will have kids. In fact, the only details we got in the finale were that Jade and Tanner were planning a wedding in Mexico next summer, perhaps televised nuptials on Bachelor in Paradise? But, while we wait for more Bachelor programming (Ben Higgins' Bachelor season doesn't start until January, guys), we have to keep ourselves busy somehow. Cue the not-at-all-creepy baby face morphing websites — alright, it may be just a little creepy. But, these morphing sites are the kind of weird fun where you can't look away.
So, without waiting until nine months after their wedding next summer, or somewhere in that ballpark, let's take a look for ourselves with the help of BabyMaker.com, MakeMeBabies.com, and MorphThing.com, because the Internet is a wonderful place.
Tanner Jr. Via Baby Maker
OK, not a bad start. This baby is pretty cute and has Jade's eyes. If you look too hard you can tell they are pretty much her eyes copy and pasted. Now, it's weird.
Jade Jr. Via Baby Maker
Congratulations! It's a girl ... who is starring in a Gilmore Girls-esque elementary production of Fiddler on the Roof.
Tanner Jr. Via Make Me Babies
I'm not sure whether it's the popped collar or the curls, but you know this baby is fly.
Jade Jr. Via Make Me Babies
OK, this duck hat is pretty adorable.
Tanner Jr. Via MorphThing
Honestly, this is the best morph so far. This kid is cute, and he actually looks like the couple.
Jade Jr. Via MorphThing
She's pretty cute too. I guess this just proves that Jade and Tanner are so attractive that not even strange Internet generators can give them weird offspring. Sorry to disappoint you Rory Gilmores out there.
Images: Rick Rowell/ABC; Baby Maker (2); Make Me Babies (2); MorphThing (2); gilmored/Tumblr