'Allegiant' Teaser Reveals What's Beyond the Wall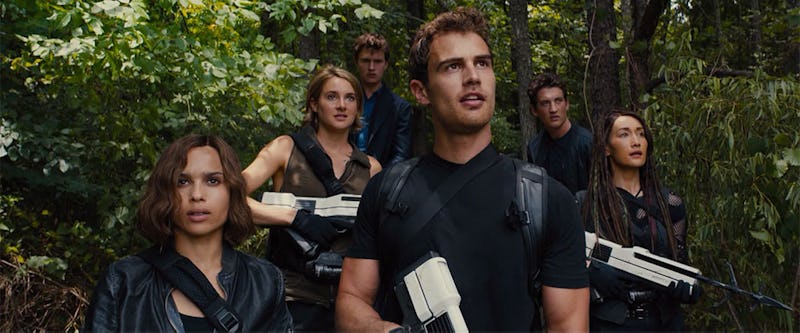 Veronica Roth and Theo James fans are salivating as we speak because the Divergent Series: Allegiant teaser trailer is here. The highly anticipated teaser starts by summarizing where we left off — you know, in case anyone forget about that cliffhanger — with a recap of the first and second films (Divergent and Divergent Series: Insurgent, respectively). If you either blacked it out because you just couldn't bear the thought of trying to grapple with what's to come, or if you haven't seen it and don't know what the hell I'm talking about, let me remind you.
Insurgent left us all with a huge question: WTF is behind the wall that everyone is down to climb? Apparently, we're not the only ones with inquiries. Tris and her #squad are seeking answers too. Good thing Lionsgate sent out a press release to try and assuage some curiosities, stating, "For the first time ever, they will leave the only city and family they have ever known in order to find a peaceful solution for their embroiled city. Once outside, old discoveries are quickly rendered meaningless with the revelation of shocking new truths. Tris and Four must quickly decide who they can trust as a ruthless battle ignites beyond the walls of Chicago which threatens all of humanity. In order to survive, Tris will be forced to make impossible choices about courage, allegiance, sacrifice and love."
Tris, having to make impossible choices? You don't say... OK, so the press release didn't give us many answers, but the trailer is a bit more revealing. Here are all the things beyond the wall (that we know of so far).
1. Tris And Her Hair
First of all, Tris, what supplements have you been taking? Your hair grew mad fast.
2. A Possibly Different Planet
There it is. Beyond the Wall, Revealed: A Biopic. (It's Mars though, right?)
3. More Walls
Why are they running again? Is there another wall? Are there an infinite amount of walls? Do the walls change every night when it gets dark? Is Dylan O'Brien coming?
4. More Walls (For Making Out)
YAS, girl, what's beyond that wall is love.
5. Prisoners
Alright, Dylan O'Brien is definitely in there.
6. Octavia Spencer
Octavia Spencer is back with a bodyguard, and her face is basically like GTFO, which makes me think they should GTFO.
7. An Explosion
Octavia Spencer warned them, I told you.
8. A River of Blood
This got very dark, very quickly.
9. Snow/Frisbees
Why the sudden change of climate? Do they even have time for extracurriculars (i.e. frisbees) right now?
10. Jeff Daniels
And finally, beyond the wall, we have Jeff Daniels, a rich evil genius who lives in the Museum of Modern Art.
Peep the trailer yourself here.
The Divergent Series: Allegiant will hit theaters March 18, 2016.
Images: TheDivergentSeries/Youtube (11)