10 Funny Fall Quotes To Get You Ready For Autumn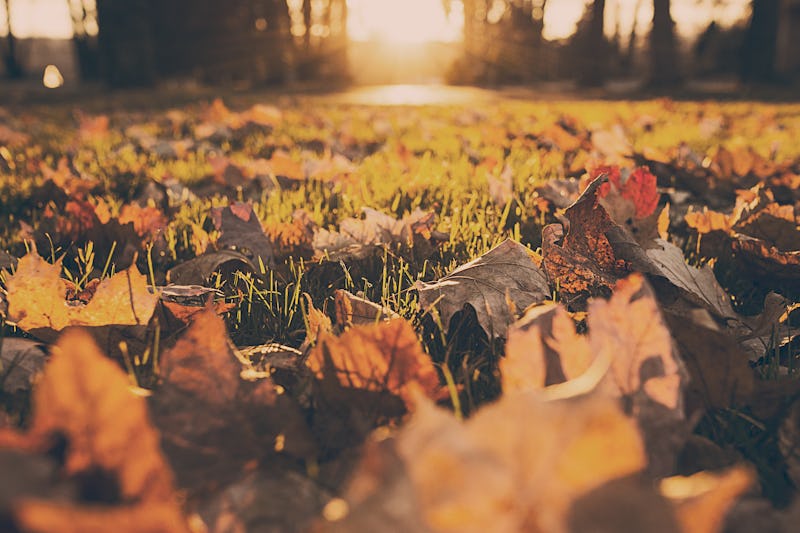 There are very few people who aren't "into" fall, but if you're one of them, you may be pretty sick of hearing about the glorious foliage and crisp autumn air by this time of the year. I'll be honest, it is pretty darn hard to talk smack on what I think is clearly the best season of the year, but that doesn't mean you can't still have a good laugh at its expense. Rounded up below are 10 funny fall quotes that take a stab at the much beloved season. That's right, haters, you have come to the right place — though if I'm being honest, these quotes are fairly lighthearted in their manner and not meant to be read maliciously... just with a chuckle. Still, something's better than nothing, right?
From a hilarious one liner from David Letterman to a rather dated poetic clause from William Allingham, there's something in here that will make just about every cynic (and even fall-lover) have a good laugh. There are endless amounts of jokes regarding everything pumpkin spice and ~sweater weather~, but I like to think that these quotes have a little more class to them, whether they are being silly, odd, or just plain bitter.
1. "Fall is my favorite season in Los Angeles, watching the birds change color and fall from the trees." — David Letterman
2. "No shade, no shine, no butterflies, no bees, no fruits, no flowers, no leaves, no birds — November!" — Thomas Hood
3. "Fall has always been my favorite season. The time when everything bursts with its last beauty, as if nature had been saving up all year for the grand finale." — Lauren DeStefano
4. "Autumn is a second spring when every leaf is a flower." — Albert Camus
5. "The Autumn is old; The sere leaves are flying; He hath gather'd up gold, And now he is dying… Old age, begin sighing!" — Thomas Hood
6. "It's like going back to school. You know, autumn! Time for 'Harry Potter'." — Robbie Coltrane
7. "Autumn's the mellow time." — William Allingham
8. "Why is summer mist romantic and autumn mist just sad?" — Dodie Smith
9. "Autumn wins you best by this, its mute appeal to sympathy for its decay." — Robert Browning
10. "Love the trees until their leaves fall off, then encourage them to try again next year." — Chad Sugg
Images: Pexels; Giphy (4)