Perrie Edwards Released A YouTube Makeup Tutorial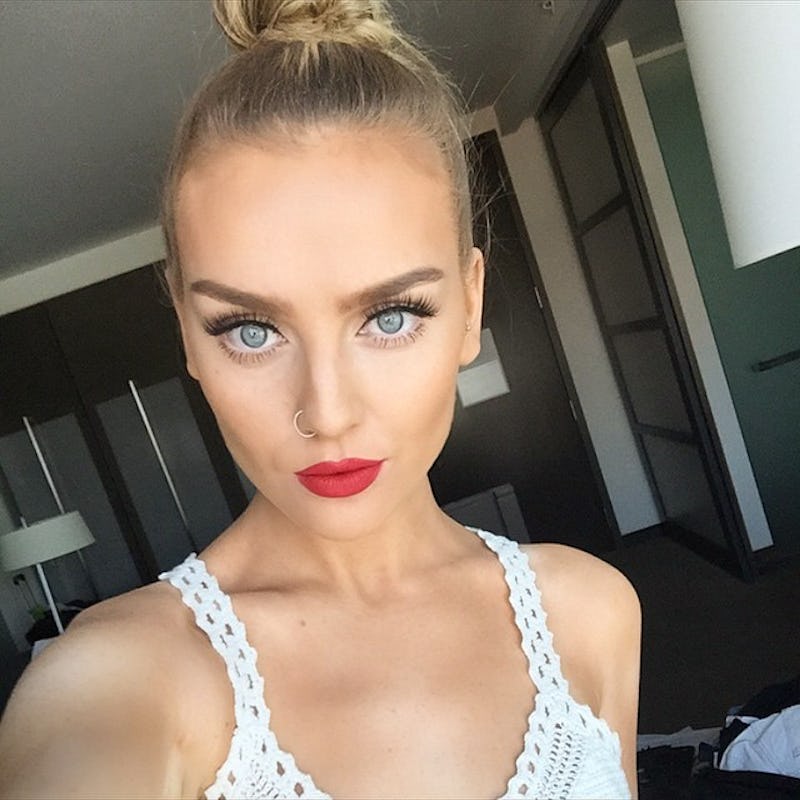 Fans have been asking and it looks like it's time to receive. Little Mix band member Perrie Edwards released her first makeup tutorial video, showing exactly what products she uses and how she applies them, and it's everything you'd expect from a rockstar.
You may remember Edwards as the paramour allegedly responsible for One Direction band member Zayn Malik's split from his group. Edwards, 22, was engaged to Malik briefly before they called it off a couple months ago. Boy bands aside, Edwards is a member of U.K. pop group Little Mix. They're your classic, peppy British pop group and their hit song "Black Magic" put them on the map.
Edwards talents aren't just for the microphone. She's pretty killer at all things makeup, and her Instagram account is filled with amazing, Kylie-Jenner-worthy looks. In her video, Edwards does what looks like a simple iPhone shooting-and-editing with some rock 'n' roll music in the background. While she doesn't stop to fully explain every move in her first video, you can still watch her every move and learn a thing or two, if you pay attention closely. I certainly hope she explains what she does in future videos (that is, I hope there are future videos!)
The singer is obviously crazy talented and passionate about beauty. In the caption for her video, she says "Okay so I'm NOT a make up artist but you've all been requesting this...." That's right, Edwards. Put that coyness on the shelf and give the people what they want!
If Edwards does decide to do future videos (and I think she will, since she titled it "first"), here are seven lessons I think she could school all of us in.
1. Lined Lip Tutorial
Is that Kylie Jenner? This pout is intense, and I need it in my life. Teach us your ways, Edwards.
2. A Halloween Tutorial
How fierce is this look?! Full body paint, and looking totally worth it.
3. The "No Makeup" Makeup Tutorial
Those brows though...Gorgeous.
4. The Classic Bombshell Tutorial
Nailing a classic red lip can be hard, and don't get me started on the skill it takes to apply some fluffy false lashes. We definitely need her secrets for this one.
5. The Glam Tutorial
Intense colors are great for a night out, and I would love to hear how she nailed this high drama look.
6. The Smoky Eye Tutorial
Smoky eyes are dark, dramatic, and irresistible. This girl obviously knows how to blend.
7. The Contour Tutorial
Do you see that contour? DO YOU SEE IT!? Sharp as knives and cheekbones for days...I can only hope she chooses to bless us with her knowledge.
Images via Little Mix/YouTube