'DWTS' Pair Tamar & Val Have Each Other's Backs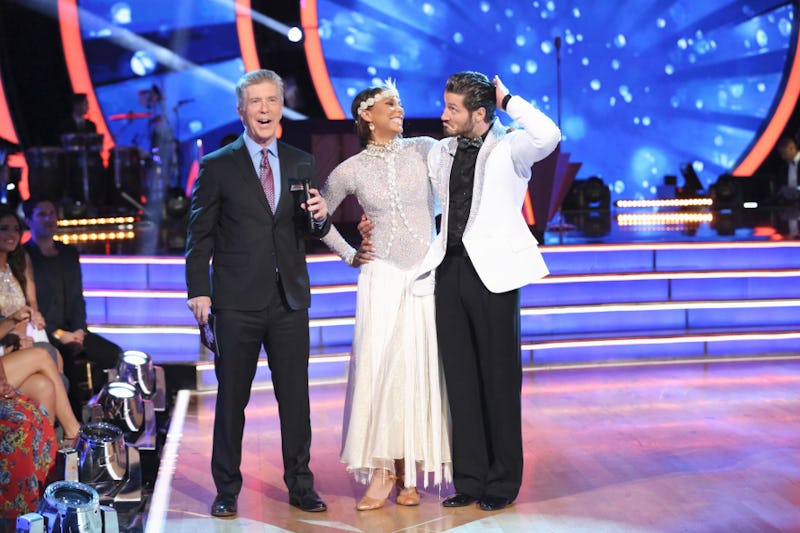 Being on Dancing With The Stars is certainly not easy. It may look like a fun, frothy television show, but in reality, these celebs (and some civilians) are dancing for 12 hours a day, pushing through injuries and plenty of self-doubt. Though there are some great dancers on the show, there are also some really bad ones. Among the best dancers on Season 21 of Dancing With The Stars are Tamar Braxton and Val Chmerkovskiy, who won last season with Rumer Willis on his arm. These two may look feisty (Tamar's word) at the outset, but really, they're Dancing With The Stars' most supportive pair, and that will take them all the way.
Their beginning interviews showed some playful brother-and-sister-type fighting, but when the going got tough, Val was right there to prop up Tamar for her first dance on national television. Before the race, Val assured Tamar, "I'm going to be me, and you're going to be you, just like we have been for the last two weeks." Following a great first showing and some very good scores for a rookie (a total of 23 points from the judges), Tamar was not pleased, and she said as much, noting. "I'm pretty pissed off right now."
Why was she so mad? Tamar felt like she really messed up one of the turns in their dance, lessening their scores. Val quickly stepped in to reassure her, which is a change from the tough-love Val we usually see. He told Tamar, "It didn't look the way it felt. You're amazing, and I want you to find confidence in that and not pretend. You honestly killed it, and I'm not in the business of pep talks."
As I mentioned before, Dancing With The Stars is a super stressful situation, and the fact that Val and Tamar are on each other's wavelength will be a great asset to their competitive spirit. They'll be able to feed off of each other, strengthening not only their bond but their dance game as well. With a pair as connected as Val and Tamar are, the other contestants on Dancing With The Stars better look out.
Images: ABC/Adam Taylor