'Hunger Games' Trailer Pays Tribute To Prim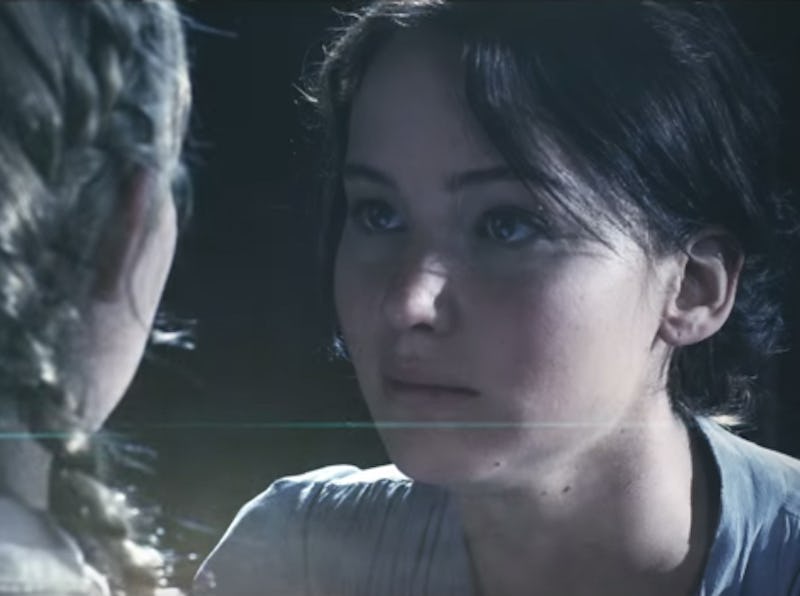 It's a bittersweet time for fans of the Hunger Games franchise. While we're all excited to see the next film, Mockingjay — Part 2, it will be the last installment of the series. I've been comforting myself by looking at Hunger Games GIFs that describe my sadness, but a new trailer for the movie is also helping. Titled "For Prim," the preview pays tribute to Katniss Everdeen's little sister, whose entrance into the games marked the catalyst for the series.
The two-minute trailer pulls from different moments in the Hunger Games franchise, beginning with Katniss assuring Prim that her name won't be called in the selection and ending with the two sisters hugging. It's incredibly emotional, especially for fans who know how the series ultimately concludes.
In an interview with Cosmopolitan, actress Willow Shields discussed the relationship between Prim and Katniss, saying, "Honestly, that's my favorite part about this character, is the relationship between her and Katniss. Because throughout this whole series, it's the only true, genuine love relationship. Other relationships you're not certain of throughout, and Katniss isn't either, but she is always certain of her love for Prim."
You can check out the most emotional moments from the new Mockingjay — Part 2 trailer below.
1. When Katniss Comforts Prim
We're first introduced to Katniss' insane bravery, even in the toughest of times.
2. When Katniss Volunteers As Tribute
Thus saving her sister's life and, ultimately, Peeta's. Seriously, chills.
3. When Panem Is Pulling For Katniss
Even though the government oppresses rebellion.
4. When Prim Has Hope
For the first time, it seems like things might be okay in the end.
5. When Katniss Is The Girl On Fire
Just a subtle reminder that she's going to fight back, no matter what.
6. When Katniss Recalls How It All Began
She just wanted to save Prim and Peeta.
7. When Katniss And Prim Hug
Reminding us of the real reason the whole story began.
You can catch Mockingjay — Part 2 when it hits theaters on Nov. 20.
Images: Lionsgate (screenshot); Lionsgate (7)