Mulan Is Coming Back To 'Once Upon A Time'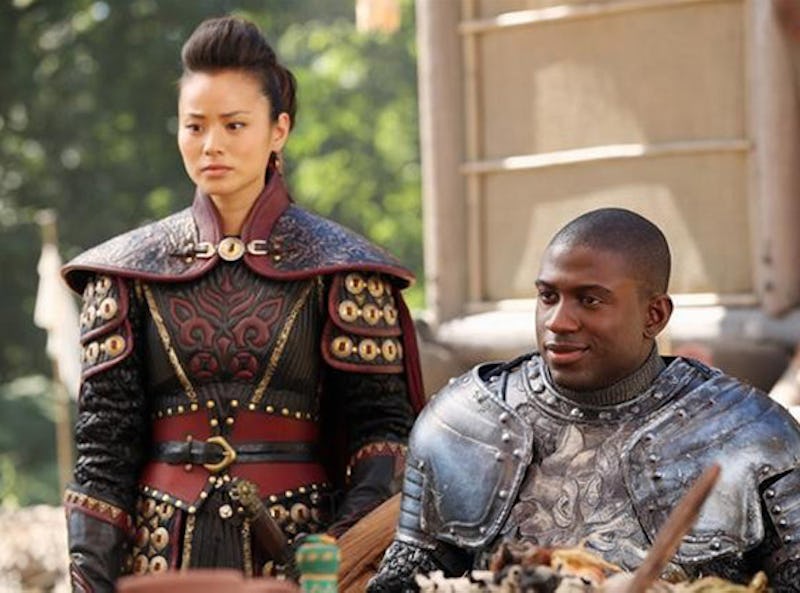 It's with great pleasure that I type the following sentence: the premiere of Once Upon A Time Season 5 is officially less than two weeks away. It feels like we've been talking about it since... well, since the Season 4 finale, but it's finally upon us, and there are so many exciting things in store. Not only do we have the likes of Dark Swan, a trip to Camelot, and the addition of Brave's Merida to look forward to, but we're also getting to see the return of some familiar faces. It was announced last week that Ruby was finally coming back, and now it seems as though Mulan is returning to Once Upon A Time this season, as well. Talk about amazing news!
The last time we saw Mulan was back in Season 3, when she decided to join Robin Hood's Merry Men in order to escape the fact that the woman she loved, Aurora, was pregnant with Prince Philip's baby. However, she's always remained a fan favorite, and now that actress Jamie Chung's schedule has opened up (she was on the NBC series Believe for a while, which made a return to Once all but impossible at the time), it's finally time for Mulan to return to our screens. Ugh, I can't wait.
The details of what Mulan's return will entail have been kept pretty quiet, though plenty of people have begun speculating that the warrior's story might pick up where it left off in terms of her feelings for Aurora and how their relationship evolves from there. Unfortunately, I think that's wishful thinking, and given that Once is a show about strong women, I doubt we'll be watching her pining for someone that she can never have. After all, Aurora is quite happy with Philip and Mulan is a badass who cares about more in life than just love, so thankfully, I think bigger things are in store for her.
Frankly, I'd love to see a little more of Mulan's backstory. How she got to where she was in the Enchanted Forest and what her childhood was like would be fascinating stories and great to watch. I'd also love to see her join in the fight against the Dark One, because who better to have on your side than the best warrior in the land? Beyond that, I'm just glad to have her back, so I'm just happy to see what's to come.
How long Mulan will stay with the series this time remains to be seen, but executive producer Adam Horowitz may have dropped a subtle hint on Twitter by revealing the title of the seventh episode of Season 5, "Nimue", which Entertainment Weekly points out is translated to "lady of the lake" — the title of an episode Mulan appeared in back in Season 2. Coincidence? Perhaps, but not likely on this show.
Images: Jack Rowand/ABC; Giphy