The 6 Best Things About 'Graceland'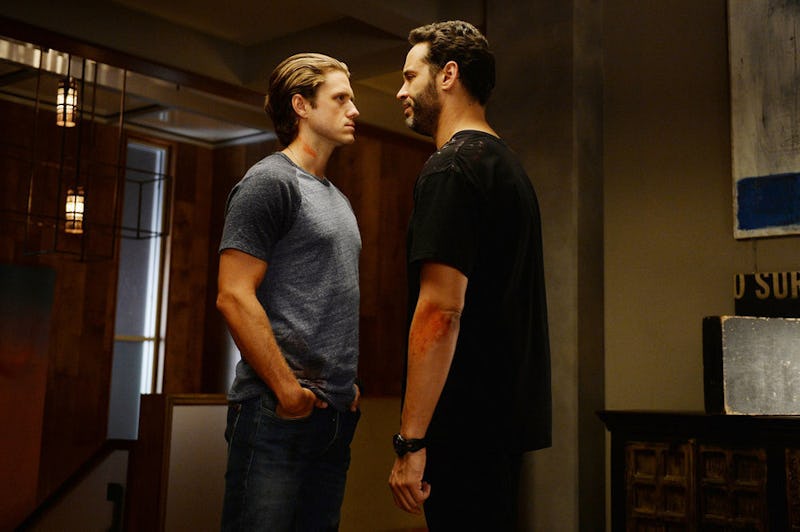 USA's Graceland is one of those shows that so easily could have been something else. A quasi-successor to Burn Notice — the networks hit summer show that was airing its final season right as Graceland was launching its first — it could have coasted on its good looks and charm (of which the cast has an excess of both). Instead, it zigged where it could have zagged, focusing far more on the crime busting operations, the dangers, the physical and emotional toll of going undercover and the serialized story developments then on romance or intrigue. It became a huge hit, so naturally fans are wondering when Graceland Season 4 will premiere. Update: On Oct. 1, USA cancelled Graceland, Deadline reported, so it will not return for a fourth season.
While built on the strength of its two leads Aaron Tveit (Mike Warren) and Daniel Sunjata (Paul Briggs), both of whom smolder so well they should come with a fire warning, it expanded in Season 2 into an ensemble show focusing on all of the housemates. It's a solid show that never quite entered into the "heavy hitter drama" category like Mr. Robot, but still turned out intriguing and captivating plots season after season. So, I am not sure why Graceland has not yet been renewed for Season 4, but I am optimistic that it will still return. After all, the Season 3 renewal didn't come until a few months after the Season 2 finale. Assuming it is renewed, Graceland will likely return in summer 2016, and here are the things fans will miss most, waiting for the return.
1. Mike's Everything
I was going to say smile, but I like really almost everything about this guy. Hopefully Tveit has some movies lined up between seasons, because a year is just too long to go without him.
2. The Beach
It's not exactly fluff, but then again it still fits nicely in my summer watching habits, especially when they take to the beach.
3. The Thrill Of The Chase
This show gets action, because why not have a high-speed chase through the streets of southern California?
4. The Camaraderie
I like that their shared secrets is what keeps them banded together, even when the housemates are at eachother's throats. That can easily get overlooked in the undercover drama, but it is crucial to the shows success.
5. Briggs' Intrigue
Because Paul Briggs always has something going on. There is usually a plan under a plan, and even though it doesn't always go well, I still end up rooting for him.
6. The Story
At the end of the day, these are interesting characters embroiled in some compelling stories, and I would hate for it to end here. Here's hoping Season 4 is announced soon!
Image: Jeff Daly/USA; giphy(6)