Andy Samberg Was Born To Host The Emmys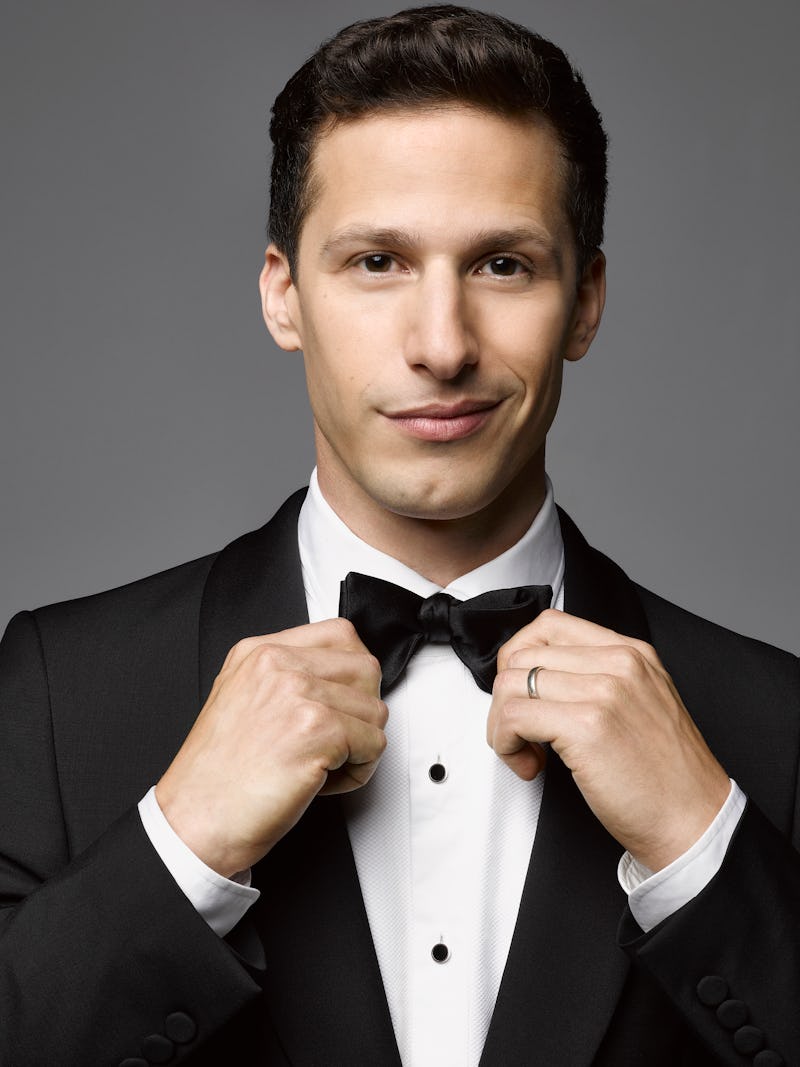 It's a great week for television. Not only are fall premieres upon us but the biggest night in television, awards-wise, is this Sunday night. Who else is excited to see Andy Samberg host the Emmy Awards?
What kind of host will he be? I don't want to put on any additional pressure, but I predict that Samberg is going to be a warm, engaging host who will ignite everyone's enthusiasm about television no matter who takes home a trophy. I think a lot of us still picture Andy Samberg as the goofy guy with bro hair doing Laser Cats with Bill Hader and songs with Justin Timberlake on Saturday Night Live, but he's been shaping comedy and television for years now.
Not only has Andy Samberg hosted several awards shows before, but he's on a hit television show and has performed live on many various occasions. The Lonely Island has performed at the Emmy Awards and the Academy Awards. This is going to be a breeze. Typically, we know that performers are going to be good hosts because we enjoy their banter, like Tina Fey and Amy Poehler, or because they are excellent stand-up comedians. With Andy Samberg, he's just a great host. Here are some of his funniest moments that prove he's up for the job.
1. Independent Spirit Awards
So, a lot of the comedy here is specific to independent film and now dated. However, it's worth watching not only to see Andy Samberg ease into his job as host and end on a rousing commentary about Hollywood and art — but also for Daniel Radcliffe's utter delight when Samberg makes the classic film school joke "hey Wes Anderson, Hal Ashby called. He wants his establishing shots back."
2. MTV Movie Awards
To change gears, Samberg also hosted the MTV Movie Awards way back in 2009. Here's the opening montage from that, which connected the year's films in surprising ways. I think it's fair to say that the Emmys are somewhere in between the Independent Spirit Awards and the MTV Movie Awards in tone, plus television and a stricter dress code than both. He's definitely paid his hosting dues.
3. SNL Monologue
We all know Samberg's greatest hits from Saturday Night Live and The Lonely Island, but I think his monologue here is another good indication of Emmy goodness to come.
4. Harvard Student Day
If Andy Samberg can roast a bunch of Ivy League graduates, he can handle the Television Academy.
5. Roast of "James Franco"
I put typographical air quotes, also known as quotation marks, up there because James Franco isn't actually roasted in these clips. The Emmy Awards are a family friendly show, but Andy Samberg is not afraid to get dark. With a wider canvas of celebrities to comment on, this could get interesting. Of course, I'm kidding. Everything he says is super nice! Nobody likes those awkward moments when a host gets mean and the room's not having it. This is an indication that Samberg can do it with a twist.
6. Golden Globes Acceptance Speech
Of course, a great indication of what kind of host Andy Samberg will be is how he handles winning a major award — because winners are and always will be the best, duh. I don't want to get too sycophantic but there's something about the way Andy Samberg delivers even an impromptu acceptance speech that hooks an audience in and assures me that hosting will be a piece of cake, whether he's nervous or not.
7. Lazy Sunday
The moment we knew, for the umpteenth time, that Saturday Night Live was not dead and could thrive in a digital world. Andy Samberg had a part in revolutionizing television, making him more than qualified to host the Emmy Awards.
Image: Mark Seliger/FOX