2015 Host Andy Samberg Isn't New To The Emmys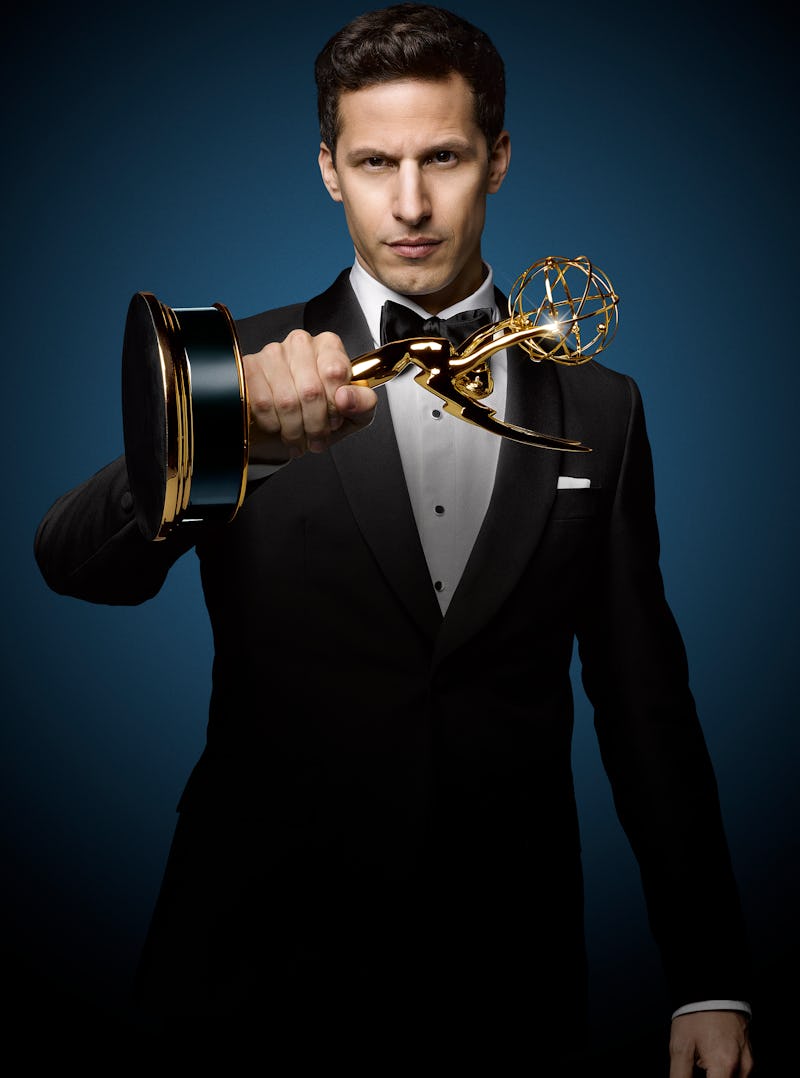 When it comes to finding an awards show host, producers have two choices: They can go with the traditional, song-joke-and-a-soft-shoe kind of host, like Neil Patrick Harris or Hugh Jackman. Or they can go for the irreverently funny comedian, like Ricky Gervais, Jon Stewart, or the unparalleled Tina Fey and Amy Poehler. You can't have both: Seth McFarlane tried that, and it was a disaster. So, which type is your favorite? With respect to NPH, I'd say hands-down the comedians. That's why I'm psyched that Andy Samberg is the host of the 2015 Emmys, which will be presented on FOX on Sept. 20. But Samberg has worked with a lot of people who will bring home awards that night, and he's not nominated this year for Brooklyn Nine-Nine. Is that a bitter pill to swallow? Or has Andy Samberg ever won an Emmy in the past?
Yes, he has, so the pressure is off — he can just goof around and be funny without worrying about when it'll be his turn. But before I tell you what he won his statue for, I should say that he is nominated again this year — just not for Brooklyn Nine-Nine. Samberg is one of around two dozen people who are nominated in the Outstanding Writing for a Variety Special for the Saturday Night Live 40th Anniversary Special. I love the video, shown below, he did with his predecessor, Adam Sandler, about "breaking" during sketches, so fingers crossed he brings home another Emmy.
My favorite part has to be: "We also made a movie that bombed!"/"Why would you bring that up?" That line alone deserves its own Emmy.
But, breaking aside, what did Samberg win his previous Emmy for? Was it for his lead acting turn on Brooklyn Nine-Nine? No. Was it one of those easy-to-snag Emmys for doing a funny guest performance in another sitcom? No — he's never even been nominated for one of those. So, was it for another Saturday Night Live Digital Short? Of course it was. But which one? "Lazy Sunday"? "I'm on a Boat"? No, the most amazing Digital Short of all: "Dick in a Box" won an Emmy for Outstanding Music and Lyrics.
It warms my heart to know that, if Samberg or Justin Timberlake ever EGOT, "Dick in a Box" will forever be the E. I don't care if they win dozens more Emmys — this is the E of all Es.
That's not to say that Samberg hasn't been given awards for his acting or comedy. In 2014, he did win the Golden Globe for Best Performance by an Actor in a Comedy for Brooklyn Nine-Nine. At the time, it was a big surprise, because he beat out heavy-hitters like Jim Parsons for The Big Bang Theory and Jason Bateman for Arrested Development. And he won it without having to dress up like a reject from Color Me Badd.
So now we just have to wait until the Emmys air to see if how his awards-hosting skills stack up against his acting and/or Digital Short prowess (although smart money is on some kind of short being aired during the awards). Maybe next year Samberg will get another Emmy nomination for Outstanding Writing for a Variety Special.
Images: Mark Seliger/FOX; Giphy