9 Empowering YA Novels For Girls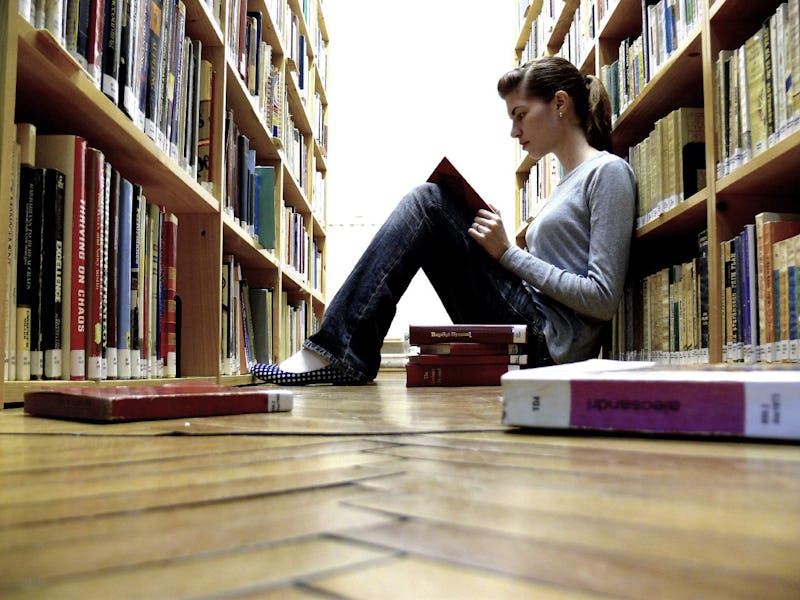 In my opinion, there are few things better than a good story featuring a totally badass female lead; and lately, from Hermione in Harry Potter to the Katniss in The Hunger Games, leading ladies in young adult fiction are kicking ass, changing the world, and totally saving the day. As they should be. (No, offense, Prince Charming: You're cute and all, but we've totally got this.) After all, growing up can be pretty difficult, especially if you're a girl, and we can definitely use all the positive vibes that empowering YA fiction has to give.
I might not have had Hermione and Katniss when I was growing up, but I definitely turned to my fair share of fictional female go-getters (Anne of Green Gables, anyone?) when I needed a little reminder that girls really can do anything — bad hair day or not. But especially on the bad hair days… and, boy, were there a lot of those.
Here are nine empowering YA novels for girls that you'll definitely want to give to your daughter, or your niece, or pretty much any other young girl whom you know and love — and then when they're finished, you'll want to ask to borrow them yourself. Yep, they're that good.
Stargirl by Jerry Spinelli
Susan Caraway, aka Stargirl, is everything I wanted to be as a teen, but barely had the guts for it. On her first day at her new high school she arrives makeup-free and kimono-clad, and plays her ukulele on the lawn at lunchtime. At sporting events she cheers for both teams, and she never has an unkind word for anybody. When it rains, she dances. Her peers greet her with equal parts fascination, animosity, and envy, but Stargirl weathers it all. She's kind of a badass of nonconformity.
A Girl Named Disaster by Nancy Farmer
Nhamo is 11 years old when a series of unfortunate events force her to leave her home in Mozambique and seek refuge with her father's extended family in Zimbabwe. A two day journey down the river turns into a year of being lost in an unforgiving wilderness — Nhamo faces wild animals, starvation, and complete isolation in her journey to survive; all while dealing with the physical, emotional, and spiritual changes of growing into a woman. This girl is so tough that she kinda makes Brian Robeson's journey in Hatchet look like a vacation at the beach.
Ella Enchanted by Gail Carson Levine
In this retelling of the classic Cinderella story, forget the princes and knights in shining armor — the only person who can save Ella from her fate is none other than herself. You go girl. At birth Ella was bestowed with the gift of obedience by a well-meaning, but not-so-bright fairy. When given a direct order, Ella is unable to refuse, no matter what the demand might be. Naturally, this means she's taken advantage of by less than honorable characters. But Ella, through her own strength of spirit and determination, ultimately breaks the curse herself.
Esperanza Rising Pam Muñoz Ryan
Growing up, Esperanza Ortega had everything she could ever want. But when her father dies and his villainous step brother takes everything from Esperanza and her mother, the pair must migrate to the United States to escape him, and to rebuild their lives. They arrive in the middle of the Great Depression, and begin working in a labor camp. Through it all Esperanza adapts, overcomes, and survives.
A Wrinkle in Time by Madeleine L'Engle
When 13-year-old Meg Murry's father, a government scientist, disappears while working on a mysterious project in time and space travel, Meg, her brother, and their neighbor Calvin must travel across dimensions in order to save him. Meg is something of a reluctant heroine — she insists she cannot accomplish the task set before her, but then does so with flying colors.
Paper Towns by John Green
Even though she's "missing" for most of the novel, I kind of think Margo Roth Spiegelman is the bravest and most interesting of all the characters in Paper Towns. The book follows the main character, Quentin, who has always watched Margo from afar, through one night of adventure with her, and his cross-country search for her after she disappears. He finds her, it's not as joyfully romantic as he'd planned — in fact, Margo didn't need saving at all. When Quentin surprise-discovers Margo, she's all like: "WTF dude, get off my lawn." That's probably exactly how I would respond to Prince Charming, too.
Dairy Queen by Catherine Gilbert Murdock
15-year-old Darlene Joyce Schwenk used to be a star athlete, but when her father is injured and unable to run the family's dairy farm any long, D.J. must take over, trading in her volleyball uniform for a dairy apron. But then she tries out for the high school football team. Naturally, everyone around her has strong opinions about this. In the end, D.J. comes out on top.
Endangered by Eliot Schrefer
Sophie is less than thrilled when told she has to visit her mother at her sanctuary for bonobos in the Congo. But then Otto, a baby bonobo, develops a fondness for Sophie, and suddenly she's taking care of him full-time. When the sanctuary is attacked, Sophie and Otto escape into the jungle together — a jungle that is not only home to dangerous wildlife, but also hides the same violent soldiers who attacked the bonobo sanctuary in the first place. Sophie not only has to learn how to survive, she has to protect Otto as well. Of course, this girl's got it covered.
The House on Mango Street by Sandra Cisneros
Esperanza Cordero has always lived in the Chicano and Puerto Rican neighborhood of Chicago, but as a teen she is determined to leave the inner-city, make a life for herself, and then return to help improve the lives of the people she grew up with. Until she can leave, however, she faces issues of sexual abuse and assault — experiences that only affirm her need to escape the neighborhood. She does, and learns that Mango Street not only challenged her greatly, it made her stronger.
Image: Rachel Titiriga/flickr