12 Books That'll Turn Any Reader Into A Feminist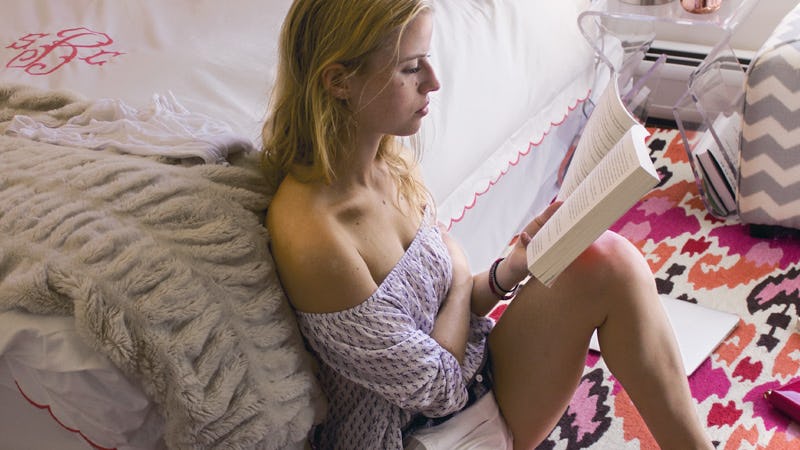 Given how much feminism is a part of me, it's hard to believe there was a time in my life when I wasn't even sure what it meant. Just because you can't name something, though, doesn't mean you don't believe in it, right? Trying to pinpoint the time I became a feminist isn't easy— probably like you, I've always felt so connected to the values feminists espouse. I give a lot of credit for my identity to my parents, my friends, and my strong desire to prove I could do what the boys could from a young age. But one of the biggest influences was what I read.
So many books for young people champion feminist themes, whether its through their badass female characters, discussion of women's issues, or support of feminism's goals. Sure, we're not exactly hunting for empowering themes when we're 11 years old and slogging through middle school reading... But think back to your favorite books growing up, and I bet you'll be surprised to realize how pro-woman they made you before you even knew what feminism was.
Whether they do it obviously or with a subtle touch, these 12 books for young people will get your feminist wheels spinning at any age. Read 'em now or pass them on to your favorite kid. They're all still so good.
Based on one girl's real-life experience stranded on an island off the California coast, this book is the ultimate survival story for females, and should — as far as I'm concerned — be in as many classrooms as Gary Paulsen's Hatchet . Karana does some seriously impressive stuff to make it on her own after her tribe's departure and brother's death: She learns to hunt, makes weapons, sews clothes, builds a canoe — she even tames a wild dog to keep her company. Talk about a girl being on it.
Speak by Laurie Halse Anderson
Anderson's novel tells Melinda Sordino's tear-jerking tale of sexual assault's lasting trauma. When the high school sophomore calls the cops after getting raped at a party, she's shut out of her social circle for the rest of the school year by classmates who think she simply broke up the party. In a natural response to her isolation, Melinda closes in on herself, rarely speaks, and attempts to cope with her intense emotional distress all on her own. Like so many books, Speak teaches empathy (as in, don't be a bully — ever) and proves that experiences don't just come and go, but shape us in lasting ways.
Little Women is filled with feminist moments that are so brilliant, I'm willing to bet they'll get you a little teary-eyed. Written in 1868, the novel presents a bunch of radical themes for its era, along with one standout female character: Jo March. Jo regularly rejects what's traditionally expected of her as a young lady, providing us with some incredible feminist quotes, my favorite being: "I find it poor logic to say that women should vote because they are good. Men do not vote because they are good; they vote because they are men, and women should vote, not because we are angels and men are animals, but because we are human beings and citizens of this country." This girl's got all the words.
By this point, Katniss Everdeen's badassery is old news, but she simply cannot be left out of a list featuring awesome and influential female characters. Not only does she dominate the Hunger Games with ridiculous strength, cleverness, and heart, but the girl leads a revolution. And the best part is that she does it with the flawed and relatable qualities of so many young women. It's not often that girls are instilled with extreme confidence in their abilities — especially ones typically considered masculine — but that doesn't mean they don't constantly defy their own odds: Katniss may not think she can do it, but — wouldn't you know it — she's so much tougher than she first believes.
Like The Hunger Games , Pullman's Golden Compass trilogy (His Dark Materials) provides us with a relatable and inspiring heroine: Lyra Silvertongue. Lyra's just a girl when she's given the task of — long story short — saving the world from repressive evils. Refreshingly, she fails to exhibit most traditionally feminine (and annoyingly unrealistic) traits — she is mischievous, independent, brave, and an expert liar. This makes her the perfect candidate for the daring journey destiny sends her on, one in which she must protect children from losing access to life's natural pleasures: knowledge, love, nature...and, you know, sex.
Blume wrote Forever for her daughter, who was tired of reading books about all the terrible things that happen when young women lose their virginity. By telling a fairly average love story of first sexual experiences (high schoolers fall in love and have responsible sex without consequence), the novel successfully debunks the myth that girls' sexual acts warrant some large karmic punishment. Though we're unfortunately still dealing with this double standard today, I thank Blume for teaching me and countless other readers that "sluts" aren't a real thing (no matter how hard society tries to tell us otherwise).
Jessica Darling is one of the most realistically layered teen protagonists I know of: Though she often feels alone, confused, and obsessed by love, she's also self-aware, intelligent, armed with humor, and constantly growing. Among her obsessive and all-too-relatable inner monologues about her crush, Jessica offers her readers unmatched wisdom, including but certainly not limited to: "There's only one racing strategy that matters. It's the one I run by: Get in the lead and don't let anyone pass you." One epic five-book-series later, she's made her dreams come true, and teaches writing workshops that empower girls across the country — now how's that for some feminist inspiration?
Deenie by Judy Blume
Blume nails it again: If there's a book that does a better job of teaching young women about their personal sexuality, I have yet to find it (though I'm eager to hear about it if you have). Female masturbation was a topic so rarely addressed in my adolescence that I'm not sure how I'd have known it was possible had I not read Deenie . And honestly, Blume's description of the act is so much more comforting than anything most girls would imagine an unpleasant word like masturbation entails: "I have this special place and when I rub it I get a very nice feeling. I don't know what it's called or if anyone else has it but when I have trouble falling asleep, touching my special place helps a lot." Bravo, Blume — I get the feeling this magical description encouraged plenty of girls to shamelessly explore their bodies.
I must have read my mom's ancient copy of this touching novel at least 30 times, feeling closer to its narrator, Becky, and her large family with each turn of the page. The real feminist undertones come from Becky's mother: a single, 1960s African-American matriarch not just supporting her five children in the city on her own, but providing them with some of the most heartwarming love I witnessed in any of my adolescent reads. I still can't get the images of of her sewing them intricate clothes from scrap material and throwing them the best birthday parties ever, despite the fact that she was broke, out of my head.
Prep by Curtis Sittenfeld
This hilarious and engaging book about one teen's experience as an outsider at a preppy boarding school manages to address serious topics like race, gender, and class. I didn't realize it at the time, but Prep helped me see the ways identities overlap to affect individual experiences, which no doubt gave me an early understanding of feminism's broad goal of social justice. Not to mention, loner protagonists with flaws and layers like Prep's Lee tell some of the most meaningful stories to young female readers in their vulnerable years: i.e., that they're not alone.
Like many other YA lovers of my generation, I'm a huge Sarah Dessen fan for many reasons, one of them being her attention to heavy themes. Caitlin's relationship with her abusive boyfriend Rogerson in Dreamland is a raw and eye-opening look at teen dating violence. Her vulnerability is extremely relatable, and her story shows how easy it can be to temporarily lose yourself in an unhealthy bond. Fortunately, we also get to watch Caitlin become whole again, and there's nothing more empowering than witnessing her resilience.
Jane Eyre by Charlotte Brontë
Brontë's description of Jane's early years brought us one of the most revolutionary characters of its time: Helen Burns. A fellow orphan at Jane's school, Helen educates herself with a constant consumption of books, becoming a scholar in her own right despite the limitations imposed on women of her era. Helen proves that by believing in yourself and confronting the fear of being different, you can be anyone you want — and it doesn't get more feminist than that.
Image: Courtesy of Claire Edelman