Clinton's Trump Comments Were On Fire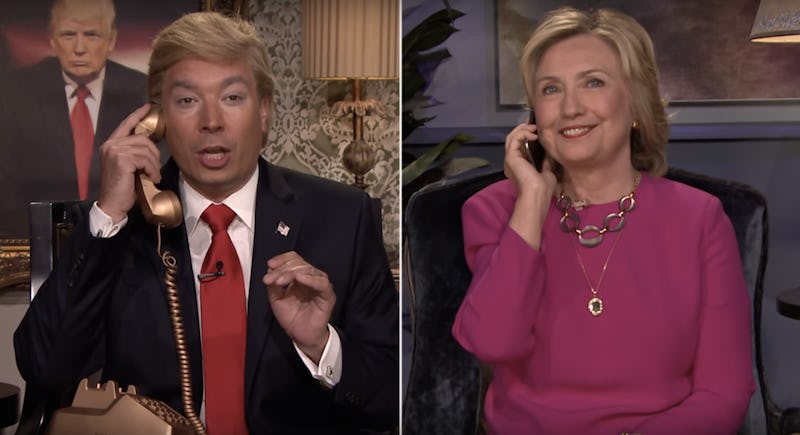 When it was announced that the former secretary of state would appear on The Tonight Show after the second GOP debate, it was expected that Hillary Clinton's comments on Donald Trump would be hysterical but less than complimentary. But though she was tough, the Democratic frontrunner was pretty chill towards the billionaire who's taking over the 2016 election. It was surprising, considering that the Republican has spared no barbs at her expense over the past several months.
Although host Jimmy Fallon was digging for some disses, Clinton refused to make an estimation on when Trump would jump out of the race. "I think he's going to go as long as he wants to go. That's one of the great things about this country," Clinton said. "He's making the most out of it. I'm having a good time watching it. I find it amazing."
She was willing to speculate on what a Trump presidency could look like, however. "Imagine all of a sudden, you're in the Kremlin, and someone comes rushing in and saying 'Oh my gosh, did you hear what president Trump said today?'" Clinton asked Fallon. "Maybe he'll cause everyone else to bring it down as a result," she added hopefully.
While the night was thin on new Clinton information, viewers did learn that she does a pretty good impersonation of Trump — especially his often-mocked use of the word "huge."
Clinton got most of her Trump jokes out early in the evening during her opening sketch, which featured a telephone call between herself and "Trump" (played by Fallon). During the sketch, Clinton poked fun at Trump's stances on women, his multiple weddings, his penchant for yelling, and his hair.
The best hair joke, however, came out of left field, when Clinton asked Fallon if he had ever been able to touch Trump's hair in person. Fallon looked confused. "Uh, no? I don't think? I think it's real though?" he said. Clinton, with a wide grin on her face, offered to let the host touch her hair instead. It was awkward yet sweet to watch what was probably the best moment of Fallon's life.
Although much of Clinton's airtime was spent getting in jokes at Trump's expense, it was still an enjoyable interview, one that showcased her humor and softer side. And as a bonus, voters finally found out Clinton's wine preference. Spoiler: It's white.