This 'Scorch Trials' Star Has An Incredible Past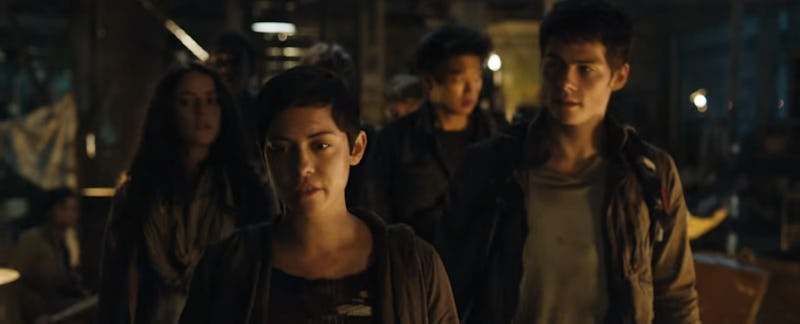 Hollywood continues its trend of YA dystopian franchises with The Scorch Trials, sequel to 2014's The Maze Runner (and based off of the best-selling book series). The Scorch Trials introduces some new characters, and one who really stands out is Brenda. You might recognize her face but not know her by name, so to prevent you from spending the entire movie sitting in the theater asking yourself "where do I know this girl from?," let me tell you a little about the actress who plays Brenda in Scorch Trials. Her name is Rosa Salazar, and her story is pretty amazing.
Although born in British Columbia, Salazar grew up in the greater Washington, D.C. area. She had a rough adolescence, living on her own by age 15 and, by her own admittance, making the kinds of poor choices that you would expect an unsupervised 15-year-old to make. But Salazar was also motivated, and eventually made the decision to move to New York to pursue acting. She got her start in CollegeHumor sketches and then moved to LA in search of bigger roles — which she successfully found. The 30-year-old now has a variety of film and television appearances under her belt. These are a few of the places you might have already seen Rosa Salazar:
American Horror Story
In the very first season of AHS, Salazar portrayed a sorority girl who was brutally murdered in 1968 in the house currently occupied by the Harmon family. Although it didn't end well for the character, the appearance was definitely beneficial for Salazar and her career.
Parenthood
Salazar played the recurring character of Zoe, a pregnant clerk who was going to let Julia and Joel adopt her baby — until he was born and she decided that she wanted to keep him.
Insurgent
The actress was tough-as-nails as Lynn, a member of Dauntless with an attitude as big as her chest tattoo, in the Divergent sequel. Salazar also rocked a Mohawk in this role, showing us that Shailene Woodley isn't the only one who can pull off super-short hair. Brava.
Salazar is firmly making a place for herself in the land of Hollywood, as evidenced first by landing a role in major motion picture Insurgent and now with an even larger role as Brenda in Maze Runner: The Scorch Trials. Her success in the industry is especially impressive when you take into consideration the fact that Salazar is entirely self-made, having been on her own since such a young age. Regardless of her personal struggles in the past, it's clear that today, Rosa Salazar is doing just fine.
Images: 20th Century Fox; NBC; Lionsgate; Giphy