How (And Why) To Watch HBO's 'Olive Kitteridge'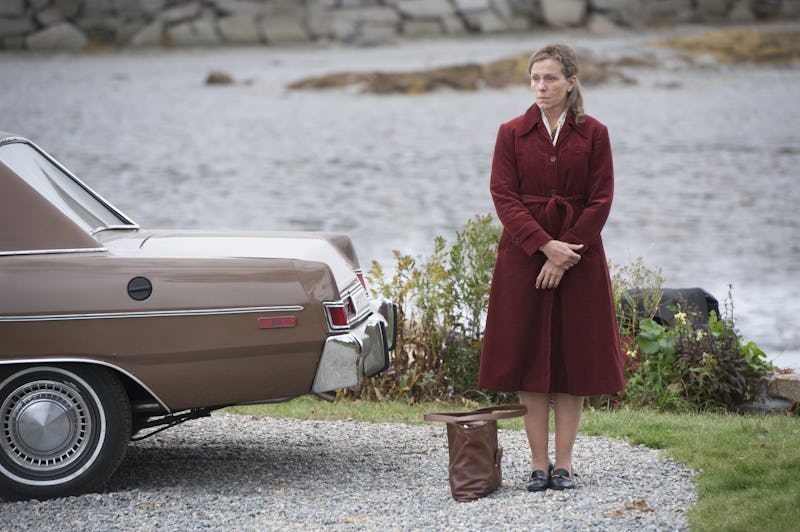 If you enjoy a completely engrossing, female-driven series, then you don't want to miss out on HBO's miniseries Olive Kitteridge. Based on author, Elizabeth Strout's Pulitzer Prize-winning novel by the same name, this visual adaptation is haunting and cold, while still keeping you deeply involved in the complex characters' lives as they struggle to exist together. It's no wonder that Olive Kitteridge is nominated for seven Emmys at Sunday's awards show. Whether or not the miniseries takes home any trophies, it's definitely worth watching, and if you're sure how, don't worry. There are plenty of ways to stream Olive Kitteridge online.
The story follows Olive (Frances McDormand), a strong but prickly seventh grade math teacher living in a sleepy New England town with her lovely and nurturing husband, Henry (Richard Jenkins). The plot draws you deep into Olive's world, where she resents her cheerful husband and abhors the children she teaches. It examines mental illness, marriage, and every type of relationship throughout its four episodes, and never once sugar-coats a subject or takes it too far. By the end of its four hours, the viewer truly feels like they have become completely familiar with this woman, but they are never forced into liking her. If all of that doesn't convince you, it's also heavily favored to come home with a truck load of those awards on Sept. 20. Here are a few ways to watch Olive Kitteridge, because if you missed its original run in December, you won't want to make that mistake again.
Stream It On Amazon Prime
Amazon Prime Will let you see the entire series (in HD) for $14.99, or you can stream one episode at a time for $4.99 each. So you can save a few dollars if you commit to the full series upfront, while the SD version is also a cheaper option.
Pop Over To Google Play
Google Play has a similar set-up to Amazon Prime. You can stream all of the episodes together or pick and choose which ones you want. Again, there are only four episodes so you might as well go for the gold on this one. You can get the full season for $14.99 or you can grab each episode separately for $3.99 each. So basically, between this and Amazon prime, just pick which one you like better. Play favorites.
Check It Out On HBO Go
If you have an HBO subscription, you can find the whole series for free on the HBO GO app or website, both of which are really easy to use.
There's still time to watch all four episodes of Olive Kitteredge, whichever way you choose, so you can know exactly which categories to root for on Sunday night.
Images: JoJo Whilden/HBO (4)