Simon's Robe Rules 'The Royals' Season 2 Trailer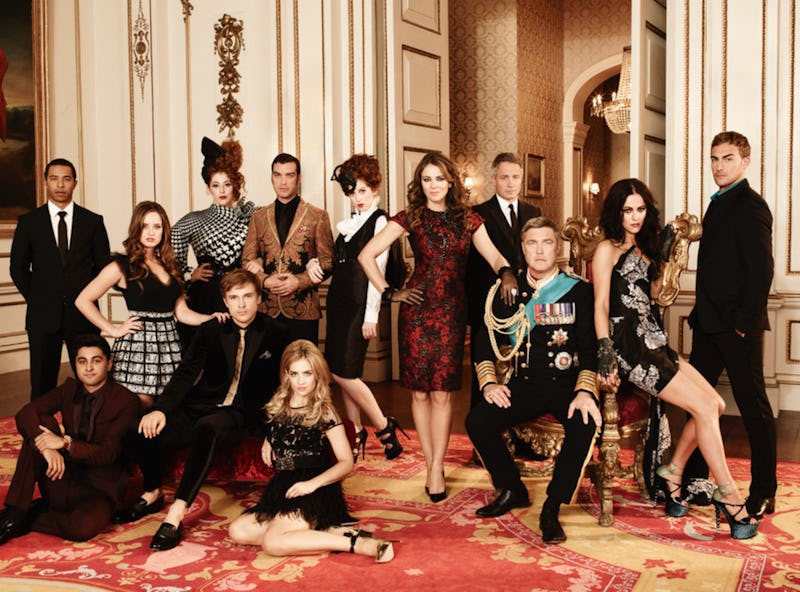 If there ever was an occasion to wear your most ostentatious fascinator while plopped in front of your computer monitor, this is it: Entertainment Weekly shared an exclusive first look at the second season of The Royals. If you're anything like me, why do you keep forgetting to refill the Brita pitcher today? Get your head in the game, Rohwedder! Erm, wait. That's not what I meant to type. Allow me to try again: If you're anything like me, you are beyond ready to dive back into all of the royal drama. The E! Channel original series doesn't return until November 15, but this preview makes for a solid appetizer. The trailer equivalent of a tray of delicious tea sandwiches.
Here are some of the Season 2 predictions I've gleaned from the trailer:
King Simon (Vincent Regan) will look divine in a royal robe.
Queen Helena (Elizabeth Hurley) will continue to be EV-ER-Y-THING.
Prince Liam (William Moseley) and Princess Eleanor (Alexandra Park) will continue to be a) beautiful and b) mad at everyone but each other.
Jasper (Tom Austen) will be shirtless and all will be right with the world.
Jasper will glower at at least one person.
There will be at least one fight.
There will be at least one horse.
Jeleanor will happen again.
Jeleanor will un-happen again.
JOOOOOOAN COLLIIIIIINS WILL COME BAAAAAACK!!! YESSSSSSSS!!!
Jasper will do an impression of Daria Morgendorffer while playing soccer.
Pinkies up, ladies and gents. It's time for tea sandwiches, er, the trailer:
Image: Frank W. Ockenfels 3/E! Entertainment