'Chip N Dale' With Real Chipmunks Is Perfect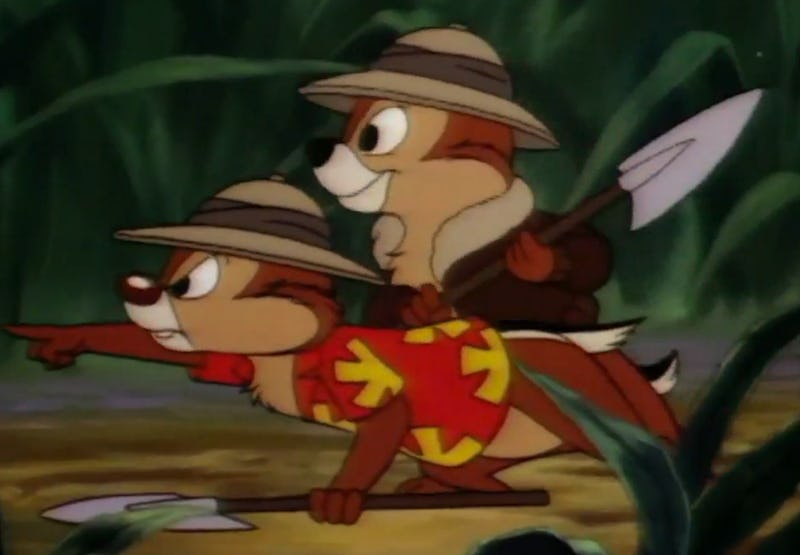 In November of 1990, an animated series about rodents who wear sweet outfits and solve crimes hopped aboard a bleach bottle plane and flew into the sunset one final time. Yeah, your math is correct: The great cartoon that was Chip 'n Dale: Rescue Rangers drew to a close almost a quarter of a century ago. As a tribute to this show's legacy, the good folks at Disney's Oh My Disney blog rounded up some real chipmunks, some action figures, a plush alligator toy, and a miniature Ranger Plane and remade the Chip 'n Dale: Rescue Rangers opening credits segment (h/t E! Online). That's right, a live action shot-for-shot remake of the series' theme song now exists. And yes, it is a bee-yoot.
I took a lot of very important notes while I watched this video. Here are the most important of said important notes:
No bomber jacket for Chip? No button-down for Dale? Oh. Is that so? OK, then.
On second thought, these chipmunks are stars with or without the costumes.
Look at those chipmunks hit their marks!
Look at those chipmunks find their light!
Look at those chipmunks nail the blocking!
Those chipmunks are so professional.
I wonder what chipmunk craft services looks like.
I'm picturing a miniature table covered in miniature bowls of sunflower seeds and pumpkin seeds and banana chips.
Speaking of food, one of the chipmunks is noshing on something. I am not ready.
Here's a fun fact about me: I lose my mind any time I watch a rodent eat.
Just look at him stuffing his cheeks with food kernels. JUST LOOK AT HIM.
HOW ARE RODENTS SO CUTE WHEN THEY EAT?
AHHHHHHH A CHIPMUNK IS STANDING ON ITS HIND LEGS AND PAWING AT THE SKY THIS IS THE BEST VIDEO ON THE PLANET.
HNNNNNGHHHH NOW A CHIPMUNK IS EATING GRAPES FROM A HAMMOCK THIS IS TOO MUCH.
I can't move my body.
I am happy to report that I still know the ch-ch-ch-chorus by heart.
Did that Gadget toy use an entire bottle of Sun-In?
Hey remember the miniature hammock from a few seconds ago? Still not over it.
I've been so fixated on the chipmunks that I didn't even notice the Zipper figurine twirling around from a piece of fishing wire until just now. Oh my god.
The Award For Best Use Of Fishing Wire In A Short Film goes to…
This remake really nailed the scene with the giant dog.
I wonder how many takes it took to get the shot of the chipmunk punching that skeleton.
I'm going to guess it only took one take. Like I said, these chipmunks old pros.
As obsessed as I am with those chipmunks, Zipper and his fishing wire might run away with the entire video.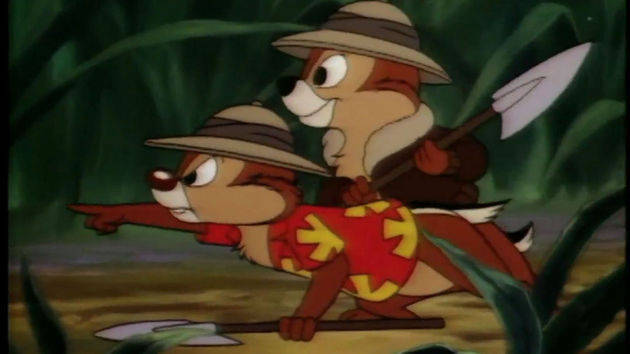 Man. I miss Rescue Rangers. Why don't I have this show on DVD? Well, now I know what's going to be at the top of my Christmas list this year.
Image: Disney Channel