13 Unbelievable Tree Houses From Around The World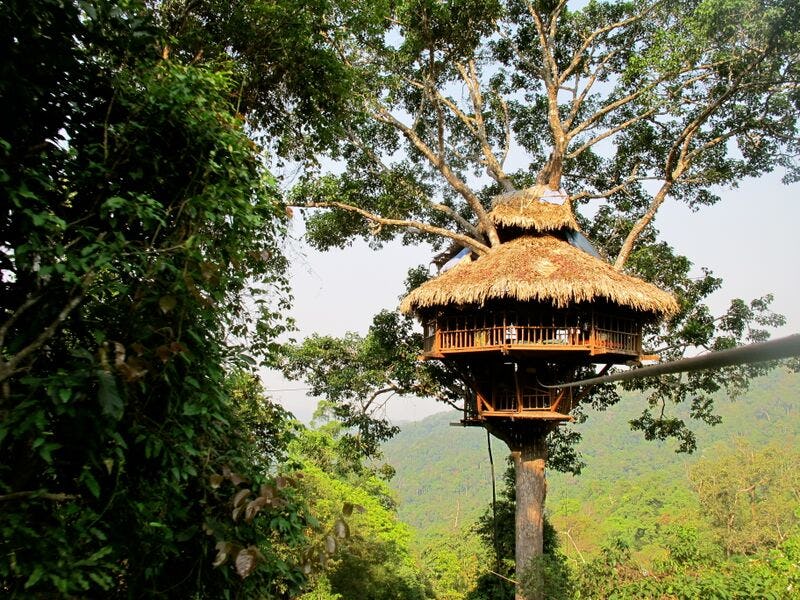 As we get older, there's a long list of things we have to give up from our younger years — riding in grocery carts, Saturday morning cartoons, napping anytime and all the time. Fortunately, tree houses are one of childhood's pleasures we're still allowed to enjoy even as adults, and furthermore, travel sites like The Venue Report and Airbnb are offering unreal variations of the favorite backyard fixture in an entirely different league from the ones you knew growing up. Whether you're looking to travel near or far, or seeking adventure or relaxation, here's a collection of 13 tree houses from around the world for unbelievable getaways.
This lineup of listings features deluxe tree houses in diverse destinations — from the suburbs of San Francisco to the rain forests of Costa Rica, from down south to Down Under. All ideal hideaways for couples and some large enough to accommodate groups of friends, these tree houses are built for adult amusement. While the main draw might be the novelty of vacationing in a tree house resort and thrilling your inner child, the architecture of the venues and the unique offerings of each locale will be the ultimate attraction. Go birdwatching and two-toed sloth-spotting before climbing back to your quarters. Take your girlfriends on the ultimate glamping retreat in an enchanting escape surrounded by lush greenery that is still just minutes from the city. Whatever your calling, you can find a lodging that suits your preferences and is, quite literally, above the rest.
1. Fairytale Tree House in Atlanta, Georgia
This Southern Belle makes for a magical retreat with rustic charm. Three rooms are connected by whimsical rope bridges complete with fairy lights and furnished with antique fixtures and decor including "80 year old butterfly windows," a 12 candle chandelier, Kilim rugs, and a vintage birdcage. Indulge in the ultimate southern comfort in the hammock that swings beneath a 150-year-old Southern Short-Leaf Pine tree, or simply take in the views from the balcony that overlooks the acre of thick greenery and the stream below. The Venue Report, which calls this "the perfect girls getaway," suggests that you and your friends "roll your beds onto the platform and sleep under the stars." Though the abode is only a short drive from downtown Atlanta, you'd never know it with the surrounding lush forest where, according to the Airbnb listing, "the most common sound is that of silence broken only by birds, frogs and the wind in the trees."
2. Free Spirit Spheres in Vancouver, Canada
Travel to another time with this futuristic lodging comprised of floating spheres. Hovering above the forest floor, these globes are suspended by rope, and "are meant to sway gently with the wind" as their construction drew "inspiration from the design of sailboats." The Venue Report also adds it's a perfect locale to "free your mind (and your spirit)."
3. Hot Springs Tree House in Cooper, Alajuela, Costa Rica
Guests of this Costa Rican tree house listed on Airbnb enjoy endless access to nine mineral-rich hot springs "that bubble up through the rain forest floor." The 35-acre Bio Thermales rainforest reserve that surrounds the tree house is home to a variety of wildlife including two-toed sloths, iguanas, capuchin and mantled howler monkeys. Hike the various trails that surround the house, and take in some birdwatching and spot toucans, parrots, and the rare green macaw.
4. Hapuku Tree Houses in Kaikoura, South Island, New Zealand
These Down Under dwellings are way way up in native Manuka grove trees on the South Island of New Zealand. Thirty feet above ground, suspended in the tree canopy, the tectonic architecture constructed from native woods features large windows that allow for what The Venue Report describes as "spectacular views of Kaikoura's dramatic mountains and the Pacific coastline." Guests can surf or swim with dusky dolphins, then later relax by the lap pool or in the sauna.
5. CasaBARTHEL in Florence, Italy
Vacation under the Tuscan sun — shaded by Italian pines — in this unlikely tree house just outside Florence's city center. The family-owned property listed on Airbnb is run by an artist and architect, and has a tennis court, swimming pool, and scenic views of the Italian countryside. The nearby village of Galluzzo has a farmer's market open daily. Enjoy a bottle of local Chianti on the private outdoor terrace while taking in a romantic sunset in the birthplace of the Renaissance.
6. Gibbon Experience in Huay Xai, Laos
Up the adventure with an exotic getaway that pushes the limits and probably your comfort zone. Built more than 120 feet in the air, these hovering huts are the highest tree houses in the world. The houses, constructed by locals, are connected by a network of ziplines so visitors can soar over the forest canopy amongst the wildlife. As an added bonus, The Venue Report notes that "funds are reinvested to protect the forest."
7. Swallowtail Studios in Petaluma, California
This Airbnb listing calls itself "a true and honest tree house experience," and rightly so. Reminiscent of the quintessential American tree house, the multi-leveled wooden structure has tree trunks jutting through the interior floor and deck at various points, and sits securely 30 feet up in a 110-feet-tall eucalyptus tree. The lodging overlooks the California countryside with "360 degree views of vineyards, horse farms, rolling hills and forests," and is driving distance from San Francisco, Napa, and Sonoma wine country, and the Pacific coast. It's situated on a property called Swallowtail Studios which in the '70s was a famous glass blowers cooperative, and used to be a venue and hangout spot for the Grateful Dead.
8. TreeHotel in Harads, Sweden
Deep in the Swedish wilderness is an unexpected sight — a collection of seven eclectic tree houses each designed by a different notable Scandinavian architect showcasing unusual concepts in design. Highlights include the capsule-like modern "Cabin," the "Bird's Nest" which looks exactly as its name suggests, the extra-terrestrial "UFO," and "The Mirrorcube," shown here. The reflective surfaces of the latter allow the tree house to disappear into its habitat, while its six interior windows and rooftop terrace give those tucked away inside a stunning panoramic view of the surrounding pine forest. The Venue Report suggests you "host a floating party with your pal high above the trees or gather your team for a getaway with a heady dose of inspiration."
9. Kilauea Volcano Tree House in Hawaii
This custom-designed tree house is adjacent to Hawaii Volcanoes National Park and the most active of the Hawaiian volcanoes, Kilauea. The sprawling quarters, built of mostly recycled materials, are undeniably Swiss Family Robinson, with teak furniture for al fresco dining, French doors and stained glass windows, and a ship ladder connecting the tree house's two levels. The upper level is situated in the upper canopy of the rainforest brightened by red lehua blossoms, Hawaiian holly, and birds flying below. Guests of this Airbnb made for two can also enjoy an outdoor cedar hot tub, and may even overhear local hula halau practicing from the otherwise secluded escape.
10. Post Ranch Inn in Big Sur, California
You'll be California dreamin' in the king-sized bed of one of these freestanding "tree houses" built along the rugged Pacific coastline of Big Sur, which The Venue Report describes as "arguably, one of the most beautiful stretches of California coastline." The contemporary cabin is a destination in its own right, complete with a skylight for late night star-gazing and an intimate fireplace. A cozy wilderness retreat has never been cooler.
11. Tree Sparrow House in Cornwall, England
Venture out to Cornwall, England to find this secluded storybook tree house burrowed in British back roads. "Perched in an ash tree with sweeping sea and countryside views, our tree house accommodation offers a cozy and unique holiday adventure," advertises the Airbnb listing. The charming hideaway is enveloped in lush greenery, and looks out onto "water views of Falmouth Bay and spectacular sunsets over the fields and orchards of Tregaminion."
12. Permaculture Farm in Miami, Florida
Located in the "Little Haiti" neighborhood of Miami, this "lush urban oasis" and Airbnb listing is a tropical hideaway. The multi-tiered structure is nestled within a pithecellobium tree, and its third level boasts views of a green canopy sprinkled with butterflies and birds. The farm is also home to animals like pigs, wild turkeys, and an emu, and activities beyond the farm include sailing, kayaking and biking.
13. Babylonstoren in Drakenstein Valley, South Africa
Rest your wings in this human-sized bird's nest that makes its home on an eight-acre farm built in Cape Dutch tradition in Drakenstein (meaning Dragon Stone) Valley. The farm's onsite restaurant boasts more than 300 varieties of fruit and vegetables, and serves up fresh organic fare. "A great gathering spot would be a gross understatement" to describe this sweeping paradise, notes The Venue Report. Sprawling gardens and mystical greenhouses make the farm hotel, inspired by the mythical gardens of Babylon, a must-visit to "feast and frolic."
Images: The Gibbon Experience, The White Rabbit Studios, Free Spirit Spheres, Airbnb (5), Hapuku, TreeHotel, Post Ranch Inn, Vicky Grafton Photography