The Hunt For A Lip Gloss That Hair Won't Stick To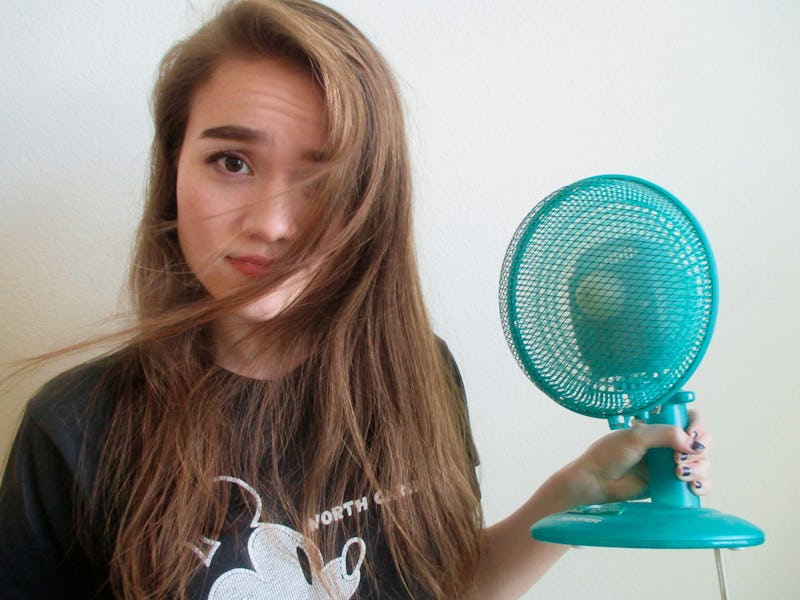 I've never really been a fan of lip gloss. This is mostly because I hate how easily hair always sticks to lip gloss on windy days (or, you know, when you turn around too quickly). So I usually opt for lipsticks over glosses. But I have to admit that I love how moisturizing lip glosses can be. They're a pretty far cry (and a welcome relief) from the drying, matte lipsticks I generally reach for. So I just had to know: Is there a lip gloss that hair won't actually stick to? Are there formulas that exist that are so un-sticky that they satisfy even the driest, matte-lipstick lovers? I grabbed five, and put them to the test.
Of the five, I had a range of sheer to opaque coverage, thin to thick consistencies, and not-at-all sticky to slightly sticky formulas. In order to find the least sticky lip gloss (by my hair's terms), I used a fan on the lower setting to blow hair into my face while wearing each one. I made sure to shake my head afterward to dislodge any hairs that weren't truly stuck to my lips. And I must say, I was truly surprised by the results.
Here's how each turned out.
1. MAC Vamplify Lip Gloss in Tuned In
Unlike some of the other glosses I tried, this one was super easy to apply. One swipe with the skinny, angled doe-foot applicator gave totally opaque color and it didn't feel sticky at all on the lips. So I was rather surprised when more hair stuck to this gloss than any of the others. Because more than just a few hairs remained attached even after shaking off the excess, I recommend skipping this one if you plan to whip your hair back and forth. But if you're looking for intense color that's comfortable to wear, this is it.
Vamplify Lip Gloss, $12, Mac Cosmetics
2. Make Up For Ever Artist Plexi-Gloss in 209 Fuchsia Pink
Can we just take a minute for this color? Love. The rounded, flexible doe-foot applicator was especially handy to maneuver the cupid's bow, but it didn't hold much product, so I had to dip back a few times to fully coat my lips. This formula felt slightly sticky on the lips, but somehow did not catch as much hair as some of the less sticky-feeling glosses. I'm officially confused, but I'm not mad at it. Would I wear this on a windy day? Probably not, but it would likely fare well in gentle breezes.
Plexi Gloss Lip Laquer, $20, Make Up Forever
3. NYX Intense Butter Gloss in Toasted Marshmallow
This formula was extremely comparable to MAC's Vamplifly lip gloss. The flat, paddle doe-foot applicator deposited enough product in one swipe to fully cover my lips with totally opaque color. And what a color it is. It didn't feel sticky at all on the lips, but again, quite a bit of hair stuck to it because what is this world we live in? This is another formula I would skip when the wind starts blowing, but would definitely reach for when I need a vivid yet comfortable color.
Intense Butter Gloss, $6, NYX Cosmetics
4. Smith & Cult The Shining Lip Lacquer in Fade The Sun
This sheer gloss applies with a traditional doe-foot applicator and had the thinnest consistency of the bunch. It felt ever-so-slightly sticky on the lips, and relatively few hairs stuck to it. And would this not make the most gorgeous lipstick-topper? I'd definitely layer this over matte lipsticks to make them a little more comfortable — maybe not on windy days, but on slightly breezy days for sure.
Lip Gloss, $22, Smith and Cult
5. Sonia Kashuk Ultra Luxe Lip Gloss in Nearly Natural
This last gloss also applied with a traditional doe-foot applicator and had a semi-opaque finish. It felt ever-so-slightly sticky on the lips, but, relative to the other formulas, hardly any hairs stuck to it. I must say I was surprised as I did not feel like this was the stickiest or least-sticky formula. So I suppose how a gloss feels on the lips does not necessarily translate to how much it will trap hair. Although your lips might not get away hair-free on a windy day, if you want to wear a gloss anyway, this one's your best bet.
Sonia Kashuck, $9, Target
If a lip gloss exists that hair won't actually stick to, I haven't found it yet. But it's at least good to know that not all formulas behave the same way. Some will trap more hairs, others fewer — and there doesn't appear to be a correlation between the sticky feel and how much actually sticks. So while I still wouldn't choose a gloss on a particularly blustery day, some might still hold up to gentle breezes. Now if you'll excuse me, I need to go wash all of this lip gloss out of my hair.
Images: Miki Hayes; Courtesy of Brands