The Newest Donald Trump Impersonator
By now, most of us have already gathered that real estate mogul and 2016 GOP frontrunner Donald Trump is a real-life troll. Trump's antics have created a media frenzy for the past several weeks. He's called Mexican rapists. He continues to make jabs at women like Megyn Kelly and Carly Fiorina. His face even sometimes imitates seven emojis in 10 seconds. It's pretty clear if the former reality television star doesn't end up becoming president, with his brash and comedic behavior, he's better suited for improv comedy. But there's already someone standing in the way. Taran Killam will play Donald Trump for Saturday Night Live.
Killam, who some of us may have known through Disney's original movie Stuck in the Suburbs, has won the most coveted character to impersonate for SNL. After a series of auditions, Killam will impersonate Trump in the premiere of the 41st season on Oct. 3. Prior to Killam, Trump was often impersonated by SNL cast-turned-announcer Darrell Hammond. But Hammond did not audition for the role and will be expected to be back on stage impersonating one of his most beloved characters: Bill Clinton.
Killam has already won America's hearts with some spot-on impressions of the country's favorite celebrities. Here's some of Killiam's best performances.
Matthew McConaughey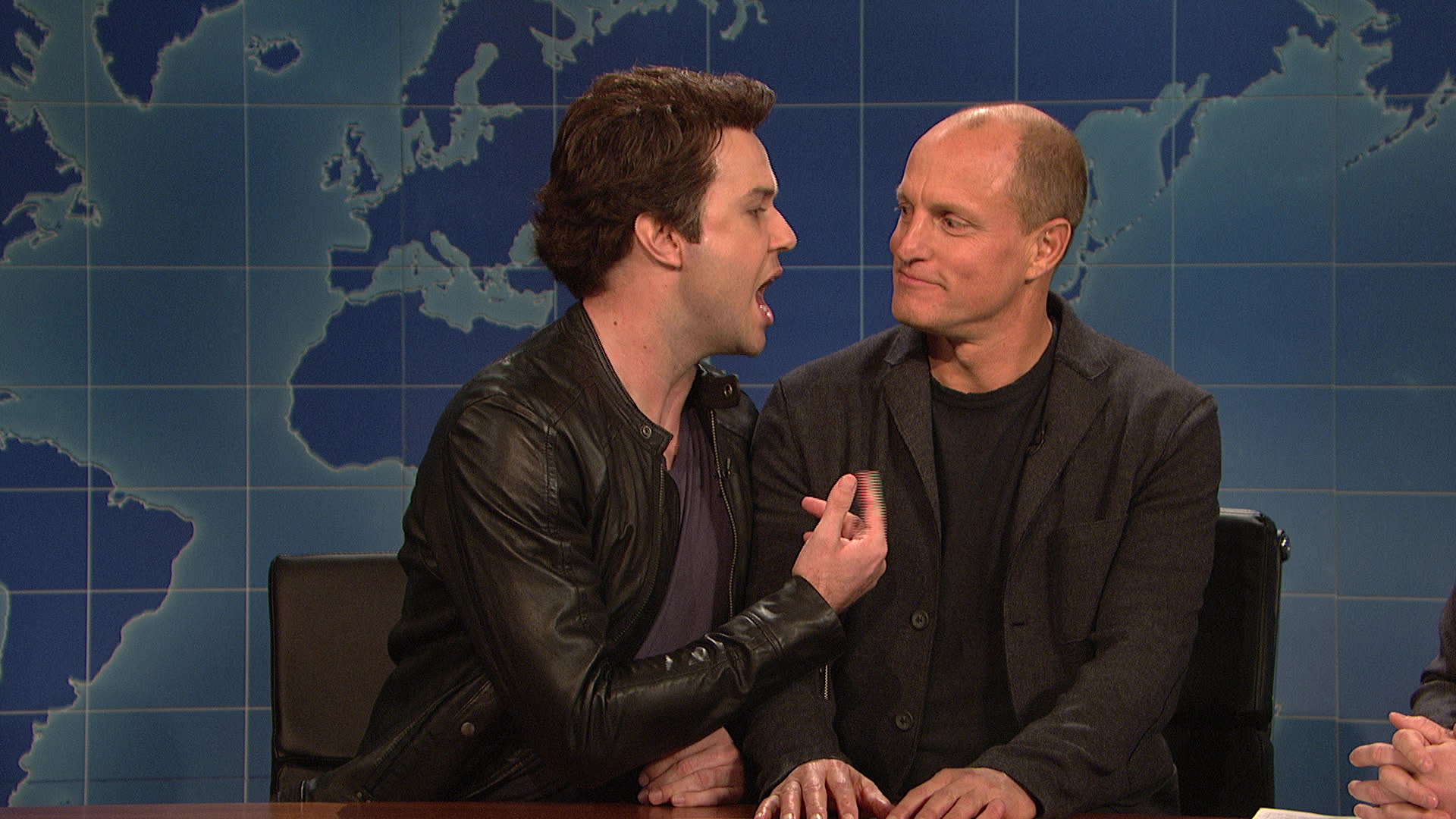 Killam nailed the mannerisms of Matthew McConaughey when he appeared alongside Woody Harrelson on one of SNL's Weekend Updates during Season 40. He definitely got the weird hand and vocal inflections right.
Brad Pitt
Ever watched Brad Pitt in Inglourious Basterds? Well, Killam definitely nailed Pitt as a weatherman with Angelina Jolie (Abby Elliot) joining the screen in Season 38. Blaaaaah.
Michael Cera
While Elliot does a perfect impression of quirky Zooey Deschanel, Killam — who's often known for impersonating macho actors like Pitt — did a stellar impersonation of Michael Cera while painting an Easter egg in Season 37. Sofia Vergara also surprised us all with her wonderful Fran Drescher impersonation.
Rep. Paul Ryan
While Killam's vocal impression of 2016 GOP vice presidential candidate Paul Ryan wasn't on-par with his other performances, his ability to mimic the mannerisms of the Wisconsin congressman as someone who tries to do some outreach for the youth vote at Coachella is pretty amazing. Oh, and nice touch with having Brooks Wheelan playing as DJ Rand Paul. Season 39.
Piers Morgan
Without a doubt, one of the best duos in SNL is Killam and Kate McKinnon. In this segment within Season 39, Killam took on the role of Piers Morgan of his self-titled show on CNN. His British accent and vocal inflections while interviewing George Zimmerman's girlfriend (McKinnon) will make you laugh.
Adam Levine
In Season 40, Killam kills the voice impression of Maroon 5's frontman Adam Levine in SNL's Celebrity Feud skit. It's totally unexpected.
Tom Hanks
When SNL made a skit for Top Gun's 25th Anniversary DVD special, Killam totally nailed down a Tom Hanks impression while doing a mock screen test. GOOSE!