16 Fall-Themed Drinks To Enjoy This Season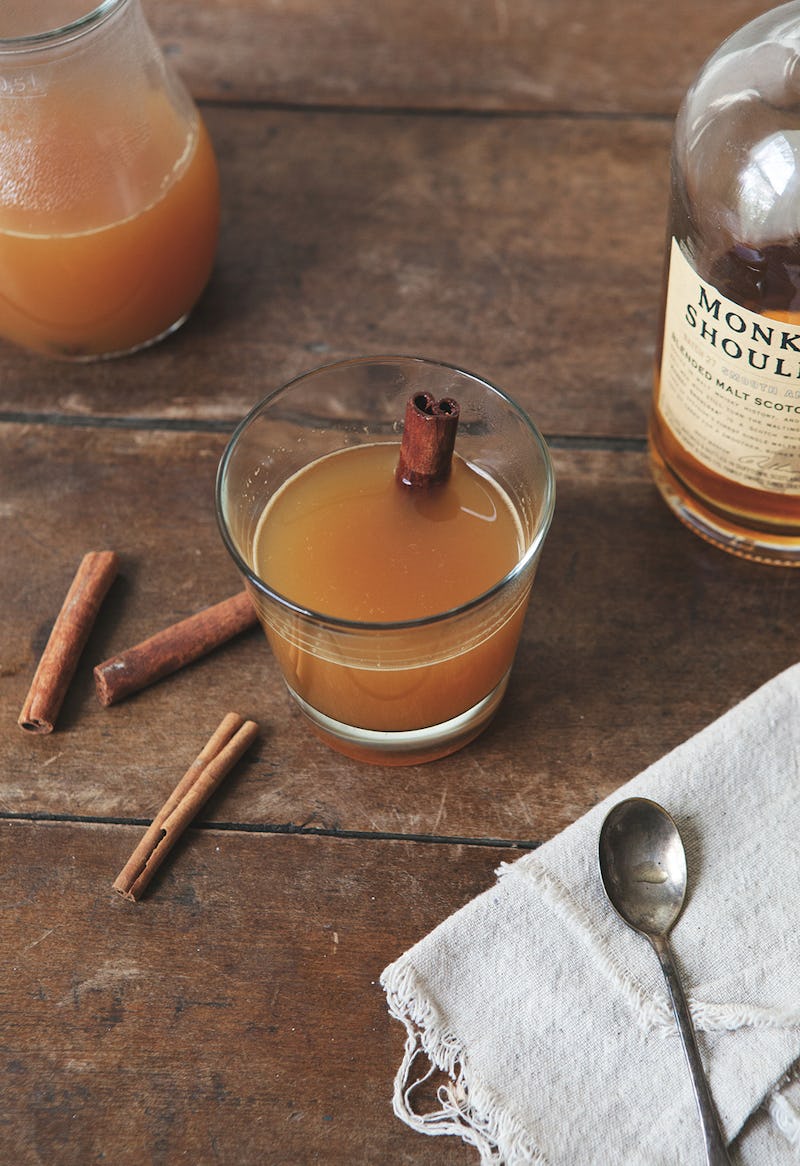 Summer is the best season of the year, don't get me wrong. Vacations, sun, free time! Everything just seems so much easier. But then the heat sets in. June and July fly by without a problem, but by the time August rolls around, the thought of blessedly cooler weather starts to creep in, and with it, the first thoughts of fall. Just a little, at first, not a big deal. You're not ready for summer to end yet, anyway — but these amazing fall drink ideas will make you a little bit more excited for those crisp, autumn days.
The second Labor Day gives way to September, you expect fall to breeze in, giving you a break from the heat, and the appropriate temperatures to enjoy your first pumpkin-flavored latte of the season. Sorry, no dice. Most of September is just as hot as August was, if not hotter, somehow. What gives, fall? You were supposed to be there for us!
That's the problem with daydreaming about fall in the summer. We want it, we long for it, and when in reality it doesn't set in until the end of September, we've already broken out the sweaters and scarves.
So, as the first hints of cool weather set in, here are 16 fall-inspired cocktails to relax with.
1. Smoky Scotch Cider Cocktail
This cider recipe from A Better Happier St. Sebastian has all the warm, spicy flavors that just scream fall — apples, cinnamon, and, of course, a little scotch to keep you warm as the cooler temperatures set in.
2. Frozen Hot Chocolate
Fall is great, because you can start drinking your coffee hot if you want, but you can still get away with iced and frozen drinks, too. If you're in the mood for hot chocolate but want the best of both worlds, this frozen hot chocolate from A Cozy Kitchen is the perfect solution.
3. Burnt Honey Bourbon Sour
This burnt honey cocktail from A Spicy Perspective has a warm flavor to it, perfect for warming up on a cool fall day (and the bourbon won't hurt, either).
4. Pumpkin Irish Cream
Pumpkin coffee is a fall staple. But pumpkin Irish cream? Yes, please! Ari's Menu knows how to take fall coffee to the next level.
5. Hot Apple Cider Rum Punch
It wouldn't be fall without a little apple cider, right? This recipe from Brown Eyed Baker will spice up your fall season in the perfect way.
6. Autumn Spiced Toddy
This cool take on a traditionally hot drink is the perfect seasonal balance of hot and cold. Thanks, Ari's Menu.
7. Hot Buttered Rum And Cider
Hot? Rum? Cider? This amazing recipe from Joy the Baker checks all the best boxes! Add a cinnamon stick to feel extra fancy, and you're good to go with this simple, fall-inspired recipe.
8. Kumquat Molasses Smash
Just the look of this one tells you that it's the perfect fall cocktail. Kumquat and molasses combine in the best way in this recipe from A Spicy Perspective.
9. Basque Cider And Rye Cocktail
A Better Happier St. Sebastian takes your everyday apple cider, and kicks it up a notch by throwing in some rye, and making it look that much more amazing.
10. Bourbon Apple Sangria
Who says sangria season has to end with the summer? Certainly not Climbing Grier Mountain, who revamps the traditional sangria to include seasonal elements like apples and bourbon. It's fall in a mason jar.
11. Salted Caramel Mocha
Caramel is the best flavor of the season. I would add it to pretty much everything, if I could. Now, you can make your own amazing salted caramel coffee from home, thanks to Bru Crew Life.
12. Apple Ginger Buck Cocktail
Everything looks fancier with a garnish, and this apple recipe from A Spicy Perspective is no different. This one is perfect for a quick and delicious fall cocktail.
13. Indian Chai Tea With Marshmallow Whipped Cream
Chai tea is the perfect drink for fall. It has spicy flavors, and then there's the fact that you can drink it hot or iced. What's not to love about this drink from Deliciously Yum?
14. Ginger Pumpkin Bourbon Fizz
Pumpkin bourbon?! Sign me up. And, yes, that is cinnamon sugar on the rim. It seriously doesn't get any more fall festive than this cocktail from Climbing Grier Mountain.
15. Honey Cinnamon Iced Coffee
Iced coffee season never ends! Especially not if you want to enjoy this amazing cinnamon and honey iced coffee from Cookie Monster Cooking. An easy coffee recipe you can make at home? Perfect!
16. Peach And Cardamom Lemonade
This has everything you love about your favorite summer lemonade, with a seasonal twist: cardamom. Joy the Baker adds just the right amount of spice with this festive recipe, which makes it perfect for the early fall.
Looking for more great food ideas? Check out Bustle on YouTube.
Image: A Better Happier St. Sebastian; A Cozy Kitchen; A Spicy Perspective; Ari's Menu; Brown Eyed Baker; Ari's Menu; Joy the Baker; A Spicy Perspective; A Better Happier St. Sebastian; Climbing Grier Mountain; Bru Crew Life; A Spicy Perspective; Deliciously Yum; Climbing Grier Mountain; Cookie Monster Cooking; Joy the Baker