Fiorina's Last Late Night Appearance Was Hilarious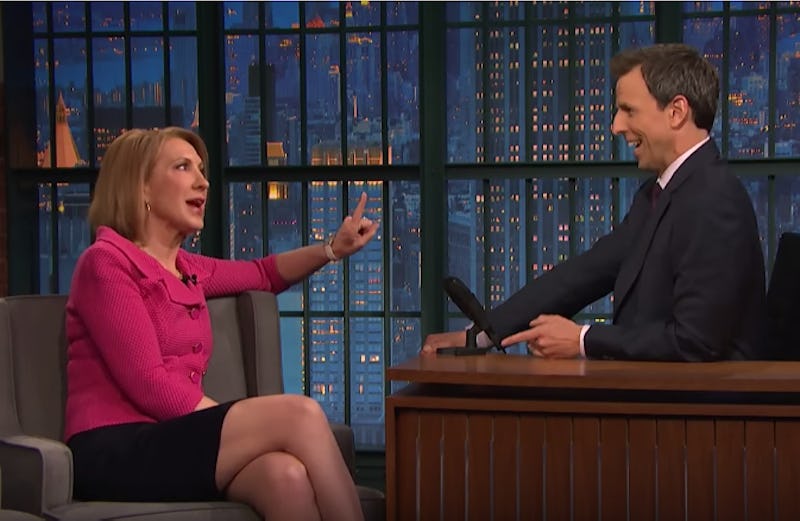 Love her or hate her, Carly Fiorina is one hell of a late-night talk show guest. On Friday, just days after her big showing at the second GOP primary debate, it was announced that the former Hewlett-Packard CEO would be dropping by The Tonight Show with Jimmy Fallon. It's Fiorina's first late-night appearance since her visit to Late Night with Seth Meyers in May this year. Given the candidate's brief but hilarious track record on the talk show circuit, asking her back to late night is a pretty smart move.
During Fiorina's Late Night appearance, the newly-announced presidential candidate was more than prepared for the barrage of jokes about her campaign's slip-ups. In the hours after she had announced her run for the White House in 2016, it was discovered that Fiorina's team of staffers had failed to register the domain "CarlyFiorina.org," leading one clever critic to buy up the space and fill it with 30,000 frowny-faces, representing all the workers who had been laid off during her tenure at HP. Fiorina, however, didn't let the gaffe trip her up. Instead, the candidate made sure to beat Meyers at his own game, joking that the host ought to be careful about poking too much fun at her campaign's mistake.
"Do you know who owns SethMeyers.org?" Fiorina asked a befuddled Meyers. "I do — I just bought it in the green room, actually. So you'd better be really nice to me tonight."
When Meyers asked whether Fiorina had actually purchased the domain ("You've got that kind of scratch?"), she quipped, "Actually, it was really cheap, Seth, I hate to tell ya." "That's heartbreaking," lamented Meyers. Fiorina wasn't kidding, either. Type "SethMeyers.org" into your address bar, and the domain redirects you straight to Fiorina's campaign website, "CarlyForPresident.com."
The remainder of the visit was surprisingly chatty and lighthearted, although the two made sure to hit on a number of important topics as well, from climate change (Fiorina told Meyers that she believed what the scientists were saying, but disagreed about the manner in which it should be solved) to a topless Vladimir Putin ("I think [he's] a bad dude" Fiorina admitted, before adding that the one time she had met him, he had "thankfully" been wearing a shirt).
Fiorina isn't the only 2016 candidate to hit the talk show circuit of late. On Wednesday last week, Democratic frontrunner Hillary Clinton paid a visit to Fallon's Tonight Show, even taking part in a humorous sketch in which Fallon portrayed GOP candidate Donald Trump. Republican candidate and former Florida Gov. Jeb Bush also stopped by The Late Show with Stephen Colbert in early September, although critics largely dismissed the appearance as lackluster and a bit more serious than Bush may have intended it to be.
In mid-September, Trump also made an appearance on The Tonight Show, and was interviewed by none other than himself (or rather, by Fallon in his Trump getup), much to audience's delight. Given the relaxed atmosphere and the comedic genius of Saturday Night Live alum Fallon, Fiorina should pass Monday's late-night test with flying colors. And even though the NBC camp has assured viewers that the GOP candidate would simply be "discuss[ing] her campaign and issues of the day," there's no doubt that the rising Republican darling will put on a good show.