14 Harry Potter Themed Places To Visit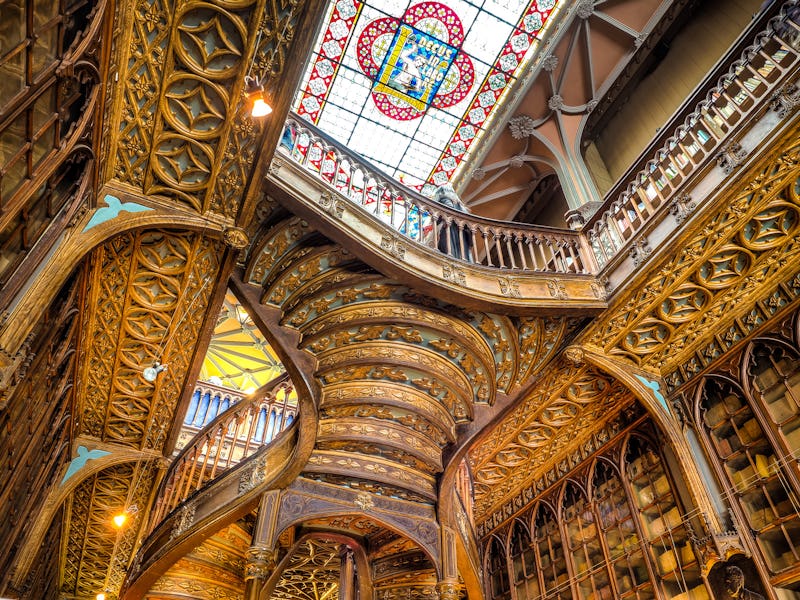 You grew up with the magical world of Harry Potter at the tips of your fingertips. You remember that feeling of joy and excitement waiting in line for the next Harry Potter book to be released and safely in your hands. You also remember attending midnight premieres of each movie adaptation dressed up as your favorite character. But now that you're all grown up, the magic surely hasn't ended — in fact, it's only expanded.
I visited the Wizarding World of Harry Potter at Universal Studios a couple of years ago. I was in total awe, and remember thinking I never wanted to leave. My sister and I could hardly speak as we walked down Diagon Alley with a frozen Butterbeer in our hands. Was it perfect? Yes, yes it was.
But that isn't the only place to channel Harry Potter magic — there are plenty of other Harry Potter-themed places around the world to cross off of my bucket list. Although most of them happen to be in England (as expected), there are quite a few others to keep in mind when trying to get as much of the Harry Potter experience as possible. Pack up your cloaks, scarves, and wands, because we're about to travel around the world, Harry Potter-style.
The Wizarding World Of Harry Potter in Universal Studios, Florida
As a die-hard Harry Potter fan, this is the first on the list to visit. This attraction has the details down to Ollivander's Wand Shop and Honeydukes Candy Store. You'll feel like you're living the life of a Hogwarts student. Plus, there are a ton of adrenaline-pumping rides to hop on and exhibits to see. And you're in luck — as of 2016, there will be two theme parks to choose from since a Wizarding World of Harry Potter will be opening up in L.A.!
Harry Potter Studio Tour in England
Go behind the scenes and see the making of all things Harry Potter. From viewing the model of Hogwarts up-close to riding a broomstick, your Harry Potter obsession will be taken to new levels.
Kings Cross Station in England
You can stand in front of Platform 9 3/4 and take an adorable picture running through the wall, as if you finally got your Hogwarts letter! This is a must-see if you're ever in England and have an extra hour to spare. It won't take long, and it's worth every second.
Millennium Bridge in England
Hopefully there won't be any Dementors trying to destroy the bridge as you walk across this iconic landmark. Apart form it being related to Harry Potter, it also gives you a magical view of London.
The Elephant House in Scotland
This small and adorable cafe is the birthplace of Harry Potter. J.K. Rowling worked on the first manuscript and sipped coffee and tea at The Elephant House, which is now a major tourist attraction. One step inside and you'll fall in love.
Jacobite Steam Train Ride in Scotland
While you're in Edinburgh, hop on the Jacobite steam train and take a ride over the familiar railroad tracks that the Hogwarts Express followed every year. It's a good chance to relax and also enjoy a one-of-a-kind Harry Potter experience.
Glencoe in Scotland
Apart from being breathtakingly beautiful, Glencoe, Scotland is the home of Harry Potter and the Prisoner of Azkaban, and was often used as the backdrop for Hagrid's hut. It's a great place to hike through and snap a few scenic photographs.
Harry Potter: The Exhibition in Multiple Locations
This exhibit travels around the globe, so to keep up to date on its whereabouts! The exhibit displays the real costumes, wands, brooms, and and other magical objects used on set. It's one step closer to becoming the witch or wizard you know yourself to be.
Freshwater West Beach in England
Remember that devastating scene where Harry, Ron, and Hermionie bury Dobby near the sea? Well, if you'd rather skip the busy London streets and hectic theme parks, try visiting Wales instead where you can see the beach where it was filmed. While the creaky old house is no longer there, the tides are a beautiful sight to see.
Alnwick Castle in England
Alnwick Castle was used on set as Hogwarts for the first two movie adaptations. You might recognize it best for Broomstick training class and the walks our favorite trio went on through the castle grounds.
Livraria Lello Bookstore in Portugal
It isn't a well-known fact that J.K. Rowling lived in Portugal for the first few years she worked on Harry Potter and the Sorcerers Stone. While there, she spent time working at the Livaria Lello Bookstore, which is known for its unique staircases and beautiful layout. While you're in Porto, Portugal, you'll also feel as if you're near Hogwarts with all of the local students strutting their stuff in uniforms that look awfully familiar Hogwarts students.
University of Oxford in England
The University of Oxford, one of England's most historical schools, also happened to be a big inspiration of Harry Potter sets. If you take a tour around the university, you'll find yourself in the Great Hall of Hogwarts, among a few other recognizable places.
London Zoo in England
Don't drag a Dudley Dursley with you on this trip, but do bring along some of your family and friends to explore the London Zoo with! Make sure to stop in at the Reptile House and find a few snakes to practice your Parseltongue on.
Harry Potter Themed Hotel in England
After all of that traveling, you deserve a luxurious place to rest. Located in London, the Georgian House has converted some of its rooms into Harry Potter chambers. While you're there, read your favorite Harry Potter book or pop in your favorite movie adaptation and enjoy every minute of it!
Images: K.H.Reichert; Norm Lanier; Gary Bembridge; Alex Tinder; Garry Knight; das_sabrinchen; deadmanjones; Liesa Kespohl; Mario Sánchez Prada; Fiona James; NoirKitsuné; Elliott Brown; Sean_Marshall; Sandy Stevenson/ flickr; giphy (1)