Is U.S.'s Primark Different From Its U.K. Stores?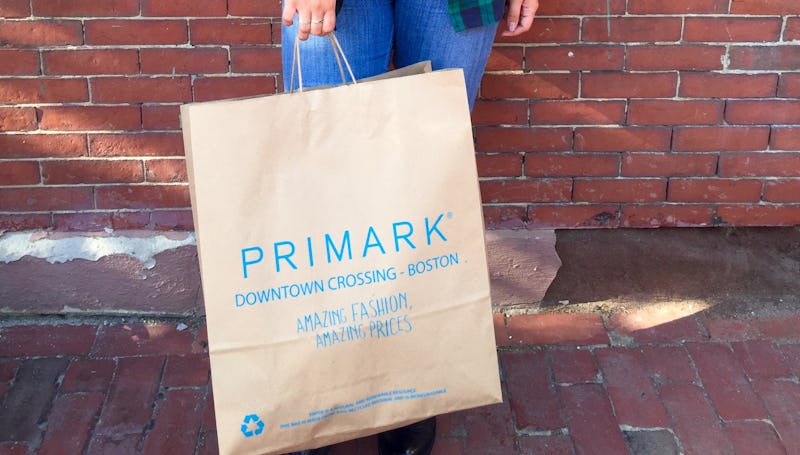 Primark, a low-price clothing store from the U.K., has finally debuted in the U.S. and I couldn't be happier. Since the moment Primark announced their first store in Boston, I have been counting down the days until I could finally stroll around the store (previously) only available across the pond. Having shopped in numerous Primarks in England, I was eager to visit Primark in Boston to see how different it was from its U.K. versions and see if it was really all it was hyped up to be.
Primark's grand opening landed on Sept. 10 at the original home of Filene's department store. Because of the discount store's continual rise to success in the U.K., they anticipated huge crowds would be waiting for their doors to open. As a precaution, they decided to set up barricades to make sure all shoppers were safe and stayed in order. In reality, the actual number of people that showed up was anticlimactic. Nevertheless, as the day went on, more and more people trickled in and by 7pm, it was as crowded as Primark's Oxford Street store in London is on an average day. It was definitely getting a buzz!
If you're not anywhere near Boston, but are planning a trip to shop at the store or are a Boston local and haven't made it out yet, I've gone and done the dirty investigating for you. Here are seven things you should know about the first U.S. Primark.
1. The Prices Are Low, Low, Low
Even before entering Primark on its opening day, I could see people were definitely going all in. Even when I was standing across the street from the store, I witnessed crowds walking out the doors with multiple large brown bags that read "Primark. Downtown Crossing - Boston" in it's trademark blue. I even saw a couple that had decided to carry their baby so they could fill the stroller with all their stuff. Besides them were about half a dozen people rolling around their brand-new Primark suitcases. Every brown bag that passed me was a tease, so when my cousin finally met up with me, I was beyond ready to go inside!
Although the clothing style is a mix between H&M and Forever 21, the prices are even lower than these bargain fashion retailers (if you can believe it!). On opening day, my cousin spent less than $50 and walked away with multiple shirts, sweaters, undies, and face towels. During my last trip (yes, I've already been there more than once already), I purchased some handsome wing-tipped shoes for $29 and a green flannel half-sleeve top for $10, because why not? Being a frugal, overthinking shopper, entering a store that advertises low prices and trendy clothing items is dangerous, but awesome.
2. Primark Can Be Overwhelming, But It's Totally Worth A Visit
If you've never gone to a Primark, the prices really are the biggest shock. Diamond, a fellow U.K Primark shopper from Boston told me, "Primark may seem a bit overwhelming at first... [b]ut after you get comfortable, you'll inevitably lose yourself in its variety. You may only be looking for a certain item, but once you explore all the floors, you'll most likely end up leaving with more than you planned. And that's fine, since the prices are insanely low."
Even the size of the store can be daunting to a new shopper. It's 77,000 square feet of merchandise to browse through! Finding what you're looking for can be a challenge, but that shouldn't stop you from going in. Just like any other store, once you get used to the layout, you'll be all set. If anything, asking a store employee can save you loads of time (and maybe prevent you from buying a bunch of things you don't actually need).
3. The Layout Is Awesome
Once my cousin and I got through the entrance, we came face to face with the loads of sweaters, blouses, and coats on display that went up all the way up to the ceiling. We also saw the "Latest Look" mannequins arranged between the two escalators leading up to the four floors that made up the entire Primark. It was overwhelming, but in a wonderfully awesome way. I felt like a kid in a candy store. For real.
The first and second floor is almost entirely women's apparel. The first floor focuses more on outwear, like sweaters and coats, while the second is a blend of everyday clothing, beauty goods, and sporting apparel. The third floor holds lingerie, shoes, and men's clothes. And finally, the fourth floor carries kid's clothing and home goods, like 99 cent candles that are just too good to pass up.
4. Boston's Primark Is For All You College Kids
When you first enter the store, you are greeted by a lovely "Hello, Boston" sign and a piece of artwork designed by students from MassART. Primark decided to open their first store in Boston because of the city's history with the Irish community (the first store opened in Dublin in 1969) and its large population of college students. Being a Boston native, it means a lot that a store would choose our small city to open their first store. Most new franchises trying to enter the U.S. market target larger cities like New York or L.A. Primark wanted to honor their Irish roots and start up in Boston. Also, who needs a good deal more than a broke college student, amirite?
5. They Pay Homage To Filene's Department Store
The Burnham Building, which was the site of Downtown Boston's iconic Filene's Basement, has now been taken over by Primark. However, they paid homage to their predecessor by displaying the Filene's sign on their second floor. Just as Macy's kept timeless pieces of the Marshall Field's store in Chicago, Primark has done the same here, showing how it cherishes Boston's history, which is an important part of a Bostonian's life.
6. Boston's Primark Is Super Similar To Its U.K. Counterparts
I remember heading to Primark on Oxford Street during Christmas time (in hindsight, that was probably a bad idea). I had been taken aback by how big it was and how many people were cramming themselves in to buy last-minute presents. I could barely look around because I would either be in someone's way or there were people blocking the items I was interested in. It proved to me just how much people love Primark — the store was huge and took up four floors to fit women's, men's, kid's apparel and shoes, and home goods. Still, it was always crowded.
Boston's store is no different, and after wandering around all four floors, I knew it was going to take a lot of willpower to avoid excessive shopping sprees in the future.
7. They Plan On Opening Two More Stores
Primark is planning to open two more stores by 2016 at the South Shore Plaza (five minutes from my house) and Burlington Mall.
As the weather cools down over the next couple of weeks, I know I'll be heading to Primark for some more sweaters, long-sleeved tops, and other fall accessories I don't actually need. I hope that others will head over and check out the awesome goods that those across the pond continue to be absolutely gaga over.
Images: Vanesa Pacheco