"Blind Joe" Takes 'The Voice' To Another Level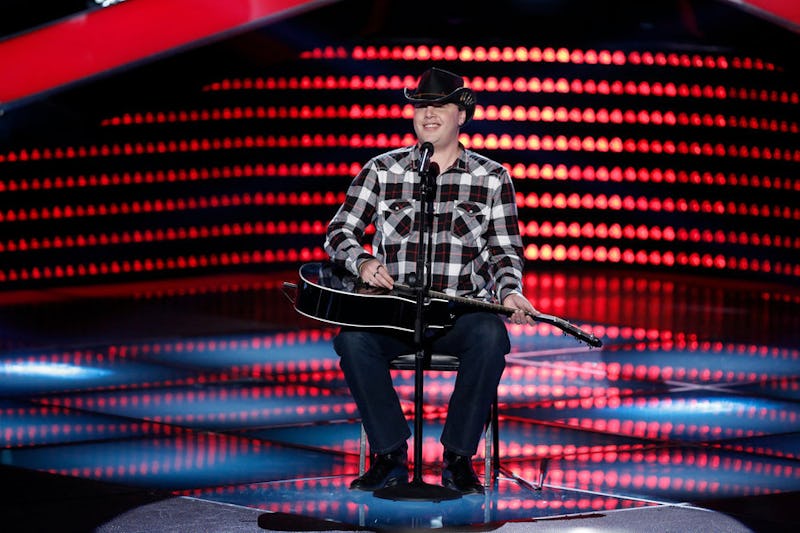 It's only night two of The Voice season 9 but the competition is already heating up. And the incoming contestants better be nervous, because "Blind Joe" just took the Blind Auditions to the next level! The 34-year-old hit the stage with guitar in hand and wowed the judges with a four chair turn-worthy rendition of The Steeldrivers' "If It Hadn't Been For Love." Without a surprise, the cowboy hat-wearing North Dakota native chose to join Team Blake. But the best part about his audition was that it was solely about his talent, not his disability — and I hope that's how it continues to be for the rest of his run in this competition.
Though he was born blind, Joe has never let his disability get in the way of pursuing his dreams. He started playing music at an early age and eventually mastered both the piano and the guitar. Once in college, he did what any aspiring musician does — started playing the local bars. He's been playing the honky-tonk scene ever since. Now that he's married and ready to start a family, Joe is ready to pursue music to the level he's always dreamed of and The Voice stage is the absolute best place to do that.
In the Blind Auditions, Joe was able to make his first impression with his talent and not his disability. This is the ONLY place in the music industry where that's even a possibility and it's why this show is so important. Joe's rough, country sound is PERFECT for this competition — and perfect for Team Blake. The seasoned coach will take Joe's raw talent to the next level and make him into the star he's ready to be. Judging by the talent we've already seen in the auditions, it's going to be a tough competition but "Blind Joe" definitely has a chance — and I can't wait to see where his The Voice journey takes him.
Image: Tyler Golden/NBC