How To Wash Skin In The Winter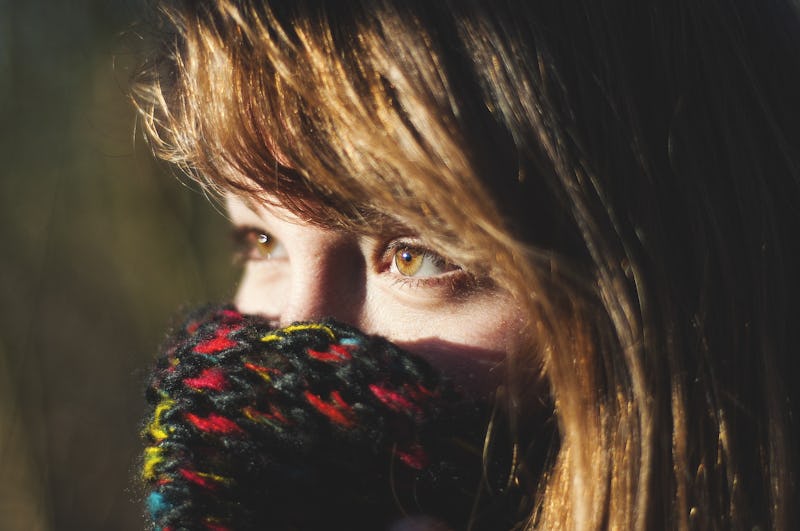 Every winter, we all start to experience some level of dry skin thanks to harsh, cold weather and indoor heating. You may find yourself changing products and routines to try to moisturize with no relief. The problem lies not with what you're using, but how you're using it. Learn how to wash skin in the winter properly to ensure that your hands, arms, legs, and feet stay smooth and soft until spring.
The list of things that cause dry skin can be as long as old man winter himself: indoor heating dries out the air, wind and cold can chap the skin, hot water (or any water — we'll talk about that in a sec) can make your skin more vulnerable to cracking. The list is endless. According to the Mayo Clinic, dry skin can manifest in a lot of different ways, from some irritating, itchy skin to peeling, flaking, and even cracked and bleeding skin. Ouch.
While there are tons of new and somewhat weird ways to battle dry skin, there are some age old recommendations for how to wash your skin that can change everything. This is good news if you're loyal to your products: you don't have to change them to see increased moisture in your skin. You just have to change how you use them.
Here are the best ways to wash your skin in the winter.
1. Avoid Hot Water (Or, Really, All Water)
According to Prevention , water of any kind has a drying effect because it upsets the balance of the skin. They suggest keeping all your water routines — like showering and washing your face and hands — as quick as possible.
2. Rinse With Cool Water
According to The Huffington Post, board-certified dermatologist Jessica Krant said that rinsing off in cold water after each shower, face, and hand wash can keep skin moisturized because it constricts pores, locking in our natural oils.
BeBe & Bella Probiotic Hydrating Night Cream, $125, Amazon
Now we know that water, no matter the temp, can be drying to our skin. Always moisturize within three minutes of washing your body, face, or hands. This will serve as an extra seal for the moisture you just trapped with cold water, making your skin softer for longer. Pro tip: During the winter months, reach for a heavier night cream as your daytime cream, like BeBe & Bella's Hydrating Night Cream. It'll absorb instantly into your skin while promoting skin cell recovery.
4. Only Wash Your Face Once
This is a long-standing argument, but here's another tick in the "hit the snooze button" column: you don't need to wash your face in the morning. Wash your makeup off once in the evening and call it good, because the more you wash your face the drier it will become.
Foreo Luna Face Scrubbing Brush & Anti-Aging Device, $169, Amazon
To help your skin stay as moist as possible, beauty expert Julyne Derrick advises you to moisturize already exfoliated skin. That way, your efforts are penetrating your skin and not the dry, flaking and peeling outer layer. What's more, you won't be wasting moisturizer! Exfoliating often — a couple times a week — with natural ingredients will help, like sugar and olive oil.
Using a cleansing device, like Foreo's Luna, will really help make your face washing more efficient, while still being super gentle on your skin. The pulsations from Luna's silicone touch-points will help remove dead skin cells and unclog your pores, helping to absorb the cream you put on.
Cetaphil Simple Cleansing Bar (Pack of 3), $10, Amazon
When it comes to choosing a soap, the simpler the better. Skipping fragrance-based soaps for petroleum-based bars can mean smoother, more moisturized skin.
Shea Yeleen Lip Balm Trio, $8, Amazon
This winter, don't let dry lips ruin your favorite seasons. Keep lips exfoliates (a little mix of sugar and olive oil work wonders) and choose lip balms high in shea butter, avocado oil, apricot oil and coconut butte.