5 Natural Cures For Super, Duper Dry Skin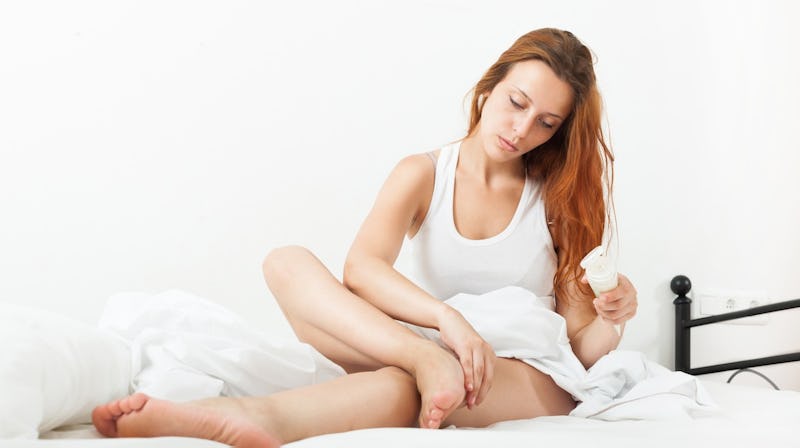 We've also suffered from severe dry skin before, whether it's from over-medicating acne with harsh topical treatments, the weather, or your diet. Fortunately, it's pretty easy to zero in on a patch of dry skin and say "I need to handle that" and moisturize the area. Recently, a pal of mine asked me to make an article all natural eczema treatment my top priority; being a sufferer of this type of dermatitis for life, he's had about 30 years of OTC products, prescribed topical ointments, and heavy lotions that have further flared up his extra dry skin. I'm not about to have any friend of mine wandering around with skin woes without a solution.
First, to get rid of eczema, the underlying issues must be understood. Eczema is a type of dermatitis and one of the most common skin conditions. The problem with any topical treatment, natural or not, is that eczema is caused by a variety of reasons; poor diet, lifestyle, allergens, extreme hot or cold weather, and genetics are all common causes. Still, I was up for a challenge and taking a much needed break from binge watching Californication on Netflix was definitely in order.
Secondly, I had to understand the difference of dry skin and eczema. Basically, those outside factors that create inflamed, dry bumps are caused by a loss of water which leads to a loss of moisture in the deeper layers of the skin. This causes a gap in skin cells for bacteria to pass through and lead to extreme irritation and dryness way worse than your average rough patch. The main difference is that this problem is skin-deep — but, like, all of the layers of your skin deep. Most OTC lotions that we use on a daily basis are going to treat that first layer of skin while the deeper layers impatiently wait for moisture to come.
Unfortunately, over-moisturizing the area can cause further inflammation because it isn't getting deep enough, and trying to shed those dead skin cells with exfoliating products can certainly lead to an extreme eczema flare up. That's why it's important to make sure ALL of the ingredients in a topical treatment are going to work together efficiently and get beyond the external layers.
These all-natural remedies for eczema each get down into the nitty gritty of the problem and work simultaneously to treat inflammation while healing damaged skin and restoring moisture in the infected area. Of course, you'll need to try a test patch on an uninfected area of the skin to ensure you don't get an allergic reaction first. My pal is already content with his homemade eczema cream, experiencing relief from itchiness and a noticeable difference in the appearance of his eczema.
1. Shea Butter, Rosehip Oil, & Dead Sea Salt
These three ingredients are well known for curing eczema: Shea butter is infamous for healing scars and restoring moisture, rosehip oil is a highly moisturizing oil, and dead sea salt is a wonderful exfoliate to remove the dead, damaged skin. Plus, the rosehip oil balances out the sea salt, so you don't get any extra dryness or additional irritation. Use three parts shea butter, one part rosehip oil, and enough dead sea salt to form an exfoliating paste.
2. Apricot, Hemp Seed Oil, & Lavender Essential Oil
Apricot and hemp seed oil are both powerful carrier oils that are mild enough to not cause irritation on sensitive skin — the area of the eczema is most certainly going to be sensitive. Hemp seed has amazing restorative qualities and apricot seed is packed fatty acids and vitamin E which are extremely important in treating dryness and irritation. The bacteria causing the inflammation can be alleviated by adding lavender oil which has antifungal, antiseptic, antiseptic, AND anti-inflammatory properties. I've used lavender for sunburns and it is NO joke: it's one of the most versatile oils with a profound ability to provide balance and moisture.
3. Coconut Oil, Cocoa Butter, & Nutmeg
Unsurprisingly, coconut oil cannot be left off the list of natural oils to treat eczema. Coconut oil puts healthy nutrients into our bodies that we often are stripped of because of environmental toxins and an unhealthy diet. Coconut oil works even harder with its good pal cocoa butter, which is known to treat skin conditions by moisturizing and planting vitamins deeper into our skin. Nutmeg is an amazing anti-inflammatory that will decrease the swollen bumps. Use three parts of cocoa butter, one part coconut oil, and make a paste with the nutmeg. Bonus: Feel free to lick your fingers after you apply this edible treatment on the location of your eczema!
4. Honey, Clove Essential Oil, & Baking Soda
Raw honey has serious moisturizing and cleansing properties, and when you combine it with baking soda, a common treatment for eczema, it's a pH balance dream. Clove oil is amazing at curing eczema because it's stimulating, antimicrobial, antiseptic qualities, antibacterial qualities, AND a natural anti-inflammatory agent — it's definitely going to be a helpful oil in a natural eczema treatment. This wonderfully scented treatment can be applied in a paste with only a few drops of clove essential oil, as it's incredibly potent, and mixed together. It's going to be the perfect treatment for eczema on the face; it's not super heavy, it's a natural cleanser. Plus, the warming sensation of the clove will ease the pain associated with eczema.
Sweet Orange Essential Oil, $9, Amazon
Castor oil is one oil that is both a treatment and a prevention of eczema. Castor is one of the most popular oils for healing irritated, dry skin. It's incredibly heavy, so cutting it with sweet orange essential oil will provide the antiseptic and antibacterial properties to avoid weighing your skin down. This is a treatment you don't have to wash off; you can use it before you go out into severe weather or when you notice your problem areas starting to flare up. Sweet orange oil can support collagen formation which helps promote healthy skin and fight off irritation.
Image: JackF/Fotolia; Paul Horn, Zenspa1,
Lyza,
Helder da Rocha/Flickr; Giphy