2015 Books Adrenaline Junkies Should Read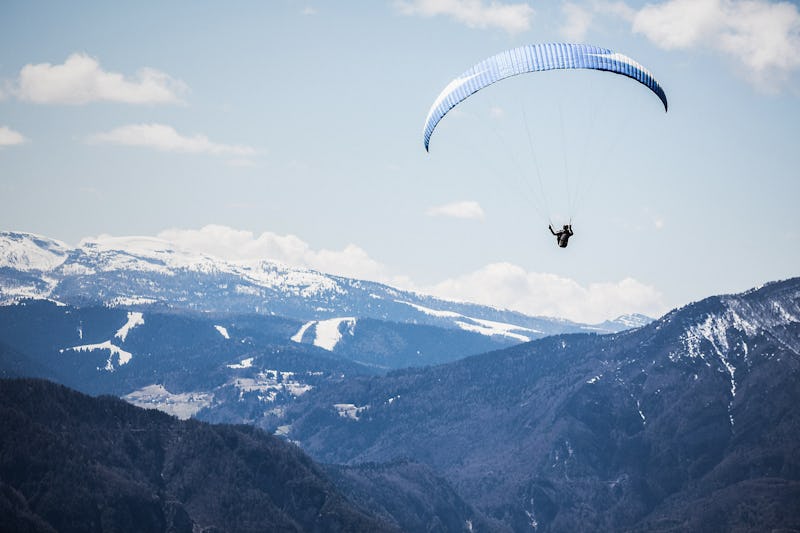 Are you an adrenaline junkie who loves to feel your heart pound? You've come to the right place. Here's a list of books released this year that contain moments to make you feel as though you've just jumped out of a plane without a parachute, or whatever it is you crazy brave people like to do. Even if you never work up the courage for bungee jumping, these books are action-packed enough to give you the adrenaline high you crave.
I'm a firmly two-feet-on-the-ground kinda gal, so you won't catch me leaning out of a hot air balloon, or swimming with sharks in the depths of the ocean, but that doesn't mean I don't love the high. Hey, I may not have done that stuff, but I have read about it, which totally counts. Right?
So to get your next adrenaline fix, whether you're the courageous type or more of the "stay at home and put it on your bucket list" type (I feel you, sister), bury your nose in one of these reads. They may not be white water rafts, but they still guarantee you a wild ride.
Inspired by the true story of the last lawful public hanging in the States, Let Me Die in His Footsteps is a spooky Gothic tale of family rivalries, old superstitions, and an injustice passed down generations.
Her by Harriet Lane
Lonely and exhausted new mother Emma can't believe her luck when the assured and sophisticated Nina befriends her, and helps her get her life under control. But it turns out Nina has been holding a grudge that Emma doesn't even remember, and she's prepared to go to any lengths to get her revenge.
When Nora was invited to an old friend's hen do, she envisioned L plates and phallic decorations — and the worst thing she imagined she'd do might be dancing on a table, or kissing a stripper. But when she wakes up a few days later in hospital, she fears she's done something a lot worse...
Descent by Tim Johnson
Eighteen-year-old Caitlin loves running, so when her parents take the family to the Rocky Mountains as a last-ditch attempt to fix their crumbling marriage, Caitlin is excited to challenge herself. But the morning Caitlin doesn't return from her jog turns a picturesque family vacation into every parent's worst nightmare.
The Scamp by Jennifer Pashley
Twenty-three-year-old Rayelle Reed, broken-hearted and the mother of a dead daughter, joins forces with a detective in his investigation into the fates of several missing girls. When the killer turns out to be Rayelle's beloved cousin Khaki, Rayelle has to delve into their harrowing childhoods to track her down.
Pretty Is by Maggie Mitchell
Twenty years after she was kidnapped along with a 12-year-old beauty queen, and held in a cabin for two months before being rescued, Lois wrote the novel of her story. When she reunites with her fellow victim to work on the movie of their lives, their complicated feelings towards their kidnapper and each other come to light — and it turns out someone else has an unwanted obsession with them as well.
Heidi Wood has always been charitable, and when she runs into a young homeless girl clutching a baby, she just has to help. But when she invites the young Willow into her home, she quickly realizes Willow may not be telling her the whole truth.
This psychological thriller starts with a narrator you don't quite trust, and then bit by bit reveals her tragic, and ultimately terrifying, back story. I doubt anyone will see that final act coming — and I guarantee you won't be able to put it down.
There's a reason this has been the most popular book of the year: it's absolutely gripping. The narrator is unreliable and troubled, but sympathetic and rather pitiable — that is, until she wakes up covered in blood. Oh yeah, and the headlines show that the woman she's been stalking has gone missing.
Dana Catrell was the last person to see her neighbor Celia alive, before she was brutally murdered. Suffering from mania and bipolar disorder, she has a few crucial holes in her memory — including the few hours in which Celia was murdered. As she struggles to remember, she brings us closer to one of two equally terrifying possibilities: either there is a murderer inside her, or there's a murderer lurking nearby, ready to strike again.
While a brutal serial killer is loose in New York, Katherine Emerson is discovering she was born to fulfill a dark, centuries-old prophecy. Alternating between the viewpoints of Katherine and the killer, nicknamed the "Sickle Man" because of the gruesome shapes he carves his victims into, Love is Red becomes a terrifying race between the two of them to get what they need.
Grey by E.L. James
Grey will certainly have your heart banging, but whether it's because of the kinky erotica that had the whole world breathlessly hooked to their Kindles, or because you're so angry at E.L. James' problematic portrayal of consent remains to be seen.
Successful artist Bryan Pierce is able to draw such dazzling paintings thanks to his vivid dreams, but as he starts to wake up from these dreams with new skills — like the ability to speak obscure languages, for example — he starts to wonder if he's not dreaming after all, but glimpsing other people's lives. But as he starts to investigate the histories he's uncovering, someone else is watching him: someone who desperately wants the past to stay buried.
The Watchmaker of Filigree Street blends historical events with magical fantasy, all revolving around a life-saving pocket watch made by a man with a secret. The result is surprising and compelling, and will lead you on an adrenaline-fuelled journey through London, Japan, and the past.
Nicki Clements keeps secrets from her husband, from her children, from everyone, in fact, apart from a stranger she has never met. But then she's arrested for the murder of a man she doesn't know — and although she may not be guilty of homicide, the secrets uncovered by the investigation reveal her to be far from innocent.
The long-awaited sequel to Stieg Larsson's Millennium books was released in September, and it dives straight back into the action. Blomkvist and Salander team up once again to chase a secret that someone is prepared to murder to keep buried.
Morgan Prager returns home one day to find her fiancé brutally killed, and her beloved rescue dogs covered in blood. She is devastated at what they have done, but when she discovers that her fiancé was a sociopath engaged to several women, she realizes that the murder may not have been what it appears. And then the other women begin to be killed...
Audrey Niffenegger is a master of the supernatural, from her bestselling The Time Traveler's Wife to the less well-known Her Fearful Symmetry, so she knows a good horror story when she sees one. Ghostly, to be released on October 6, is her collection of the best of the genre, as well as her own spooky tale, "A Secret Life With Cats."
This creepy dystopian novel tells the tale of a young office worker in a windowless building, who slowly discovers unnerving truths about the institution she works for. Helen Phillips builds a terrifyingly tense and claustrophobic world for her characters, and this novel will have your pulse racing until you reach the end.
In The Heart Goes Last, Margaret Atwood imagines a socioeconomic experiment in which the homeless are given a beautiful place to live every other month, on the condition that they spend the other six months of the year as inmates in the prison. Atwood is the reigning queen of dystopian fiction, and The Heart Goes Last does not disappoint.
Andrew J. Rush is a successful mystery novelist and New York philanthropist — but under the pseudonym "Jack of Spades" he writes a series of dark and violent novels, revealing thoughts nobody suspected he possessed. When Rush is accused of plagiarism, and his reputation and family life start to crumble, Jack of Spades' dark thoughts become even more powerful.
The Cormoran Strike novels are the second bestselling series that J.K. "Robert Galbraith" Rowling has created (NBD), and the third installment is due on October 20. This one opens with a mysterious package containing a severed woman's leg, and it doesn't get any less heartstopping as it goes on.
Image: Vincentiu Solomon/Unsplash