This 'Shark Tank' Device Will Make You Think Twice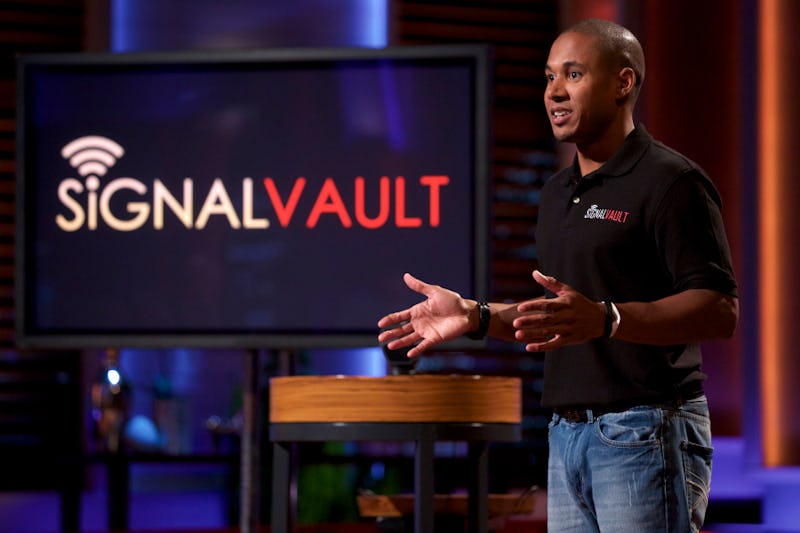 With the return of fall comes the return of television. And that means more original Shark Tank inventions to watch, get curious about, and then impulse buy from Bed, Bath & Beyond six months after the episode airs. One of the products that will be featured on the September 25 season premiere is SignalVault, a device that aims to protect your credit cards from becoming vulnerable to hackers and identity thieves. It aims to teach the public about a problem they probably have never heard about before, that hackers can steal the information from cards that aren't even being used. The SignalVault is a small card that you can put in your wallet, and they are sold in denominations from two for $24.95 to 250 cards for over a thousand dollars. Available for purchase on their website and with free shipping on Amazon, each SignalVault will protect an entire small wallet.
If you've watched a lot of episodes of Shark Tank, you know how the pitch meetings usually go, with similar questions thrown at the entrepreneurs as the five sharks enjoy a sample or crunch the sales numbers. Security apps or inventions are usually Robert's domain, but Laurie could jump in, because an infomercial might be an effective way to teach millions about what the SignalVault is quickly and cheaply. Regardless of who bites, I think there's a chance that if SignalVault can back up its concept with a strong business at its core, then it will easily find a Shark.
The Creator Is Driven, But May Not Have Enough Experience
Christopher Gilpin, who will be making the presentation on Shark Tank, is credited on his LinkedIn as the President of SignalVault, and his duties as: "website design and content, along with securing new vendors and creating marketing campaigns." He's worked in cyber securities as well, so it's possible that he knows a lot about manufacturing or inventing a new product, but if that side of the business is new to him, the Sharks may not like his inexperience.
The Company Also Has Another Product And It Can Be Customized
For a bargain of $14.95, the folks behind SignalVault also offer a "Passport Protector," which basically functions as a wallet for your passport and a few cards, all protected by the same material as what's available in their cards. They also offer the option of having large numbers of SignalVault cards printed with a business logo on them. Having multiple versions of your product can either be a good sign or a bad sign for a Shark Tank hopeful, depending on how well the additional products sell.
It Lasts For A Long Time
Supposedly, the SignalVault lasts for five years each — so you don't need to frequently buy more. That's a bad sign for the Sharks, because that means your customers aren't going to be consistently buying more products.
It Could Be Successfully Pitched
The pitch will be to a room full of people who probably don't want their credit card information out there, so Gilpin could play on their shock in order to convince them that everyone with a wallet will want to buy one of these. If you can charm the Sharks, they'll bite.
Even To Guest Shark Ashton Kutcher
Looks like Ashton Kutcher will be sitting in one of the shark spots for an episode, and as a celebrity, must be even more sensitive to a breach in personal information. So maybe Kutcher will be especially interested in taking on SignalVault.
But That All Depends On One Thing: Sales
The sales numbers are going to be the thing that sells or ruins SignalVault. Because the product has to sell customers on a brand new idea they've probably never thought of before, lasts a long time, and doesn't need frequent refills, the sales numbers are going to have to be pretty high in order to sell the sharks.
The SignalVault site claims "over 50,000 SignalVaults have been sold all over the world," and the company was founded in 2013. You'll have to watch Shark Tank's premiere in order to find out whether the company is a "winner" or not, to quote Laurie, but if you're the type of person who wants to know exactly where your money is at all times, SignalVault might be an affordable way to do that.
Image: Tyler Golden/ABC (3); Giphy (2)