How Does 'Shark Tank' Treat Women?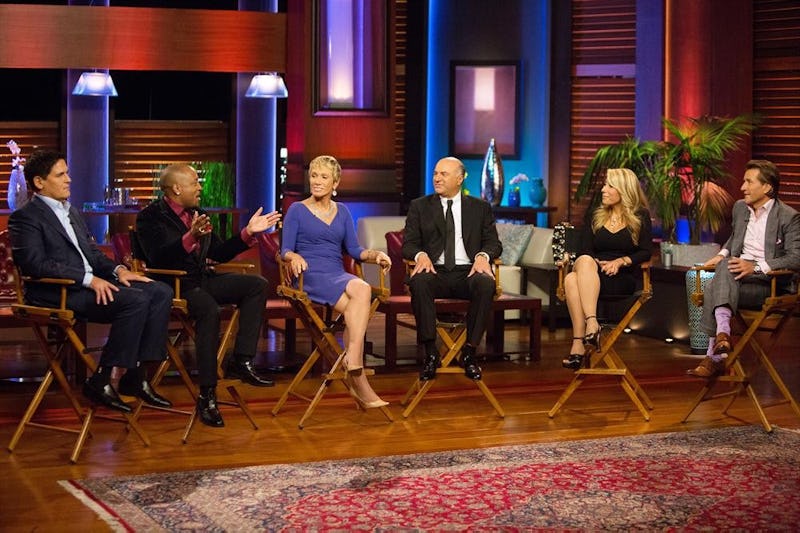 It's no secret that when it comes to business, as with most aspects of society, women are still fighting for equality. Here are some statistics to depress you. Women earned 78 percent of what men were paid in 2013. Nearly twice as many businesses are owned by men, according to the most recent data available from the United States Census Bureau's Survey of Business Owners. There are only 24 female CEOs among all of the Fortune 500 companies. Should we really expect the women on Shark Tank to have it any easier?
Hollywood continues to have its own share of problems with representing gender, and reality TV is probably the last place you want to look for anything groundbreaking in this area (The Bachelor/Bachelorette, anyone?). So making entertainment out of business just seems like it would break your feminist heart over and over and over again. But that's actually not the case.
It would be too easy to say that Shark Tank gives female entrepreneurs a much-needed voice or that it's stifling them as much as ever. Believe it or not, Shark Tank is more nuanced than that, and it has a complicated relationship with gender, from the way it presents female entrepreneurs to the way it describes female consumers to who actually scores a deal at the end of the day. At one moment, Shark Tank will support the business ambitions of women, and a second later, it will reinforce age-old stereotypes about what women should want in life.
First, let's look at female representation on Shark Tank from a purely numerical standpoint, based on some number crunching I did after looking at all of the deals made in the 113 episodes that have aired since 2009. Out of the 459 pitches that have appeared on the show during its six seasons, 118, or about 26 percent of them, have come solely from women. Unsurprisingly, the majority of pitches, to the tune of nearly 60 percent of them, have come from men, while the rest of the pitches have come from pairs or teams of entrepreneurs made up of both genders, a little more than 14 percent.
But here's the good news. While women may not appear on Shark Tank as often as men, when they do get on the show, they really make it count. A little more than 53 percent of pitches from female entrepreneurs snagged a deal, compared to the 48 percent of pitches from men. Co-ed partnerships and teams did the best with more than 54 percent of them scoring deals.
It turns out a large part of the success of female entrepreneurs on Shark Tank is due to the only two female sharks ever, Barbara Corcoran and Lori Greiner. Of the deals made with female entrepreneurs that they were present for, Barbara and Lori have made nearly 49 and 44 percent of them, respectively (including those in which multiple sharks invested together), giving them the best rates of investing in female entrepreneurs out of any of the sharks.
However, Robert Herjavec and Kevin O'Leary could be doing better in this department. They have made the fewest deals with female entrepreneurs, being a part of a little more than 11 and 6 percent of the ones they were eligible to participate in, respectively.
Here's the full breakdown, shark by shark, of how many deals were made with female-owned businesses when each shark was present (blue) and of those, how many that shark was involved in (red).
And as a point of comparison, here's the number of deals made with male-owned businesses when each shark was present (blue) and of those, how many that shark invested in (red).
As you can see, Barbara is more than twice as likely to invest in the deals made with female entrepreneurs than those made with male entrepreneurs. Robert and Kevin have also noticeably been a part of more of the deals with male-owned businesses than those owned by women.
I want to put a pin in this for just a second and point out that around 80 percent of products presented by women on Shark Tank fall into stereotypically feminine categories, such as home décor, cooking, cleaning, food, fashion, beauty, or products for children that are often related to motherhood. The products pitched by male entrepreneurs tend to be more diversified, running the gamut from technology to fashion to fitness to food and everything in between. As such, 44 percent of the products they pitch would fall into categories traditionally regarded as feminine, while approximately 41 percent would be regarded as stereotypically masculine industries, and nearly 15 percent are neutral products. It's unclear whether Shark Tank tries to cast women with these types of businesses or if the women who audition just tend to have businesses that fall in these sectors, which, by the way, are just as important as any others. At this time, ABC has not responded to Bustle's request for comment about Shark Tank's efforts to cast female entrepreneurs.
The sharks tend to invest in products that they have some sort of business savvy or area of expertise in. So the differences in the types of products male and female entrepreneurs pitch may help explain why some sharks invest in more female entrepreneurs than others. Many of the products Lori has invented over the years fall into the lifestyle category, not to mention she is the Queen of QVC, so of course she's looking to invest in products that will sell well on that platform, namely those in the fashion, beauty, and home departments. Daymond founded the clothing line FUBU, so naturally, many of the fashion pitches on Shark Tank are up his alley.
On the flip side, Robert made his fortune with technology companies, so those are the Shark Tank products that usually get on his radar, in addition to those involving sports or dogs since he is also an active, puppy-loving guy. Many of the female entrepreneurs just aren't pitching those kinds of products, even if we know that there are plenty of women who are creating tech-friendly products for investors. It's totally logical and smart for the sharks to invest in businesses they feel passionate about and have some knowledge and connections in. So the fact that Robert hasn't made as many deals with women as men in Shark Tank might not be personal. It's just business.
However, this sort of reasoning doesn't apply to every shark. Barbara is a famous real estate mogul, so many of her investments have nothing to do with her business background. Mark's fortune comes from tech and sports, but his Shark Tank investments are all over the place. Kevin has been involved in a bunch of business ventures, but he is best known for The Learning Company, which makes educational software for children. You would think with that sort of background, Kevin would be more keen on investing in kid-friendly products, and thus, female entrepreneurs pitching lifestyle products, even if Mr. Wonderful doesn't exactly inspire the warm and fuzzies.
But here's the thing about Kevin. He does actually make a lot of offers to both male and female entrepreneurs. You have probably even found yourself saying "Another royalty play?" at least once an episode because of how often he makes an offer.
On the other hand, Barbara often shows her support for female entrepreneurs by giving them words of encouragement or coming to their defense when the male sharks say something rude or potentially sexist. Barbara told Nightline in 2013 that she and Lori "bring friendship to the women that step on the set." In that same interview, Lori said she offers "compassion" to the female contestants because she knows what they're going through.
One of the best examples of this was when Erin Bickley and Jenny Greer pitched their Hold Your Haunches shapewear line to the sharks in Season 5, which Jezebel also pointed out as a glaring example of the series' gender politics. Before these ladies even had a chance to tell the sharks anything about their sales or business model, Mark, Kevin, and Robert all exited the deal, saying that they didn't know anything about the product, and therefore, could not help it become successful. Kevin went so far as to call the shapewear "false advertising" and said that he would "litigate" against a woman who wore the product and then revealed herself to look completely different in the bedroom.
Needless to say, Barbara and Lori were appalled that the male sharks wouldn't give the product a chance based on the fact that it's for women. So, they teamed up to make a deal with Erin and Jenny as Sister Sledge's "We Are Family" played in the background. OK, that last part may have just happened in my head. But still. The feminism in the room was fierce.
However, as often as Barbara and Lori have teamed up, Shark Tank has also fallen into a trope that often appears when there is more than one woman involved in an issue: pit them against one another. Barbara has been on the show since the beginning, and Lori joined Shark Tank in Season 3 as a guest shark before becoming a full-fledged cast member. However, it wasn't until Season 5 that the only "Lady Sharks," as they and the other sharks refer to them on the show, appeared in the same episode.
Let me just say that overall, the sharks grill female entrepreneurs as much as male entrepreneurs about their margins, revenue, and customer acquisition costs. Yes, there are some cases, as with Hold Your Haunches, where they may not take a product as seriously as others out the gate, but for the most part, it truly does seem like the only thing the sharks look for when deciding whether or not to make a deal is the green.
However, biases always have a way of creeping in, whether we are conscious of them or not. The sharks comment more often on the appearance of the women who enter the Tank. For example, Robert asked Kiersten Hathcock if she wore the same outfit while building her Mod Mom Furniture by hand in Season 2. When she said no, he complimented her "good look" that included a tool belt slung over her dress. In Season 3, Kevin complimented Barbara Lampugnale of Nail Pak on how great she still looked after giving birth to six daughters, so much so that Robert jokingly questioned whether Kevin was looking for a date or a deal. Juli Deveau and Ozma Khan of Kookn' Kap got so much praise for their beauty in one Season 5 episode, it was hard to tell that the sharks were completely not interested in their product.
This isn't to say that the male entrepreneurs never receive any comments about their looks from the sharks. Barbara liked the tush of Fitness Stride's Stacy Erwin in Season 2, and she called magician Rick Smith "cute" in Season 3. But by and large, when the guys are judged on their appearance, it's usually in a comical way to mock their intentionally strange or ridiculous-looking outfits. Male entrepreneurs are rarely sexualized to the degree that female entrepreneurs encounter on the Tank.
And then of course, whenever we talk about women in business, the question of "having it all" comes up. Shark Tank is no exception. Mark asked Show No's Shelly Ehler what she would do if a buyer wanted to have a meeting with her the same day as her son's birthday in one Season 3 episode. Sure, her two young sons helped her demo the towel poncho, so the sharks were aware of her familial responsibilities. However, many male entrepreneurs have done the same on the Tank, yet they didn't receive the same questioning.
Take BooBoo Goo's Andrew Kavovit in Season 5, for instance. He had his young daughter Kiowa right next to him during his pitch for a new kind of liquid bandage, yet no one ever asked him how he planned to grow his business while also taking care of her. When the sharks fear that male entrepreneurs don't have enough focus to make their businesses successful, it's usually because they have too many professional commitments going on at once, which they have said to female entrepreneurs as well.
Even so, being a parent is more closely tied to the identity and the businesses of the female entrepreneurs onShark Tank, so much so that if they are moms, that's usually one of the first things we learn about them. These women have even come to be referred to as "momtrepreneurs" by fans and the media. I haven't seen anyone use the term "dadtrepreneur" yet.
Shark Tank doesn't just have problems when it comes to representing gender. The show is even worse in terms of racial diversity, and likely, not much better in terms of diversity in sexual orientation. Giving women and minorities a more equitable representation is always a worthy investment.
In fact, the most recent episode of Shark Tank gave me some hope. It was a special episode that featured businesses that originated during the entrepreneurs' college days. At the top of the show, Anna Stork and Andrea Sreshta of LuminAID were two women that pitched an inflatable solar-powered light designed to be used in emergency situations. The sharks didn't bring attention to the way they looked. All five of the sharks had a feeding frenzy over their product, and Anna and Andrea remained tough negotiators. And there was no mention of their family lives at all.
But then came Taaluma Totes. After recent Virginia Tech graduates Jack Dufour and Alley Heffern explained how their summer trip to Uganda inspired their socially conscious bag company, Robert asked Alley — and only Alley — how her father could have possibly let her travel to the East African country. I couldn't help but cringe and remember just how much farther Shark Tank has to go.
Images: Michael Desmond/ABC; sharktankgifs/Tumblr (2); Laura Rosenfeld/Bustle (2)