How To Be Carrie Bradshaw For Halloween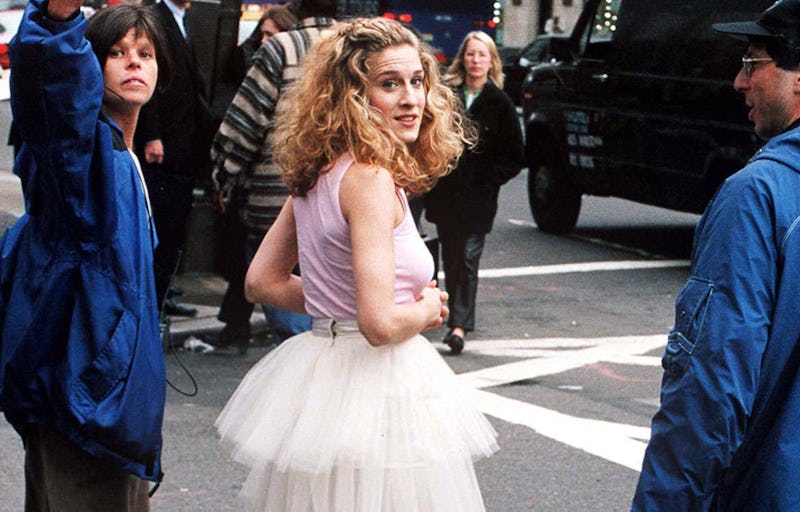 If I'm being honest, I want to dress like Carrie Bradshaw every day — OK, so maybe skip some of her bizarre ensembles (i.e. brown beret with navy hot shorts) — but I'm talking about her unwavering confidence. There's no better time to wear a Carrie Bradshaw Halloween costume because it's fashion's favorite holiday. With these ideas and a lot of confidence, get ready to be the most fabulous person at the party. Oh, and don't forget your Cosmopolitan.
Let's break down her most iconic outfits, shall we? So maybe I didn't always agree with her outfits and accessories (remember when she wore a polka dotted belt around her bare waist?) but I give Patricia Field, Sex And The City 's costume designer serious cred for nailing the New York woman's love for unique pieces and how she wears them with unabashed confidence.
We may not have always loved what Carrie was wearing, but we sure as hell respected it. This legendary show introduced me to some of the most important and influential fashion designers that I carry with me today, like Jimmy Choo, Christian Louboutin, Manolo Blahnik, Fendi, Dior...I could go on. Remember when she made Aidan swear on Chanel? Which, by the way, has become my new litmus test for gauging whether I trust somebody or not.
Here's your complete Carrie Bradshaw Halloween costume kit.
1. The Tutu
First, let's talk about the tutu. Yes, the tutu. Perhaps the most iconic look of the series and even the movies, the tutu holds a special place in many of our hearts. Who didn't want to wander the streets of New York City, curls bouncing, getting splashed by a bus with your face plastered on the side of it? It's exactly what I dreamt of when I first moved here.
White Tulle High-Waisted Skirt, $17.98, cichic.com
So how do you get this look, exactly? Easy! Drop by any dance store and pick out the layered tulle skirt of your dreams or buy the above (ADORABLE) tulle skirt. Tie a silk ribbon above your waist, grab a pink tank (but don't pick up a bra, of course, and if you want to go a step further, pick up a pair of Samantha's fake nipples). Oh, and don't, I repeat, don't, forget the hairspray.
2. The Naked Dress
"I will not be the first one to speak. And if he never calls me again, I'll always think of him fondly, as an asshole." The famous words Carrie spoke after she slept with Big after their first date, which she blamed "the naked dress" for. This is actually the same dress that she's wearing on her ad on the bus.
Alternative Rayon Challis Slip Dress, $42, zappos.com
This dress is one you can keep wearing again, and again, and again.
3. The Iconic Fur
Carrie Bradshaw loves her fur — and why wouldn't she? Have you had a winter in New York City? Seems like she got a lot of use out of her fur though, even wearing it to the movie! Whether she was strutting her stuff shopping Fifth Avenue, sitting on her iconic stoop like the photo above, or rushing to meet Miranda before midnight on New Years Eve, it was one statement item that always made her look chic. But, can we make a request? Faux fur, please!
ASOS CURVE Vintage Faux Fur Coat, $126, us.asos.com
Throw on a slip dress underneath, or a sequin cap, and voilà, call yourself Carrie Bradshaw.
4. The Duster Coat
I will never, ever, ever forget this moment. "Oh my God, she's fashion roadkill!" Stanford exclaims when Carrie trips on her sky-high green heels and Heidi Klum steps over her. I still cringe when I watch it, and I've watched it lots of times. But, in true CB fashion, she gets right back up, struts her stuff, and gives Heidi Klum a high five. It's truly an inspiring you go girl moment, and, she did look f*cking fabulous in those bejeweled panties. But even more gorgeous was that emerald blue coat.
Missguided Sleeveless Belted Waterfall Duster Coat, $50, missguidedus.com
Pair with statement panties, and you're all set. For a modest look, high waisted shorts and a cropped top will do the trick. Don't forget the heels, though!
5. A Polished Suit
By now, we know that Carrie doesn't shy away from anything — pinstripes included. What better way to dress for Vogue than a smart suit? I love the unexpected details of this skirt suit. That asymmetrical collar, the brooch...everything.
ENGLISH FACTORY Pinstripe Mini Dress, $88, shopbop.com
Think of how many interviews and work days you can actually wear this pinstripe dress to? Add a martini, b*tchy editor, and the urban shoe myth, the Manolo Blahnik Campari Mary Janes, and you're screaming Carrie Bradshaw.
6. A Set Of Girlfriends
Last but not least, if you're going to dress like Carrie Bradshaw, you're going to need your girls with you. Perhaps what made the show so iconic was the bond that these women formed — through illness, death, break-ups, cheating, cancer, and financial problems, they were there for each other, through and through.
Gather your friends and dress up as the whole crew — and don't forget Stanford, either!
Images: HBO