Watch Anne Hathaway Make De Niro A 'Bachelor' Fan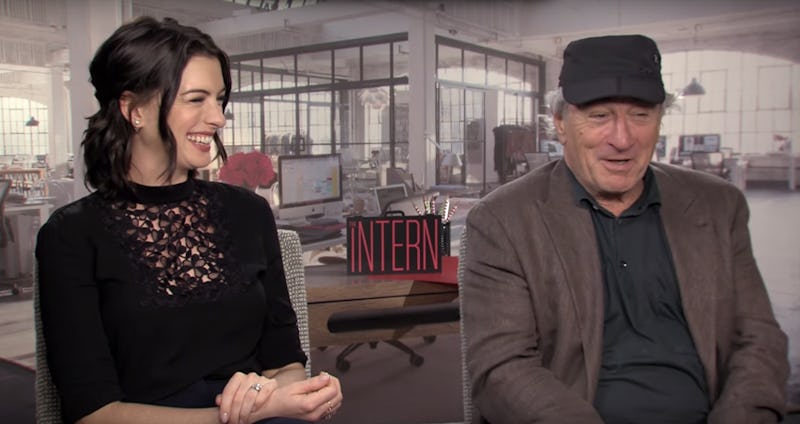 A few weeks ago, pop culture fans everywhere rejoiced when, in an interview with Anne Hathaway, it was revealed that the actress' Intern co-star Robert De Niro was a huge fan of The Bachelor — he was even familiar with the spinoff, Bachelor in Paradise. Robert De Niro, reality TV superfan? It seemed too great to be true — and apparently it was, as I learned when speaking to Hathaway and De Niro recently in advance of The Intern 's Sept. 25 release.
As Hathaway explains in the interview, she got her information wrong — and as it turns out, De Niro isn't, in fact, shipping Kaitlyn and Shawn 4ever. Still, that doesn't mean that she and I didn't try to convince the legendary actor that the show was worth watching, and while he may not end up setting the Season 20 premiere on his DVR, he will, at least, know enough about rose ceremonies and searching for love to last a lifetime.
Elsewhere in the interview, the co-stars discuss their new movie and their adorable friendship, revealing a bond that rivals the one shared between their Intern characters, Jules and Ben. Although it's safe to assume that Jules, the founder of a successful fashion company, probably doesn't have time to watch The Bachelor — and Ben is a bit too busy running errands and mastering Facebook to give reality TV much of a chance.
Watch Hathaway and De Niro discuss their new film below, and check out The Intern in theaters this weekend.