What To Expect From Netflix's 'Jessica Jones'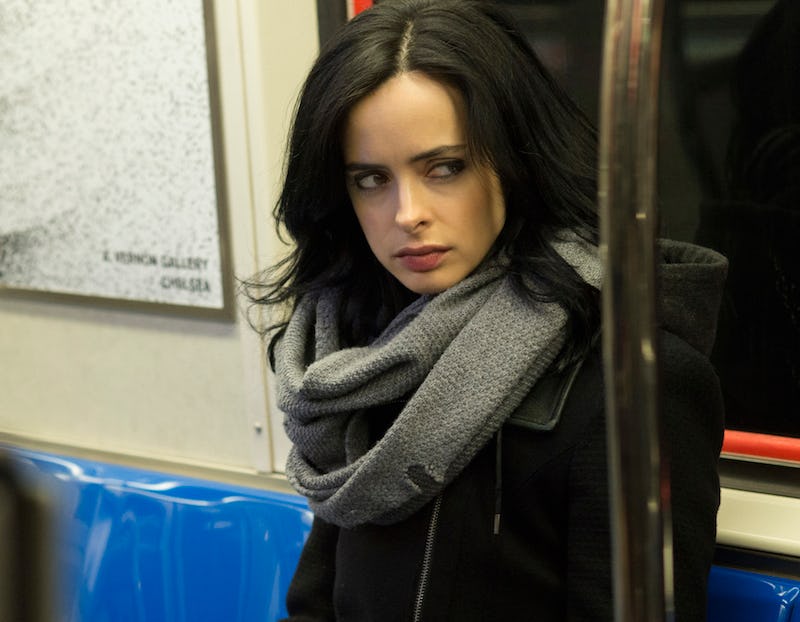 There is a new lady superhero on the block and good news: she seems like a total badass. Netflix has just released a teaser trailer for the Marvel Netflix series Jessica Jones , and it reveals a superhero unlike any other previously seen on screen. And, while the clip is only 48 seconds long, the trailer provides great insight about what to expect for the new Netflix series.
Here are the few things we know so far. All of the show's episodes will premiere in November. The series will star Krysten Ritter of Don't Trust The B**** in Apartment 23 fame, and will be written by Melissa Rosenberg (who has written for television shows like The O.C. and Dexter, in addition to Step Up — aka where we all first laid eyes on the beautiful Channing Tatum — and The Twilight film series). Are you excited yet? Because I am freaking out I'm so excited!
The newly released teaser trailer comes with this telling caption:
After a tragic ending to her short-lived Super Hero stint, Jessica Jones is rebuilding her personal life and career as a detective who gets pulled into cases in New York City. It's time the world knew her name...It is time we knew her name.
Netflix is right. It is totally time for us all to know her name! So, using my superhero-like powers of deductive reason, I will tell the world what I expect to happen on Netflix's hottest new show based this very short clip. Here I go:
The Opening
So, as previously stated, Jessica Jones will be a Marvel series brought to the masses by Netflix. We knew this, but still — doesn't hurt to revisit.
Location
The show will take place in New York City, and it seems that Jessica Jones will live in the Manhattan neighborhood of Hell's Kitchen.
Setting The Scene
It's a first shot of actual footage. Woohoo! And it's of Jessica Jones' bedroom floor. That's cool — you can learn a lot about a person from the state of their floors. For instance: This woman still buys paper newspapers — that's an interesting choice. She also has an empty bottle of whiskey, candy wrappers, and a wide lens camera. This is one private detective who likes to party.
The First Look At Our Hero
And she's... sleeping?
Clues Of Some Character Traits
It's three in the afternoon, she's still sleeping, and there's another bottle of liquor on her bedside table. Not only does this woman like to party, she likes to party like a fifth-year college senior. I approve.
Her Superpowers
Also: This gal is crazy strong. I can't even open a purse one-handed, and she crushes an old school alarm clock like it's NBD. Superheroes, amirite?
The Closing
We have a release date! May the angels rejoice at the Internet's good fortune. All episodes of Jessica Jones will be available on Nov. 20, just in time to marathon over the Thanksgiving holiday. Yippee.
In conclusion, on Nov. 20, Netflix subscribers will have access to a series written by a seasoned screenwriter featuring one of the funniest women on TV as hard-partying, superhero female detective. Sign me up because I am already obsessed.
Images: Myles Aronowitz/Netflix; Netflix/YouTube (7)