There Was Romance Behind The Scenes On '90210'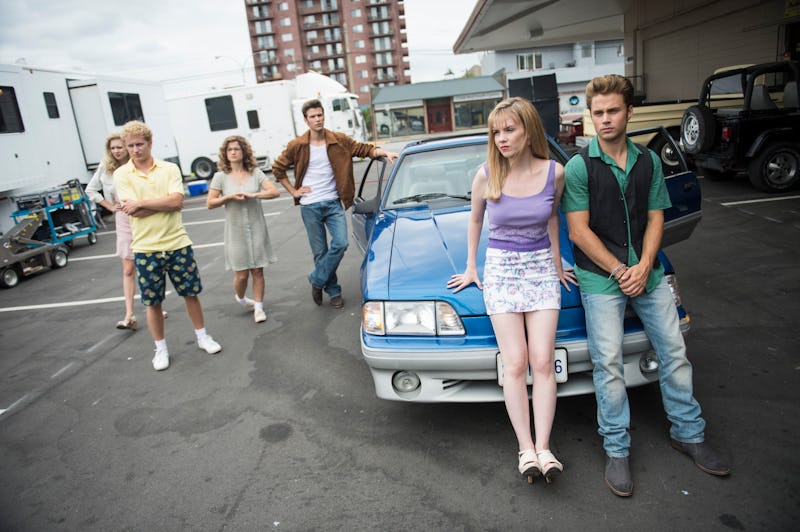 Who didn't grow up watching Beverly Hills, 90210? I was watching Jason Priestley and Shannen Doherty go through culture shock in California way before I was even allowed to, and then I proceeded to relive the show in syndication, especially on snow days and sick days. While I did love watching the show's relationships blossom onscreen, I'm a nosy person and I really want to know who hooked up in real life on Beverly Hills, 90210 . When your hormones are raging and you're with the same people for hours and hours a day, something is bound to happen, right?
This weekend brings the next of Lifetime's Unauthorized movies, this time covering my beloved Beverly Hills, 90210. I can't wait to see the behind-the-scenes action that built one of my favorite series. I have faith that this biopic will be the best one yet. Why? Because there are multiple accounts by multiple stars about what life behind the camera on Beverly Hills, 90210 was really like. In honor of what I'm doing this weekend (watching The Unauthorized Beverly Hills, 90210 movie, if you're not following), let's take a look on who used to date on the set of Beverly Hills, 90210.
Brian Austin Green & Tori Spelling
Donna Martin and David Silver were one of 90210's hottest couples, but Brian Austin Green and Tori Spelling (daughter of show creator Aaron Spelling) were a hot couple off screen for a bit too, as Spelling recently said on Celebrity Lie Detector that they hooked up behind the scenes. Their relationship may not have lasted, but Donna and David were together a long, long time on the show.
Jason Priestley & Christine Elise
Brandon Walsh and Emily Valentine weren't really that hot and heavy on the show, but Jason Priestley and Christine Elise dated for five years. All of Elise's appearances on the show happened when they were dating.
Brian Austin Green & Tiffani Thiessen
Valerie Malone and David Silver didn't last long on the series (though they remained good friends throughout the course of 90210), but these two dated for a few years in real life, sharing a Spanish-style home in Los Angeles together, according to People.
Brian Austin Green & Vanessa Marcil
Yes, Green strikes again. Vanessa Marcil played Gina Kincaid, another love interest of David's, and Green once again dated his onscreen love. Green and Marcil have a son, Kassius, from their relationship.
Everyone Else At The Same Time, According To 1 Star
During the promotion for his book, Jason Priestley: A Memoir, Priestley claimed that basically everyone dated each other all the time. On Access Hollywood, he said, "Nobody ever got attached. We never let it get in the way what we were doing. I will let you know that nobody ever got — work always superseded everything." That's nice and all, Jason, but I want details, OK?
Do you feel briefed and ready for The Unauthorized Beverly Hills, 90210 Story? I know I do. Dim the lights and get the popcorn ready.
Images: Sergei Bachlakov/Lifetime; Giphy (2); Fox (3)