Will The New Lifetime Movie Address Their Feud?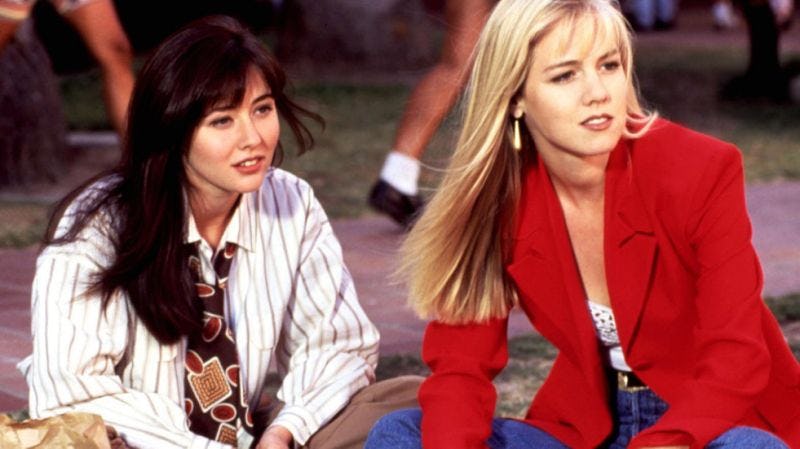 Now here's one unauthorized TV movie that I need to see. According to The Wrap, Lifetime is diving into the behind-the-scenes world of West Beverly High School, and it could be even more dramatic than anything that ever happened onscreen. Lifetime is bringing The Unauthorized Beverly Hills, 90210 Story to your small screen, and you can bet that all of those rumors about the cast and crew's crazy drama will be addressed. The new movie comes on the heels of the success of Lifetime's Unauthorized Saved By The Bell Story, which made everyone look at Screech, a.k.a. Dustin Diamond, in an entirely new light. (And, apparently, one he approved of: Diamond is an executive producer of the film, which was based on his own biography.) It's also likely that the Beverly Hills, 90210 movie will be way more dramatic than the upcoming Full House TV flick, if only because the cast reportedly didn't get along on set.
So what questions should The Unauthorized Beverly Hills, 90210 story mull over? Here are seven questions I want to see addressed in Lifetime's special — even if it doesn't give us any definite answers.
1. Did Tori Spelling's Dad Really Control Donna's Character?
According to Tori Spelling herself, her father, Beverly Hills, 90210 producer Aaron Spelling, didn't want his daughter reputation ruined by bad behavior — specifically the bad behavior of her character, Donna. His influence reportedly was what had Donna wait until after high school graduation to lose her virginity, but it did nothing to stop the cast from getting hot and heavy IRL — according to Tori, pretty much everyone hooked up at some point.
2. Did Jennie Garth & Shannen Doherty Really Get Into A Physical Fight?
Brenda and Kelly were best friends onscreen (save for the "Dylan thing," of course). Offscreen, the pair hated each other, according to Garth. The actress claimed in her memoir...". In her memoir, Garth stated that the two got into one huge blowout that ended with Jason Priestley and Luke Perry breaking up the fight.
3. Who Was Dylan Really Supposed To Be With?
If Doherty didn't leave the show, would Brenda have had Dylan's baby on the spinoff? What did the writers think?
4. Was Ian Ziering A Huge Player?
According to Garth, her co-star would take her out to the show's garage to "practice" their kissing scenes. Clever, Ziering.
5. Did The Crew Really Get Drugs For The Young Cast?
According to Garth's book Deep Thoughts From A Hollywood Blonde, drugs were allegedly everywhere on set, and production assistants could get you a "a bump of coke" alongside your morning bagel. (Garth just had coffee, thankyouverymuch.)
6. Was Brian Austin Green Really Mad About Tiffani Amber Thiessen's Storylines?
Brian Austin Green allegedly hated the fact that his then offscreen girlfriend had a ton of onscreen flings and disapproved of the producers casting her in the role.
7. Why The Heck Did Someone Cast A 29-Year-Old As A High School Student?
Gabrielle Carteris was 29 when she was cast as 16-year-old Andrea. It's very hard for an actor to get away with playing nearly twice their age... you know, unless you're Bianca Lawson.