H&M Features Its First Muslim Model In A Hijab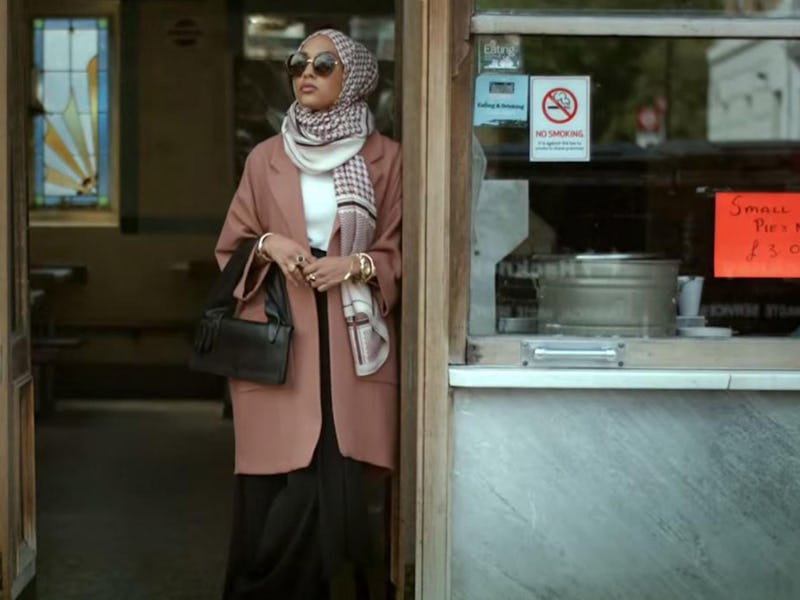 On September 2, H&M featured its first Muslim model in a hijab in an ad video. Entitled Close the Loop, the video showcases Mariah Idrissi, a 23-year-old model with Pakistani and Moroccan parents, leaning against a door jamb, looking chic in a peacoat and patterned headscarf, and not appearing remotely tokenized or made to feel different than any other stylish woman with a swanky fall uniform.
The H&M Close the Loop video doesn't just stop there, though. It includes powerful, inclusive images that urge you to "try hard...or don't try at all." In 1.5 minutes, we see women over 40 wearing short skirts, men wearing tight minis, sikh men looking stylish and dapper, plus size models killing it in their outfits (shout out to Tess Holliday's appearance), women baring armpit hair, and an amputee acting totally fierce.
The video is concluded when the narrator says, "There are no rules in fashion but one: Recycle your clothes." It's a bit of a curve ball, but it's also sort of perfect because it highlights that the images we've all just seen shouldn't be perceived as something "out of the ordinary" or "radical." The message is to recycle, not to let people look the way they want and choose to look — because that should be something already accepted.
Later in September, Idrissi was singled out and dubbed an inspiration for Muslim women everywhere. In an interview with Fusion, she was asked why she thinks her two-second spot brought her such wide-garnered attention. "It might be because hijab fashion has boomed in the last few years and to finally see a hijabi [a woman who wears a hijab] in mainstream fashion is a big achievement," she said.
Being recognized by media and large global retailers means you are acknowledged — something that's not entirely easy in our homogeneous culture.
To celebrate the type of inclusivity H&M has put forth, let's take a look at seven other positively inclusive moves by global retailers meant to cater to — and create visibility for — a wider audience.
1. Mango's Ramadan Collection
Respecting the holiday's call for looser shapes and covered skin, Mango launched a Ramadan line in May 2015 that offered Muslim women trendy and stylish outfit choices to celebrate with. Think of how much attention Christmas or Easter holiday outfits get in media and magazines. Finally, the circle is expanding to include different religions.
2. DKNY's Ramadan Collection
Featuring more sporty and edgy looks that are akin to its seasonal collections, DKNY launched a bolder alternative for the Muslim woman with that athleisure style back in July 2014.
3. Gap's Usage Of A Sikh Model
When Gap signed Sikh jewelry designer and actor Waris Ahluwalia in December 2013 and showed him with his faith-related turban and beard, it was a huge move for global retailers and mainstream media. For arguably the first time in American media, a nationwide ad depicted a turbaned man not only as a model, but as desirable and sexy (just look at the woman holding onto him).
4. Diesel's Inclusivity Of Disabled Bodies
In January 2014, Diesel featured wheelchair-bound blogger and model Jillian Mercado, proving you don't have to look conventional to be beautiful or to love and play with fashion. Beauty is open to everyone, not just one mold.
5. ModCloth Featuring All Body Types In A Swimsuit Ad
While several stores now offer plus size options, they don't necessarily flaunt that fact in their campaigns or ads. By ignoring the women who inch past a size four, such retailers can make the consumer feel like being a certain size is something to be ashamed about. ModCloth is passionate about making all individuals realize that they're beautiful. In order to do so, the brand displayed all types of body types in an employee-modeled swimsuit campaign in February 2015.
6. & Other Stories Launching A Transgender-Inclusive Campaign
H&M sister brand & Other Stories launched an ad campaign in August 2015 featuring transgender models, giving a voice to the community and showing that non-binary individuals are beautiful, too.
The brand then took it a step further and showed that it not only uses transgender individuals to model, but also to work behind the scenes in the creation of these scenes and pictures. The campaign featured a video that showed five transgender creatives who spoke about gender and fashion, helping to educate the public on the importance of moving away from a binary way of thinking.
According to Gaystar News, "In a press statement about the campaign, & Other Stories' creative director Sara Hildén Bengtson said: 'The fashion world is embracing transgender models and we think that's great. But we couldn't help to ask ourselves how the traditional fashion gaze can change if we keep the same normative crew behind the camera.'" More inclusion in the workforce equals more inclusion in the content created.
7. UNIQLO Making Hijabs Part Of Its Accessories
In June 2015, UNIQLO teamed up with fashion designer Hana Tajima to launch a "modest wear" collection that included an accessory range of hijabs. Even though this is only available in Asia at the moment, a major global retailer making efforts to include a diversity of women and their fashion needs is a huge step in the right direction — much like all of these campaigns, when you think about it.
Images: H&M/YouTube; Mango; DKNY; Gap; Diesel; ModCloth; & Other Stories; Uniqlo