ModCloth's New Swimsuit Campaign Is Gonna Be Epic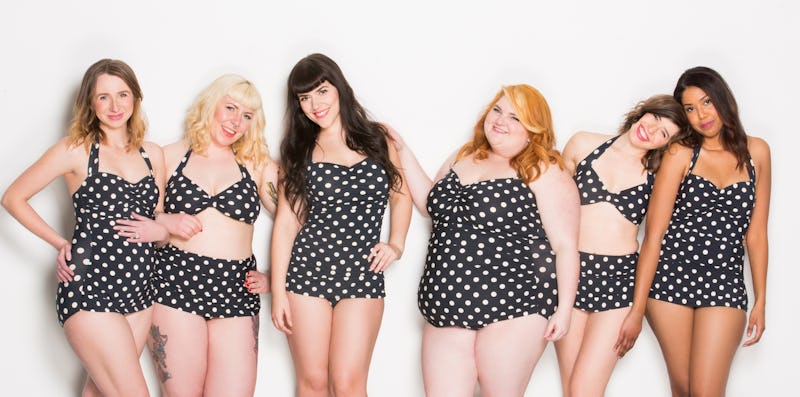 It's Monday afternoon, you have a bit of a Grammy hangover (why did they keep Bey from us for so long?!), and you're feeling like you're never going to be able to leave the house without 20 layers on ever again. To top it off, all anyone seems to have been talking about this weekend is the Sports Illustrated Swimsuit Issue. Great — just exactly what you want right now: To be thinking about supermodels in bathing suits. Well, a cheery new campaign from ModCloth featuring their actual employees (including owner and founder Susan Koger!) in the brand's most popular swimsuits is definitely the perfect remedy to all those pre-summer woes. Especially when you remember that the shoot isn't photoshopped — thanks to ModCloth's buy-in with the Heroes Pledge For Advertisers.
The initial photos are part of what is going to be a larger "Style Story" on the company's website. Featuring employees who span sizes from petite to plus, these images are important. They don't just show "real" bodies that fit into one single point on a spectrum — they show all bodies. The reality is that no matter their size, there are women who feel unseen and unheard, and this shoot is pretty awesome when it comes to representing size diversity and visibility. Showing women who are embracing their swimsuit-clad bodies in a variety of styles, looking like they're having a super fun time together, is just nice. I mean, I was all about that Ashley Graham Sports Illustrated ad, but it's really lovely to see ladies here having a blast and feeling confident without putting out the subtle message that being attractive to men is super important.
Continuing to actively pursue their body-positive ideals and to help people to live their fashion truths, ModCloth's new campaign is refreshing and encouraging. It's a reminder that companies shouldn't just say that they're going to encourage truth in advertising and expand their size range, but that they should be constantly looking for creative ways to embrace making it a standard business practice.
I mean, it's always nice to see a retailer or designer put their literal money where their mouth is — right? And it's paid off for ModCloth: Their "expanded" size 16+ section absolutely took off last year, doubling its sales. That's huge for the industry and for plus-size people buying those clothes. This campaign and those outcomes are both reminders that the demand is there. They're also a reminder that you can't just throw some styles in expanded sizes into your line and expect them to do well automatically because cute plus-size clothes are relatively rare. You need to put in the attention to detailer and work at strengthening the customer-brand relationship, too.
ModCloth's success shows that size inclusivity can be achieved, and more companies should be taking a page or two from the MC book if you ask me. Actively engaging with women of a variety of sizes whilst reminding them that the clothing is available, and proving that you don't just want them to buy your clothes, but that you understand the importance of size inclusivity in all aspects, is hella important. So, yeah, this might just seem like a fun and whimsical little photo shoot. But it's so much more than that. ModCloth's clothes are for everyone, and the fact that they want you to feel as good in your suit as all their employees do is something to celebrate.
Images: ModCloth