Who Should Play 'Captain Planet'?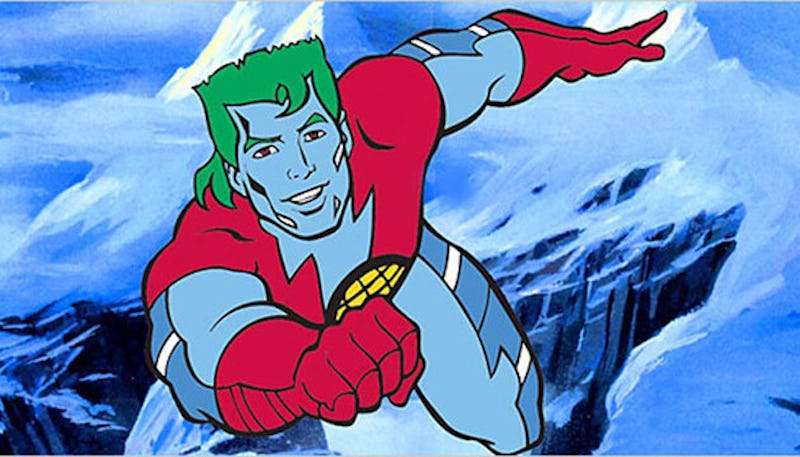 Here's some news that should excite your inner '90s kid: Sony is in final negotiations for the rights to a live-action Captain Planet movie. That's right: the environmentally friendly, magic-ring-wearing animated superhero is going to be a movie star. It's pretty exciting for anyone who used to dream of joining the Planeteers, and a movie will help introduce younger generations to the hero. But who will play the Captain? Since he's bright blue with green hair, it could really be anyone, but we have some top picks.
Leonardo DiCaprio
He may be a little too old for the part, but Leo is a huge advocate for the environment. He started the Leonardo DiCaprio Foundation, which which is dedicated to preserving the environment, and has done a lot of other conservatory work. As long as he doesn't mind getting covered in paint every day — and straying from Oscar bait — he should be eager to take on the role.
Don Cheadle
Cheadle already donned the Captain Planet suit for a Funny or Die video, and he was great in it. At least if he's cast, we can count on some laughs during the inevitably cheesy movie.
Josh Hutcherson
Look at that jaw. Since Captain Planet is animated, the hero has an impossibly chiseled, square jaw. Hutcherson, best known as The Hunger Games' lovestruck Peeta Mellark, has the closest you can get on a real person.
Ryan Reynolds
After portraying both DC Comics' Green Lantern in 2011 and Marvel character Deadpool in 2009's X-Men Origins: Wolverine, it's clear that Reynolds loves playing superheroes across brands. With Captain Planet, he can add a third to his resume, and his first to not stem from a comic book.
Channing Tatum
Because he should be in every movie. Seriously. The sooner he joins a franchise, the better.
Image: Warner Bros.