5 Adult Film Stars Reveal Their Kinkiest Scenes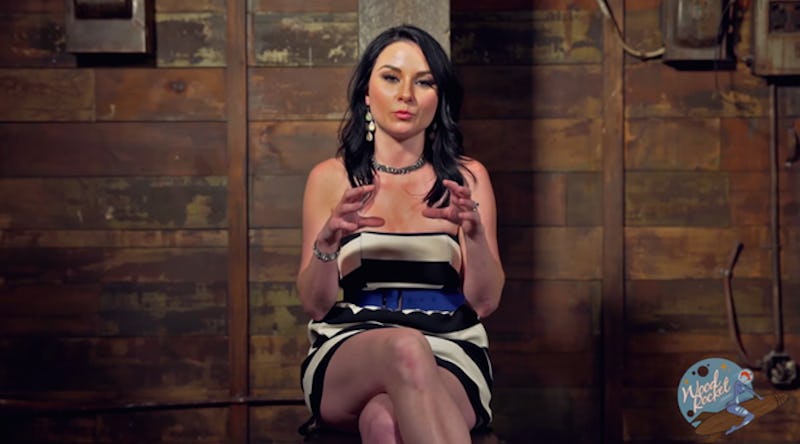 The horny, sex-positive folks at WoodRocket.com have gifted a new video that delves into the dirty details of your favorite porn stars' kinkiest scenes. As Nina Hartley reminds us at the beginning of this "Ask A Porn Star" episode, shooting a scene feels a lot different than it looks, so what a viewer might deem kink level 11, an actor might find pretty vanilla. Every scene is scripted and planned out in advance so even the most intense scenarios come as no surprise to those involved, but that doesn't mean the stars don't get an erotic thrill from performing a particular act. The final result of any good scene should ideally be, as Hartley continues, "like a dance." (And she might be the first person to ever compare making adult films to Fred Astaire and Ginger Rogers' perfectly choreographed moves.)
Shot in the Kink.com dungeon in San Francisco, this over-the-top video features some of the brightest names in adult entertainment who share their stories about the good, the weird, and the kinky scenes they have shot. Some of the kink they describe is standard issue, and some is pretty damn brutal and/or creative.
Here are five of some of the kinkiest scenes these porn actors have been part of:
1. Waterboarding
Nikki Darling describes the magical time that she was waterboarded, with a sack put over her head and water poured onto her face, real deal torture style.
2. Farting glitter
Yes, you read that right. Mona Wales is well known for farting glitter, and describes one scene where she passes gas on her grandmother and boyfriend, then shoves a kazoo up her ass, and finishes with a glitter fart finale.
3. Electrocution
Roxanne Rae's kinkiest experience was shooting "electrosluts," where a female dom electrocuted her with a variety of devices.
4. Urination
Veruca James describes a scene she shot where the girl penetrating her with a dildo suddenly removed it and urinated into her butt. Kind of stunning how versatile our bodies are, no?
5. Pegging
Porn veteran Nina Hartley has a long and storied porn career, but pegging (aka penetrating a guy with a strap on) tops her list of kinky favorites.
Want more of Bustle's Sex and Relationships coverage? Check out our new podcast, I Want It That Way, which delves into the difficult and downright dirty parts of a relationship, and find more on our Soundcloud page.
Images: WoodRocket/YouTube